Earlier last month, we discussed the five must have apps for Android. And today, we are going to do just the same, but with a different list of apps now.
February is near its end, and I have already installed and used tens of apps on my Android since the previous month. With the passing time, I have short listed the apps, that you should install on your Android smartphone/tablet too. I hope these are going to be equally useful, as those in the January Edition.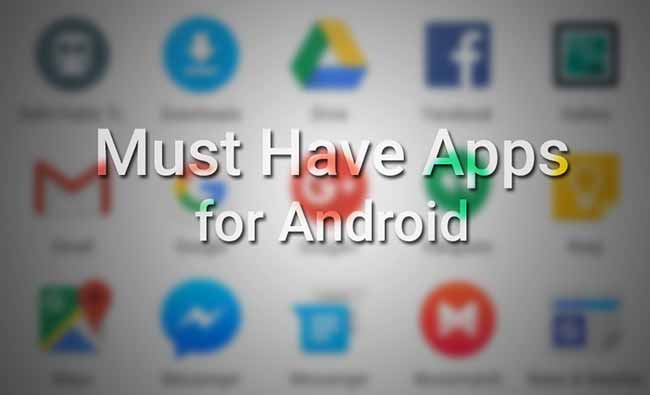 These apps have been carefully tested by me. They are stable (In common words – bug-free) and extremely usable, to such an extent, that they have now become a necessity to me and my Android. Let us start.
---
Must Have Apps for Android
---
Table of Contents
1. Pushbullet
Category – Productivity | Price – Free, with In-app purchases
Do you work and operate multiple devices, like me? If yes, Pushbullet is going to be really handy for you too. It is a multifunctional application for your Android device, which lets you exchange/sync content and notifications across your multiple devices.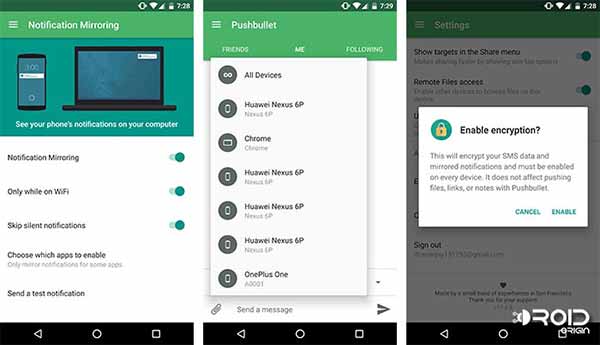 Pushbullet lets you share links and files, send and receive SMS, and reply to messages from Kik, WhatsApp, and Facebook Messenger, directly through your computer. Your notifications like Phone calls and messages are instantly pushed to your computer. Dismissing or answering them, will follow the corresponding action, across all the devices.
It is not just limited to your personal devices, you can share content with your friends too, all you will need to do is, connect to his or hers Pushbullet account and start sharing instantly. I have been using this app on my PC, Laptop, and two different Android smartphones, to sync content instantly, without any hard link. I do often use it to reply to my messages when I am working and cannot reach my phone.
The app uses end-to-end encryption, so your messages and content are always well-secured.
2. Musixmatch
Category – Music & Audio | Price – Free, with In-App purchases
Musixmatch is not your average music player, it lets you play music with synced lyrics. It has already been regarded as the "World's largest lyric catalog". The app was also chosen among the "Best Apps 2015" on Play Store, which is an achievement. Musixmatch offers the FloatingLyrics™ feature, that embeds with Spotify, Play Music, and some other music apps, to display lyrics for your current playing app.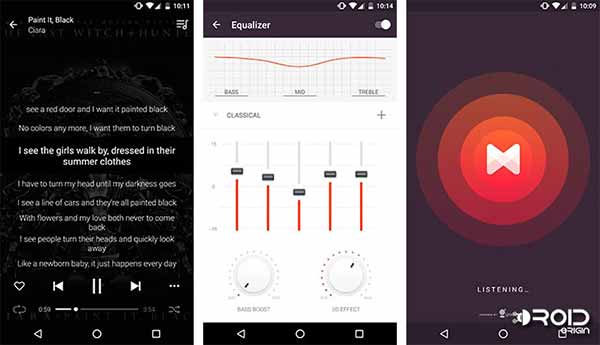 You can search lyrics for your favorite song, or even use a part of a lyric to discover the song. Remember Shazam? Musixmatch could perform the same function, and identify the song playing around you. The app has an inbuilt equalizer that could be adjusted according to your listening and has the ability to set the sleep timer so that the app will automatically close after the specified time period.
I have preferred Musixmatch since a long time, and it has always proved its efficiency. If you're looking for a music player with only the necessary and innovative features like above, then you should install it, right away.
3. HERE Maps
Category – Travel & Local | Price – Free
Are you a traveling person, and do you use navigation apps much often? Normally, people could get the job done using Google Maps (Which is great too), but that is way too common, and sometimes a huge battery culprit. Here comes a better alternative, that offers as much as the Google Maps, and is battery friendly too.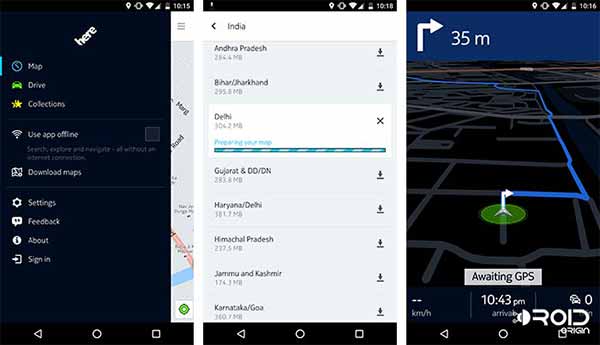 HERE Maps is best known for its offline navigation and has become quite popular during the previous year. It offers turn-by-turn voice navigation, both online and offline. It also provides public transit routes for buses or trains, and even walking routes, to your destination. Offline maps could be downloaded for over 100 countries, and then you wouldn't have to bother about signal coverage or high-data usage, you could easily navigate anywhere.
I ditched Google Maps a few months back when I got used to this app. And trust me, I don't miss a thing, HERE Maps is a complete guide-box for every person who travels frequently. Go ahead, download, install it, register your HERE account (Which is completely FREE!) and get-on with navigation.
Download HERE WeGo – Offline Maps & GPS
4. App Swap
Category – Productivity | Price – Free
App Swap is a simple app drawer, so do not confuse it with a launcher. However, it is designated to work with every launcher out there, be it Aviate, Google Now, Nova, etc. It lets you swipe out the multi-functioning app drawer from your chosen screen edge (Left/Right/Bottom).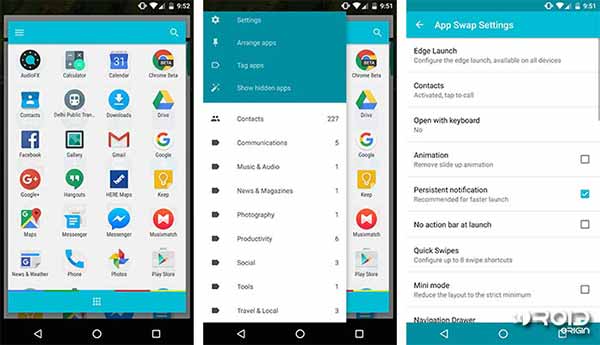 You can categorize apps with Google Play categories, tag them, rename them, and even change the icon. It also helps you to hide the apps that you don't want to be seen. It's not only limited to apps, you can do the same for your favorite contacts too, and access them instantaneously with a single swipe. You can also view the app info, Play Store link, and uninstall the app directly from the app's contextual menu. The app also has a Low memory profile feature that reduces the app's RAM usage effectively.
There are third-party launchers that I prefer using, but there are times when I get most annoyed by their drawer layout. App Swap has released me off this feeling, and so now I can easily access my app drawer any time, with just a single swipe.
We hope the apps prove useful for you too, as they have for me. Is there any other app that you feel should be added to the list? Let us know about it, through the comments below. Keeping reading the latest articles on TheCustomDroid, until we get back with another edition of must have apps for Android, in March.
More for you – 5 Great Alternatives to FaceTime on Android