Well, it couldn't have been better, to taste the upcoming Android release right now! We already went through, on how to enroll in Android Beta Program, and to install Android Nougat Developer Preview. And now that we have it on our supported device – Nexus 6P, we are going to do a little overview of all-new Android Nougat features that have been made already.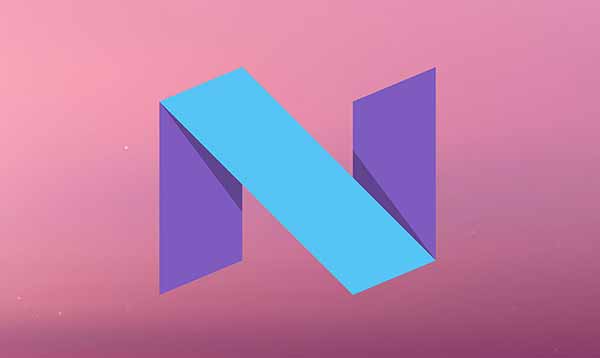 Google has confirmed that Android Nougat would surface around the end of this summer. The preview release is still in its very-early stage, where users will face issues and incompatibility. But then, that's the point. Google oughts to do something unique this time, so it planned to deliver the preview on way too-early basis, where the code would be experimental. It definitely would help the developers, to better adapt their apps to this latest release, and also will allow Google to workout on the user feedback.
A design overhaul is something that is expected the most in every Android update. And with Android Nougat, there are a few of them, that makes the interface crisper and have focused to deliver a better experience.
While there are a few major changes, and some minor adjustments have been done too. Let's start!
Table of Contents
Android Nougat Features
Multi-Window Support
Yes, this awesome feature has been awaited since a long time. It was something that was earlier introduced in Android Marshmallow but was kept experimental and didn't offer much usage. With Android Nougat, Google has finally delivered multi-window as an official feature.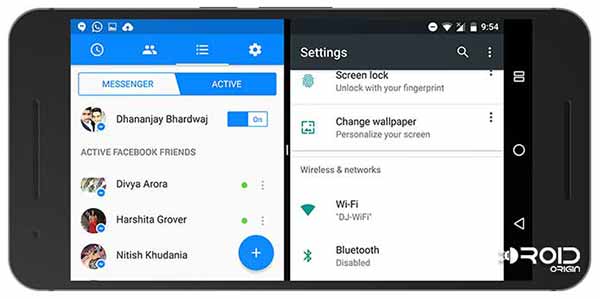 In simple word, this allows you to run two apps simultaneously on the same screen. On portrait, the layout is rendered vertically. And on the landscape, the app windows will open side-by-side. To do that, simply open the Recents (multitasking) menu. Long-press the app window (Primary app) that you want to put on the top of the multitasking screen, and drag it upwards. Next, simply tap on the second app that you're willing to multitask with, and it will be arranged right on the bottom.
So you will now be running two different apps, simultaneously on the same screen. Adjust the dimensions of the apps, by sliding the separator. Even if you tap on the Home button, the primary app will move back to the top. You can launch it back instantly by tapping the Recents/Multitasking button.
Multi-window is best suitable and delivers a good experience on tablets, and phones with larger screens.
New Notification Bar & Panel
Something that we have long seen in Samsung, and the previous versions of Android — Toggles. With Android Nougat, you can directly toggle five different actions without expanding the complete panel. This is somewhat a shorter version of the panel, which would show up once you expand the notifications bar. The series of available toggles could be edited easily, just arrange them as per your will. Know that only the top five toggles would be visible on the bar.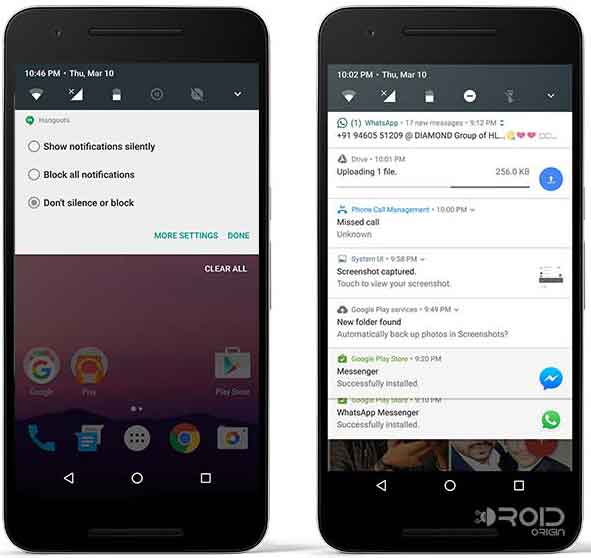 Long-pressing on the notifications will expand the notification settings for the related app, there itself. You can choose to – Show notifications silently, Block all notifications, or Don't silence or block.
Over to the notification shade, it has been redesigned and aligned end-to-end with the screen, which looks much more appealing now. The heads-up notifications have been aligned in a similar manner, giving it a crisp look. The notification cards are stacked using a separating-line, unlike the arrangement of notification cards in previous Android versions like Marshmallow.
Overall, I feel that notifications have been improved drastically, and works out to be much more efficient now.
Improved Doze
Doze mode was a decent implementation made in Android Marshmallow, and it has proved to conserve battery life significantly. Android Nougat has Doze too, but with more optimizations and better working criteria.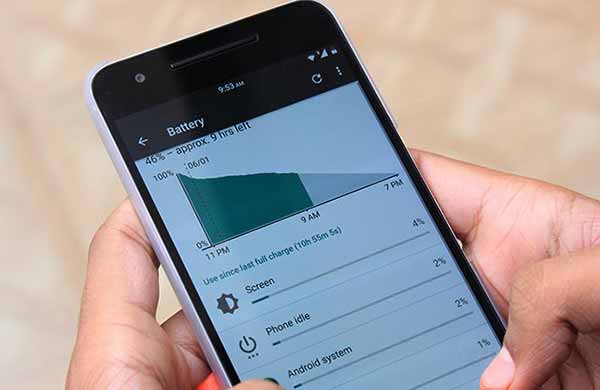 What Doze actually do is, it defers the CPU usage of background apps, and limits the related network activity, when the phone is left unused for a long period. Also, it's not like the apps and services won't have access anymore, Doze intelligently allows the app activities to resume, after intervals.
Its functionality has expanded in Android Nougat. Now, as Google says, Doze will now also save your device's battery, everytime the screen is turned off. Well, right now we don't have proofs to confirm. But yes, it will require thorough testing.
Revamped Settings
The settings menu has kind of been a legend, been left unchanged since a long-long time, until Marshmallow. With N, you will now see a whole different menu. The items on the list have been rearranged and set to display some overview on the inside.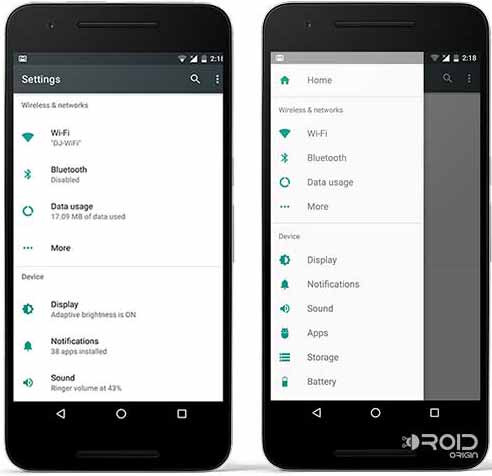 There's something else, hiding in there. Go to Settings, and swipe your finger from the left-end of the screen, towards the right. You would see a navigation menu! This menu is already a standard navigation in Android applications. It could be accessed at any time and from anywhere within the settings menu, to quickly jump to your desired settings, without tapping a lot of buttons.
Suggestions? Based on the importance, the settings menu will now show suggested actions that a user should look forward to, on the very top. Of course, if they bug you, just remove them. But I did felt it be handy since it suggested me to setup Fingerprint Sensor on my Nexus 6P. So basically, it did wanted me to secure my device.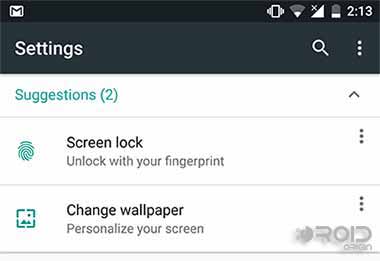 What Else?
Earlier, Google allowed apps like Messenger and Hangouts to be able to reply instantly from the notification, without having the need to open the app. But with Android Nougat, you will now be able to reply and manage your notifications directly from the panel. It uses RemoteInput API, which is something being currently used in Android Wear.
Vision Settings
Google is being generous towards those who have eye/vision related problems. Not only on the inside, but you can set vision components like display size, font size, and magnification gestures, right on the first boot.
System-level Call Blocking
Android Nougat adds the ability to block calls, natively. The blocked contacts would only be read by your default dialer, default SMS, and your carrier-based apps. Don't worry, the blocked contact list will persist even after a full reset, and also across all your synced Android devices. So now, no more need to search and download apps from the Play Store to fulfil this task.
Project Svelte
The project was started long ago with the release of KitKat 4.4. It focuses on reducing the memory requirement of Android, and hence bring its support to devices with considerable hardware. Framework and system services have been worked up already, and we did see a better result with Lollipop and Marshmallow. In Android Nougat, Project Svelte now largely concentrates on developer applications, helping them improve and reduce the RAM usage, where ever possible.
Data Saver
Android Nougat comes with a revamped data usage menu, with an integrated Data Saver feature. Background data usage should be handled properly to observe the amount of usage, which will save you from unnecessary balance reductions and high data costs. So it is an important aspect for those who do not have an unlimited data pack from their carriers.
The new 'Data Saver' feature in Android Nougat, lets you reduce the amount of background carrier data effectively. You can limit the data, by setting a proper billing cycle for the month or simply reduce it for the background apps. So now when your phone is in sleep mode, selected or all background apps will have no access to data.
Apart from this, you can now also choose apps which will have unrestricted data access, even when Data Saver is turned on. It could be helpful in case of email syncing, instant messaging, etc.
Larger Cards In Recents
The Recents/ multitasking menu has seen a lot of changes since Android Lollipop, and the cards just gained an amount of size. Comparing to Marshmallow, these are now almost double the size, and are much closer to the device's edge. This way, the stacking looks more responsive and snappy.
Double Tap To Open Last App
The long-awaited feature, that most of us have used in custom ROMs is here, officially with Android Nougat. By default, you can now double-tap the Overview/Recents button to instantly open the last apps, so theirs no more need to open the Recent cards to switch between your last and current used apps. This feature has made multitasking much easier and efficient.
Night Mode Is Back
Remember the color calibration settings from Ice Cream Sandwich and KitKat? The feature has yet been added again. This time, it comes under System UI Tuner (Enable it by long-pressing the 'Gear' icon on the notifications panel). You can choose to set a Dark theme at night, add a tint to it, along with adjusted brightness. You can choose to turn on Night mode automatically, and it will enable the feature when appropriate, for your location.
Color Calibration
The system now allows you to adjust the colors, and calibrate them as per your usage or conditions. Only the standard RGB modifications are allowed at the moment, so no Gamma or Saturation adjustments could be made. Which means, it can still not replace the kernel-level color profiles that you could use, on rooted devices running a custom kernel.
This is something that has finally changed after a long-long time. With earlier versions, you would only be prompted to either 'Report' or simply 'OK' the message. But now, the menu has been changed, with the options now available more like a list, and also allows you to instantly 'Restart app'.
While we are still not sure yet, about what's going to be added more until the final release. But, we are aware that these features are definitely going to stick around.
Have you updated to Android Nougat Developer Preview on your supported device, yet? If no, go ahead, join the Android Beta Program, and start downloading the update right away. If you would like to install it manually, click the link below.
How to Install Android N Developer Preview
If you have observed something else, let us know. We will add it up! Until then, tell us about your experience with Android Nougat Developer Preview, through the comments.