Android Nougat Tips and Tricks that will help you make the most out of the operating system.
The new and hefty Android Nougat update came about a month ago. And most of the users have regarded it as the most customizable and efficient Android version to date. But have you actually benefited yourself from its exclusive features? If you still haven't got in depths and introduced these features in your daily usage, then this is where you begin. Here is the list of Android Nougat Tips that will prove to be highly profitable for you and your device.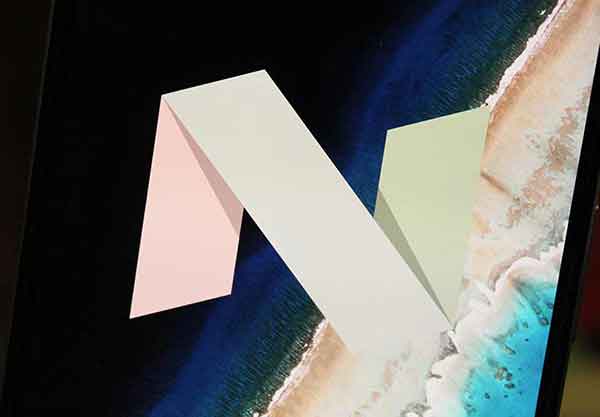 For now, only the users of Nexus 6P, Nexus 5X, Nexus 6, Nexus 9, and Pixel C could comply with these. As soon as the update starts to roll-out for other devices, you can try the following tips and tricks and maximize the efficiency of your Android.
Table of Contents
Android Nougat Tips and Tricks
Now Edit Quick Setting Tiles Even More Easily
Editing Quick Settings tiles is a renowned feature in custom ROMs, since a long time. But officially, it was not possible up till Marshmallow, where it was still only an experimental feature. With Android Nougat, you get the full liberty to edit the tiles directly from the panel itself. So you wouldn't need to go through the settings to change all that.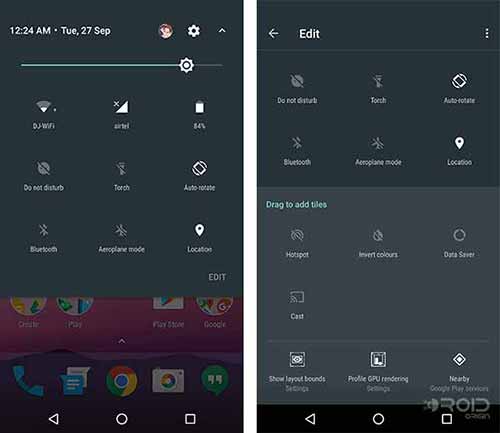 Also, Nougat adds some new tiles to the queue, including Invert colors, Data Saver, Cast, Nearby, Show layout bounds, and Profile GPU rendering. To edit, drop down the Quick Settings panel and tap on "EDIT". The panel will expand, you can drag new tiles, remove old ones, or rearrange them.
Don't play safe always, make use of System UI Tuner
System UI Tuner is a set of experimental features residing in the Settings application. This concept showed up first with Marshmallow. These are basically tweaks and customization options that could offer a better experience.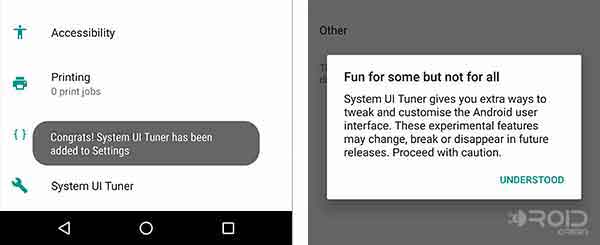 To enable System UI Tuner on your device, pull down the Quick Settings panel. Tap and hold the gear (settings) icon on the top right. The icon should start spinning and then you can just release it. The Settings application will automatically launch showing a toast notification for confirmation.
In Nougat 7.0, the System UI Tuner offers customization in three different sections:
Status bar: The status bar could be a fuss if your device runs a lot of functions that render their specific icons, like WiFi, Aeroplane mode, Bluetooth, Do not disturb, etc. With this option, you can choose and select only the icons that you want to display. This will help to keep the status bar neatly.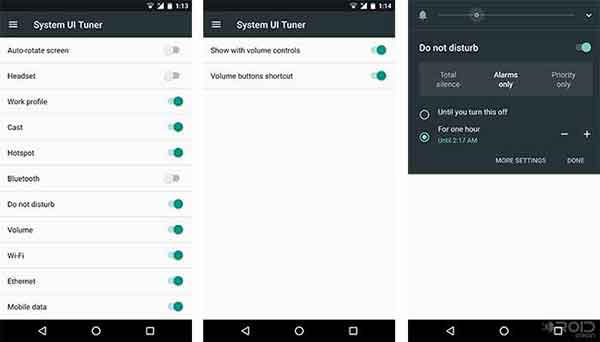 Do not disturb: Though Do not disturb is already a stable part of Nougat, there are two extra settings here that could help you. "Show with volume controls" will allow you to enable or disable the DND function directly from the volume control. By default lowering down volume all the way should enable DND mode. But if would like to keep the controls manual, you can disable the "Volume buttons shortcut" (Enabled by default) option.
Other: "Enable split-screen swipe-up gesture" is experimental, yet very handy features if you have fast fingers. It makes entering multi-window mode even easier, so just swipe up from the overview (Recents) button and the current app window will split to the either side.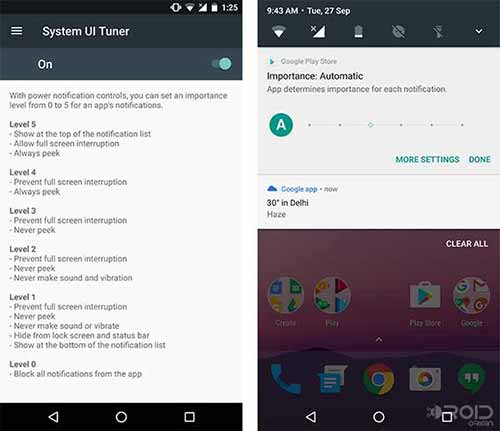 "Power notification controls" allows you to prioritize your notifications on level-basis. In total, there are 5 different levels. Apps/Games that are set to Level 5 are of highest priority and would display notifications even when DND is enabled. As you would move down the levels, the priority goes on decreasing and is more compliant to Do Not Disturb rules. Refer to the screenshot above for different levels of power notification controls.
Once the feature is enabled, you can access the level-control through two different ways. First, go to Settings > Notifications and manage the levels for individual apps there itself. Or you can do it on the go. So when a notification appears for an app, hold and drag it a little to the either side until you see the "Gear" icon. Tap the icon and you will be able to set the level right there.
Use Data Saver, don't waste pricey data
We have known about data limiting and warning feature that Android offers. But Google just stepped up in Android Nougat and introduced a special feature for its users. The developers already understand how precious and costly is mobile data to its users and they have put in the right tools to minimize the usage wherever possible. As the name states "Data Saver" is a mobile data saving tool embedded right into your phone's settings. So now there's no more need to download 3rd party apps to get the job done.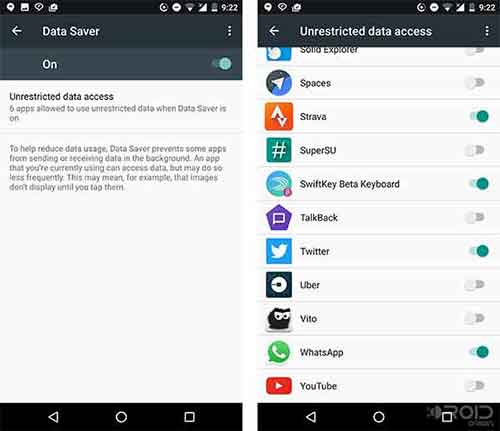 Go to Settings > Data usage and tap on Data Saver. When the feature is switched on, none of the apps running in the background will be able to send or receive any data. If there are certain apps like Gmail or WhatsApp, that need constant background data access to work properly, then you can simply whitelist them. In Data Saver, tap on "Unrestricted data access" and turn on background data for the apps you like.
One Screen, two apps, with Multi-window
The most awaited feature that tied us up to Android Nougat was Multi-window/Split-screen support. For as long as we could remember, we have wanted this on our phones and now we do have it. Now we are talking about some serious multitasking, and not just switching between apps.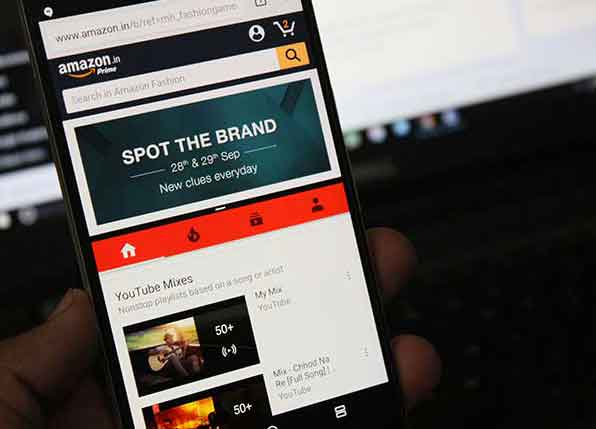 To enter split-screen, open one of the apps that you want to operate. With the app window opened, long-press the Recents/Overview button. The current app will automatically move to the top of the multi-window screen. Swipe through the recently-used apps list and choose the second app that you want to run on the other half of the screen.
You can adjust the size of the app windows by moving the middle bar up or down. So if you're playing a video and browsing the web side-by-side, and you would need to emphasize more on the browsed content, you can simply adjust the size of windows to suit the best.
Reject Those Unwanted Callers
Next in the list is the call blocking functionality. Nougat injects call blocking on the system level, so even if you use a third-party blocking app, the app will also be able to access the block list. Plus, this list will also be persistent across all your devices, even when you have formatted the phone. You can block both text and messages.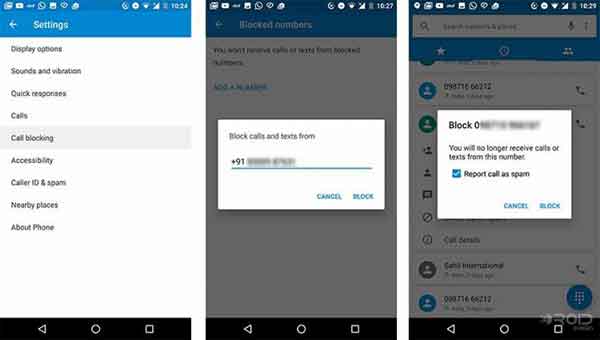 Change the DPI
Your phone may have huge 5.5-inches screen, but you might like the screen elements to be smaller to suit your style. But that wasn't something that could change until Marshmallow, at least not without rooting. Nougat allows you to change display and font size, so just go to Settings > Display and you can make the required adjustments there.
Emergency Information
Have you ever thought if you would ever lose your smartphone? We are sorry if it sounds negative, but is a serious aspect to consider for the sake of your device's safety. Another unfortunate scenario is when/if you're in an emergency situation like an accident (We hope you never face one, ever!).
In such a situation, if someone finds your phone, he/she would be able to acquire your emergency information. This will make it easy for the person to contact your family and share the information with the local authorities.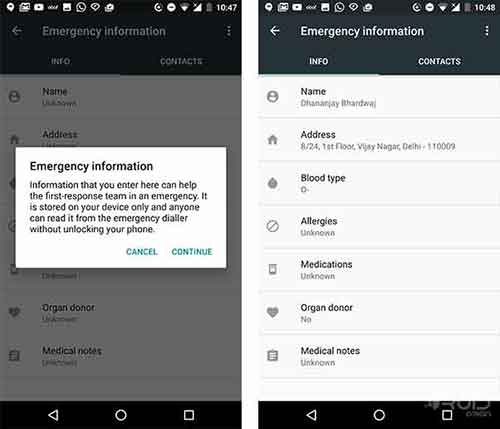 Add emergency information by going to Settings > Users. It is sort of a visiting card, that could prove its usefulness in both situations, either when you have lost your device or are in an unfortunate emergency situation like an accident. You can fill in information like basic details, blood type, allergies, medications, and other medical notes.
BONUS TIP: Enable NavBar Tuner on your device running Nougat
These were a few tips and tricks that we had under our sleeves for Nougat users. If you have any other, let us know by dropping a comment below. And don't forget to share this article with your friends on social media!