Android 8.0 Oreo is finally here with awesome new features & changes in it. Here is the list of exciting new Android Oreo features.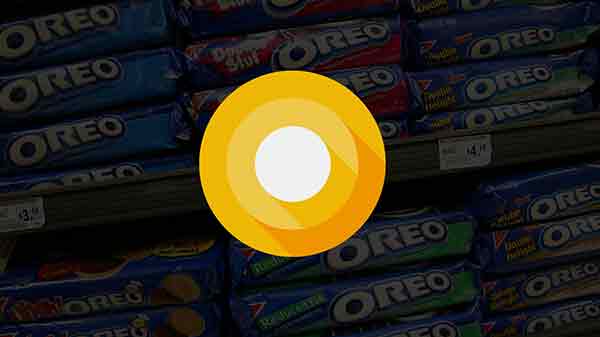 If you are not a Nexus and Pixel user, you'll likely need to hold up for a couple of months before Android Oreo hits your particular device. Here are some of the key Android Oreo features that you should look forward to, when it rolls out to your smartphone.
Table of Contents
Android Oreo Features – 10 Awesome New Features & Changes
1. Battery Life Improvements
Battery life is always a big concern for our smartphones, which is why Google often makes improvements with new iterations of Android.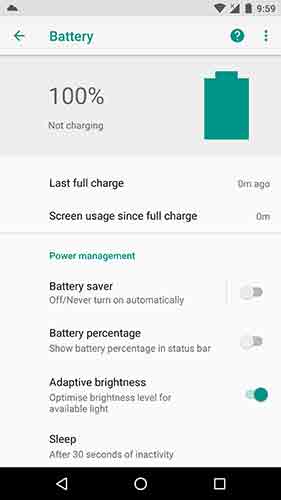 Google's Doze mode was introduced in Marshmallow and has improved a lot during the Nougat phase. Android Oreo puts Doze out to work intensively to prevent apps from draining your battery life.
Background Execution Limits have been imposed in Android Oreo to ensure that apps don't run wild in the background or keep listener services open at all times.
2. Turn on Wi-Fi Automatically
This is a great feature that you will definitely love. When you turn off your Wi-fi radio in your Android Oreo (by disabling Wi-Fi in setting or toggling the quick settings title), everything will be as it should. So, this will save your battery by not scanning for Wi-Fi networks all day. But, when you will reach to your home back, Google Oreo can use your phone's location to see that you are back around your home Wi-Fi networks, and will automatically turn on your Wi-fi radio on.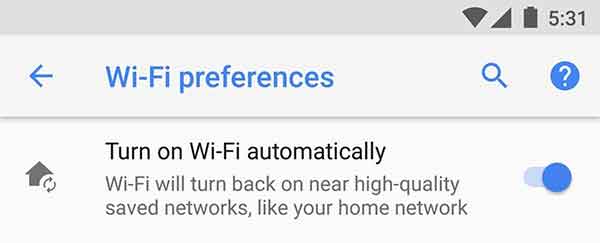 You can simply navigate under Network & Internet -> Wi-Fi -> Wi-Fi preferences. With the "Turn on Wi-Fi automatically" switch enabled, your phone will automatically kick your Wi-fi to connect to the particular network when you're at a location where you've connected to a Wi-Fi network in the past.
3. Picture-in-Picture Mode
Picture-in-picture Mode is one of the major Android Oreo features for the multi-taskers. It allows the users to the split-screen window for watching videos while performing other tasks, though apps will need to be updated to support the new API. So far, the feature works with VLC and YouTube.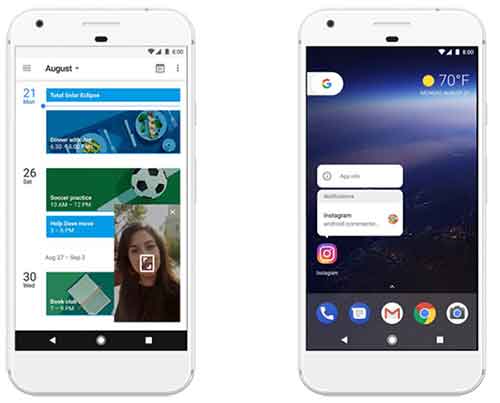 Yes, we have already seen this type of feature in many Android devices but now it's dead and newly introduced to the Oreo supported device with some more tweaks.
4. Good bye 'Unknown Sources' Settings
On previous versions of Android, we had seen enable 'Unknown source' option while installing a third party app from somewhere. But now, In 8.0 Oreo this setting is entirely gone. Before installing individual apps, now we will need to trust them.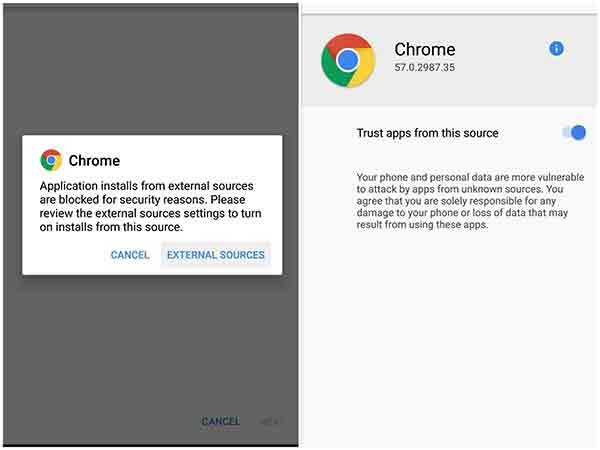 In means, when you download an APK through the Chrome browser, you'll be prompted to check your "External Sources" settings. From there, pick Chrome from the list and then make sure the "Trust apps from this source" option is enabled. So, next time you will not need to face the 'Unknown Sources' Settings, and same procedure should be followed while allowing unknown source setting.
5. Adaptive Icons
Basically, Android device developers use their own skins for Android icon view. But, With this new feature in Android 8.0 Oero, developers can create a single, unified app icon, and the system will do the rest. Android Oreo will automatically crop and align it according to the adaptive icon settings.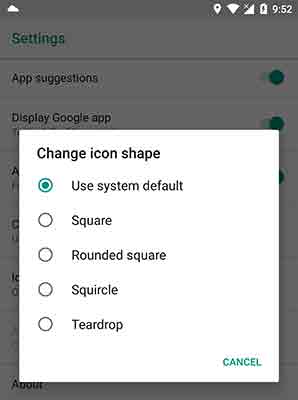 Developers will be able to create so-called "adaptive icons" that offer multiple shape options that automatically shift based on your home screen theme. More likely, Circle, rounded square, or something in between.
6. Smart Text Selection
This is one another great Android Oreo feature that allows users to perform intelligent actions while selecting any text. Like, if you have selected an URL then, Oreo will suggest opening it in Chrome. Select a phone number, and the Dialer app will appear as a suggestion. An address, and Google Maps will pop-in, and so on.

This quick action helps users to easily perform the job. This means you don't need to separately copy and paste it to somewhere which oreo is now suggesting to you.
7. Better BT Audio and Camera Quality
Google has set Android Oreo to use Sony's LDAC codec, this should improve upon the Bluetooth A2DP protocol currently used today.
Google is also spending some time reworking the camera app, offering a new double-tap feature that lets you quickly get to 50% zoom. There is now dedicated option for switching between photo and video option.
8. Package installer Progress Bar
In previous Android versions, we had seen the indefinite app install bar that Android has used for far too long. But now, Package Installer has received a makeover in Android Oreo.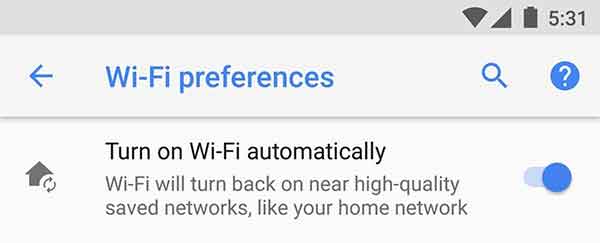 The new progress bar seems more realistic and actuate, replacing the indefinite app install bar that was previously seen on older Android devices.
9. Auto fill Improvements
Chrome auto-fill saved information such as addresses and credit card numbers when it detects a compatible field. Well, a similar feature is coming to Android Oreo.
Oreo's Autofill API allows these app developers to properly detect and input form data within apps and on the web, all while keeping your info secure.
The Autofill API will definitely save you some time while inputting your credentials. You can check Autofill settings by navigating to Settings > System > Languages & input > Advanced > Input assistance > Autofill service and choose the app you want to use to fill in forms and login fields.
10. Google Play Protect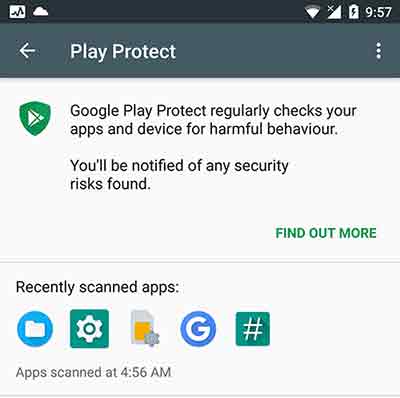 Android Oreo features Google Play Protect that helps you keep your device and apps secure. It constantly scans and reviews app for malware and warns you pre-hand of any conspicuous app trying to risk your device's security. Read more about Google Play Protect.
And so many other features…
It is looking like, Android Oreo 8.0 has added many new features and changes or fixed many issues. That's why it is rolling out very fast.
Some other Android Oreo features include Better keyboard navigation, redesigned settings menu, ability to snooze individual notifications, New battery menu, Arrow key, and Tab navigation, wider color gamut in apps, and several other minor changes and additions that you should try right now.
— How to Install Android Oreo 8.0 on Nexus and Pixel
Have you installed Oreo yet? What do you think about these above features and Changes? Do share your experience with others by Commenting below.