After being resurrected by HMD Global Nokia is currently one of the most efficient OEMs out there. The Finnish company is known for rolling out timely system updates and software patches for various of its devices. Nokia is one of the few OEMs after Pixel devices and Essential phones to get the Android Pie system upgrade. Sticking to its efficiency, Nokia has started serving the tasty Pie to its user. Android Pie update for Nokia 7 Plus is now rolling out worldwide.
Everybody wants a piece of the Pie! We are starting roll out of Android™ 9 on #Nokia7Plus. Which of its delicious new features is your favorite? 🍰 #Nokiamobile pic.twitter.com/whiZlZPLTP

— Juho Sarvikas (@sarvikas) September 28, 2018
This news was shared by HMD Global's Chief Product Officier, Juho Sarvikas, on his Twitter account. According to which, the update is now being pushed to the users over-the-air.
Tons of New Features
Android Pie update for Nokia 7 Plus brings a lot of features which revolves around AI and machine learning. Gesture navigation is an important new feature that the OS brings. This will definitely give a tough competition to Apple. We know Apple's latest iOS is popular for the use of gesture navigation. With gesture navigation on your Nokia 7 Plus, you can swipe up to view recent apps Sliding to left and right will allow you to switch between the Apps.
The new Android version introduces the  Digital Wellbeing 'Dashboard' that works in hand with AI to track the phone's usage and provide relevant information to encourage efficient use of the device.
Android Pie update for Nokia 7 Plus also packs the all new improved Do Not Disturb Mode. There is this new feature called 'Shush' which you can activate by putting your phone face-down on the table, and it automatically enters the DND mode. That definitely sounds cool. Then there's 'Wind Down mode' that fades your screen to greyscale and enables DND mode at a scheduled time.
Also, there are 'App actions' which gives smart suggestions based on your device's usage.  App slices are also one of the Android P features which let you perform activities outside the app through an interactive slice of the same App.
There is a major revamp in the design as well. Android Pie brings an all-new Power menu and Settings menu. In the power menu, you have the 'Lockdown mode' option which you can use to lock out and disable the fingerprint sensor unlocking. This is useful in case of a forced burglary. It will render the device useless. Power menu also packs a new Screenshot button. This reduces the menial job of pressing the power button and volume down together for a while to get your screenshot.
Also, this fall Android Pie update for Nokia Plus 7 brings enhanced security for App usage. All apps built for Android Pie will transfer data from App servers and vice-versa via HTTPS network by default. Also, a user gets an alert tone if his call is being recorded. Apart from all these, all the standard Android Pie features will be available for Nokia 7 Plus users to enjoy.
Update your Nokia 7 Plus to Android Pie Now!
The Android Pie update for Nokia 7 Plus has started rolling out over-the-air to open market users. According to Juho Sarvikas, carrier-branded devices will follow up a bit later. The OTA weighs 1.4 GB or 1471.3 MB to be exact. So, download the OTA using a Wi-Fi connection. It is rolling out in batches, so users will receive it gradually on their phones.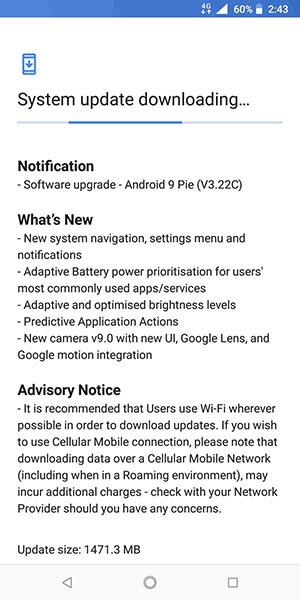 You may as well manually check for the Nokia 7 Plus Android Pie update. To do so, go to the device Settings -> About phone and tap on 'System updates'. If the OTA is available, it will show up and prompt you for installation.
We hope soon, other Nokia devices will also get their fair share of the Pie treat. Also, if you own a Nokia 7 plus, then make sure not to miss the Android 9.0 Pie update for the device. Nokia users are really lucky to experience the Pie OS in a short while after its official launch
Source: Nokia