Don't want to leave your friends or relatives unattended when they message you? Follow this tutorial to easily auto-reply messages in WhatsApp, Email, Telegram, etc.
We are well versed with the auto-reply functionality in Android. The feature lets your device auto-respond to missed/canceled calls with a pre-defined message. Such a feature is pretty efficient when you're driving to the gym, taking a shower, and in-mid of any such situation. A message like "I'll call you right back" is always more convenient and lets the person on the other end know that you're aware that they tried to contact you. We mostly do this for the sake of courtesy, so that the person on the other end acknowledges that we are engaged somewhere else.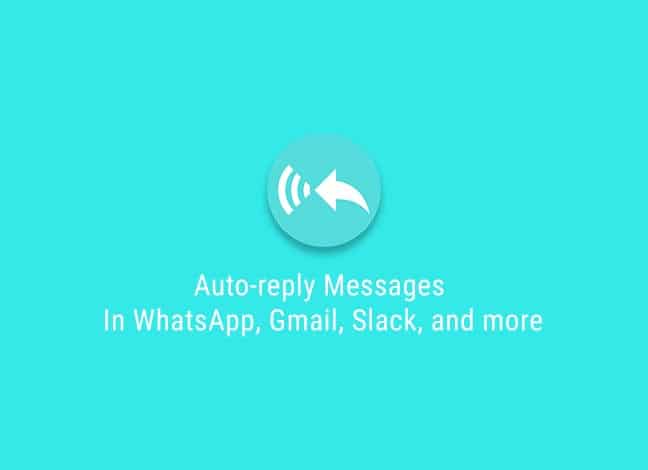 Well, this feature is mostly limited to the calls only and barely sees the light with text messages, let alone third-party apps like our favorite WhatsApp or Telegram. But wait, we still can auto-reply messages in WhatsApp, Telegram, Slack, Email, and much more by just using a single app for the job.
Read: Download Xiaomi Mi A1 Wallpapers [9 Wallpapers]
Table of Contents
How to Auto-Reply Messages in WhatsApp, Slack, and Other Apps
The solution for this very situation is to use an app called "Can't Talk – Auto-reply to everything". It has been developed by XDA member – crazyfool_1. The app has been around for a few months now but only came to our notice pretty recently as more and more users started appreciating it.
It is worth noting, that while the app is still in its Beta testing phase, it still works exceptionally. So now, if you're driving, or working on the desk, Can't Talk will automatically respond to messages received on any email or chat apps including WhatsApp, Telegram, Allo, Hangouts, Slack, etc. Practically, any app that allows direct notification replies (Supports inline reply actions) will be able to auto-reply messages using Can't Talk.
So now, go ahead, download Can't Talk and start using it to auto-reply messages in Android.
Download & Install Can't Talk App
Since the app is still in testing, you will first need to apply for becoming a tester on the app's Google Play testing program page. So visit this link. Then log in with your Google account if you haven't and click on the "BECOME A TESTER" button.
Now, that you are a beta tester for the app, all you need to do is download Can't Talk to your phone. Just click the app box below.
Get Can't Talk App on Google Play
Once the app has been installed on your phone, go to the app drawer and launch "Can't Talk".
Use Can't Talk to Auto-reply Messages
Now, the default interface of the app should look something like in the image below. The first thing to do is switch ON the app toggle itself. It should be enabled by default, but in case it isn't then turn on the toggle present on the top-right of the app window.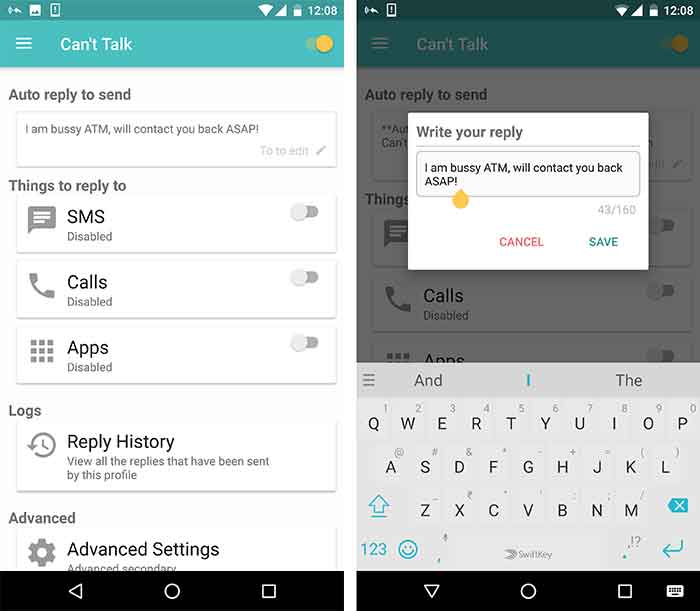 The first card in the app screen should be labeled "Auto reply to send". This is the automatic message, that will be sent by default. So, just tap on the card and edit the message with the text you want it to convey and then press "SAVE".
Next, you will need to configure the settings for the app to auto-reply messages in SMS, Calls, and third-party apps. So, switch on the desired toggles for SMS, Calls, and Apps. You will need to grant permission as you are prompted.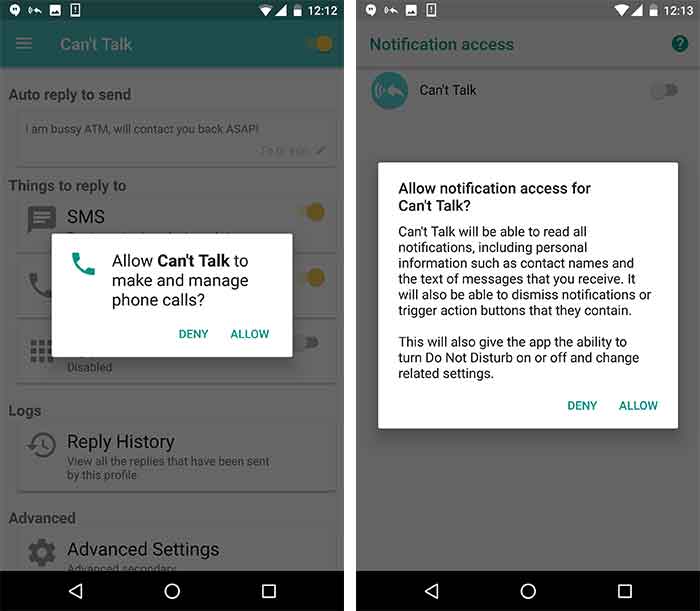 By default, Can't Talk auto-responds to all contacts and apps, but you can customize the setting to select which contacts/apps you want to include in the list. Start by tapping on the respective card and choose the desired contacts or apps.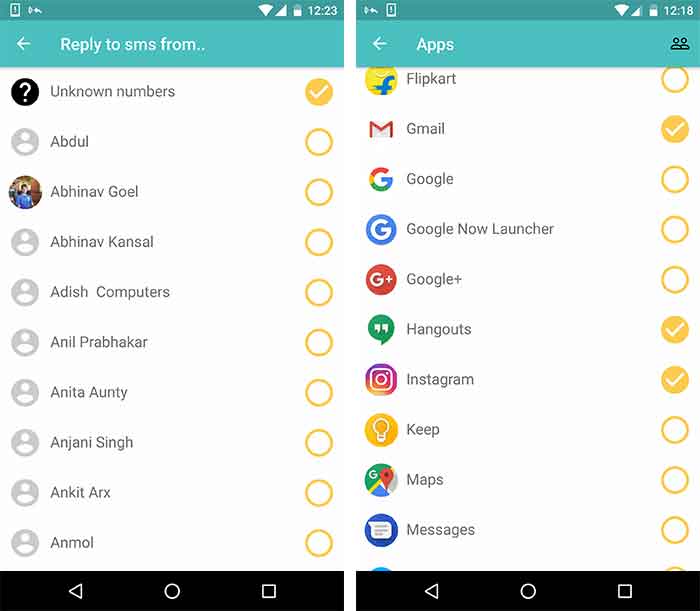 That's it! You have just enabled the app to auto-reply messages on WhatsApp, Telegram, Gmail, Hangouts, etc. Enjoy the app!
Check out more downloads:
Let us know if you face any problems while using the app.