In this article, you will find the best MX Player alternatives for Android Phones in 2018.
With the emerging market of streaming, media downloading and the ever-increasing surge of its consumers have led to the emphasis on which platform the user choose to stream on. In order to meet the demand of this new market, it's all the more necessary to keep up with apps which provides you with the features you want the most. Being one of the best players here on the play store, MX Player has been the top choice of the users. Now take a look at some Best MX Player Alternatives for Android.
However, choosing the app is not all about which features you want but what proves to be more efficient and compelling in its working and functionality.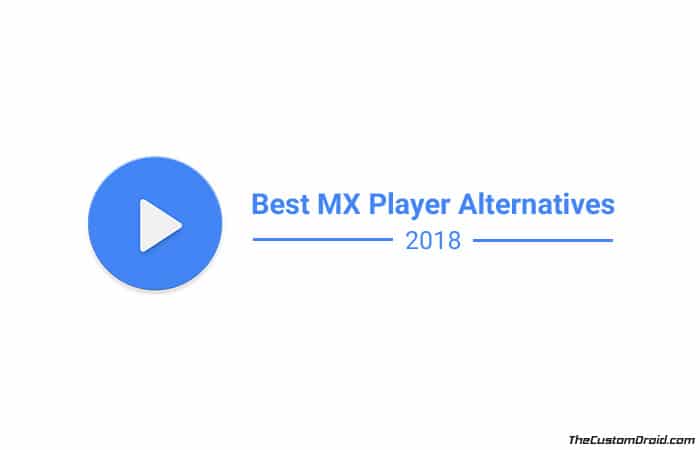 MX Player has been around for quite a time and it has proved its existence throughout the years. One of the features that separate it apart is its excellent control over hardware acceleration with its new 'Hardware+' decoder. With the support of maximum subtitle file formats, it has exceptional ability to offer the user to manipulate its position onto the screen, the speed of the playback, size, and sequence of the subtitles effortlessly. Other features include multi-core decoding, clean interface, and controls.
Table of Contents
List of Best MX Player Alternatives – 2018
As the New Year proceeds, the availability of apps that are ever more operative, engaging and moving not only to your liking and usage but also to your beloved Android, which after all, does all the work behind the curtains. But we are exactly here to help pick them up for you in case of fallback. So go through this list of best MX Player alternatives that you can download and use right now.
1. VLC for Android
Get VLC for Android on Google Play
VLC is renowned for its popularity across different operating systems and platforms. With being Editor's Choice, its open source nature, and diverse accessibility across different type of devices it is capable to handle most of the videos and audio files as well in more formats than most players around.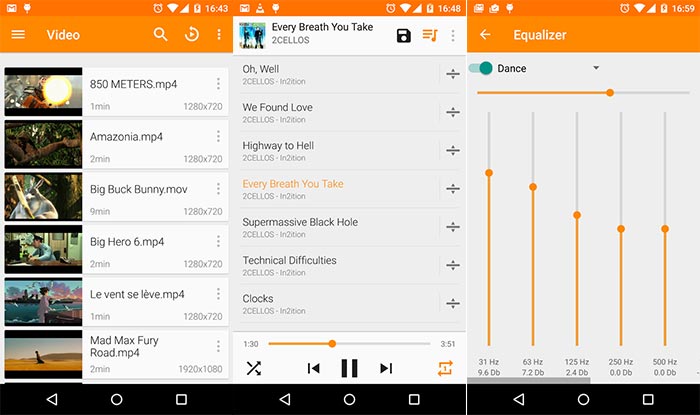 VLC for Android has secured the first position in our list of best MX Player alternatives because of several reasons, including the features that it offers. The player offers useful widgets which allows you to play videos on the homescreen. With its ability to list all media files, it is even an ideal candidate for best music players which categorizes every audio file to its artist, album, and titles. Comes with a considerable amount of subtitle files support, five-band equalizer and well-curated interface design.
Feature highlights:
Max Video Format Support

Homescreen Widgets

Built-in Music Player (sort through artists, albums, and titles)

Five-Band Equalizer

Well Designed UI

Play Store – Editor's Choice
VLC for Android is available for free on Google Play Store with no in-app purchases.
2. KMPlayer (Mirror Mode, HD)
Get KMPlayer on Google Play Store
Our next candidate to be regarded as one of the best MX Player alternatives is KMPlayer. It is another feature-rich media player which gives subtitle support, one-hand control and favourite playlist creativity. In addition to its multi-window compatibility, which enables you to send/view documents and send messages while playing the video, it also provides the on-screen floating capability.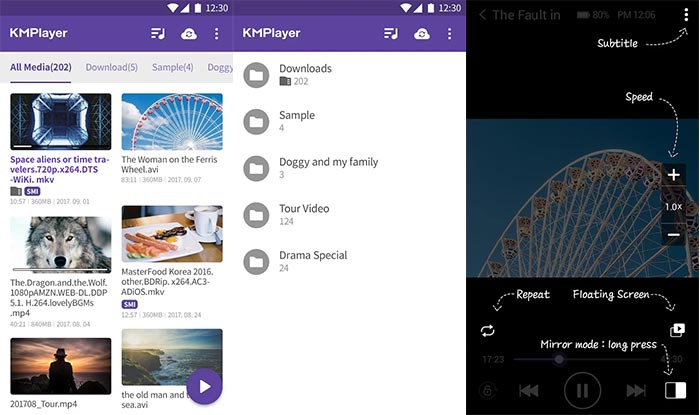 KMPlayer gives you the option to sync with Google Drive to handle the downloaded files directly from the cloud. Mirror mode in the app offers the inversion of the videos which sometimes comes in handy when the videos are inverted by the front camera. Another version of the app by PANDORA.TV also features 360 degree and virtual reality modes.
Feature highlights:
Subtitle Support

Subtitle Manipulation

One-Hand Control

Multi-Window compatibility

Google Drive Syncing

Mirror Mode

360 Degree Videos (Varying version)

Virtual Reality Mode (Varying version)
KMPlayer is available for free on Google Play Store.
3. Video Player HD
Get Video Player HD on Google Play Store
Video Player HD is another one of the best MX Player Alternatives that can play High definition videos including 4K video formats without any glitches. It features an amazing option for the audio equalizer which comes with presets including Brass and Treble adjustments. Apart from that, the app also supports Oreo-like Picture-in-Picture mode – "Pop-up Video" feature. The app has the option to stream any media online. The feature works with the provision of the link to the playable media file.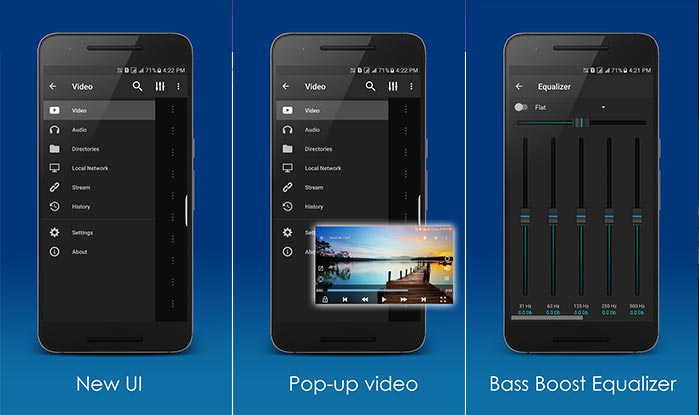 It supports all the codecs including AC3, with the capability of pop-up playback feature which pitches you with multi-tasking while playing a video. Overall neat interface and impressive launch timing are what that makes it one of the best MX Player Alternatives.
Feature highlights:
4K Video Support

Audio Equalizers (presets included)

LAN Files (shared) Playback

AC3 Format Support

Pop-Up Video Screening

Online Streaming (requires media link)
Video Player HD is available for free on Google Play Store with in-app purchases.
4. Video Player All Format
Get Video Player All Format on Google Play Store
Video Player All Format is an emerging player which have the potential to gain more fame, further in 2018. With the "Editors' Choice" badge, it already proved its worth from its sterling features including 4K/Ultra HD video playback. The app includes the protection of your files from being deleted or seen when your device is being used by any other person. The protection requires the settings by the user on the selected files beforehand.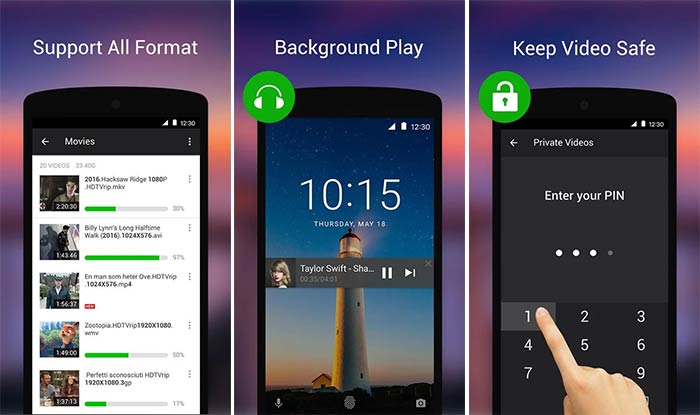 It also offers background playback, along with music player capabilities. The app comes with privacy protection, which put pin locks to your app, protecting your files from being accessed by others. Additional features include Chromecast support, subtitle downloader, and auto-detect media files. Considering the number of features it offers, Video Player All Format can be totally considered as one of the best MX Player alternatives.
Feature highlights:
4K/Ultra HD Support

Files Privacy

Background Play Capability

App Locking

Built-in Chromecast Support

Auto-Detect Media Files

Bit-in Subtitle Downloader
Video Player All Format is available for free with some in-app purchases.
That was all for now. The list is short because it's hard to find video player apps competent enough to match the levels of MX Player. So this was our list of best MX Player alternatives that you can install and use right away. If there's an app that we have missed or you would like to suggest, then kindly drop your suggestions in the comments.