Just like Nokia, BlackBerry remains relevant in the market even after its exit in mobile space in 2016. In the same year, the company licensed the brand to Chinese manufacturer TCL, which is one of the three BlackBerry brand licensees. Since then, TCL has been making smartphones following the BlackBerry design heritage. While Priv and the awkwardly named DTEK didn't sell pretty well, the flagship KeyOne was a success with BlackBerry exclaiming "mission accomplished". And so just like any blockbuster movies, the KeyOne is guaranteed to have a sequel.
BlackBerry Key2 Images
Renowned leaker Evan Blass (@evleaks) shared photos of what he claims to be the BlackBerry Key2. According to which, there are two different color variants that will be made available. The device follows the same appearance as the KeyOne. But the addition of the dual-camera system and a minor tweak on the keyboard were the obvious differences. The photos also confirmed that the Key2 would retain the 3.5mm headphone jack, a feature that is already starting to go into oblivion. But aside from that, the information about the Key2 remains scarce. It won't take long though, as TCL is all set to launch its new flagship smartphone tomorrow, June 8. So stay tuned.
Update: BlackBerry Key2 Specs Leaked
Right ahead of the official launch, Evan Blass again gave a strong leak about the Key2 specs detailing the hardware and software. The spec sheet comes in form of an image, that details each and every feature of the upcoming BlackBerry device.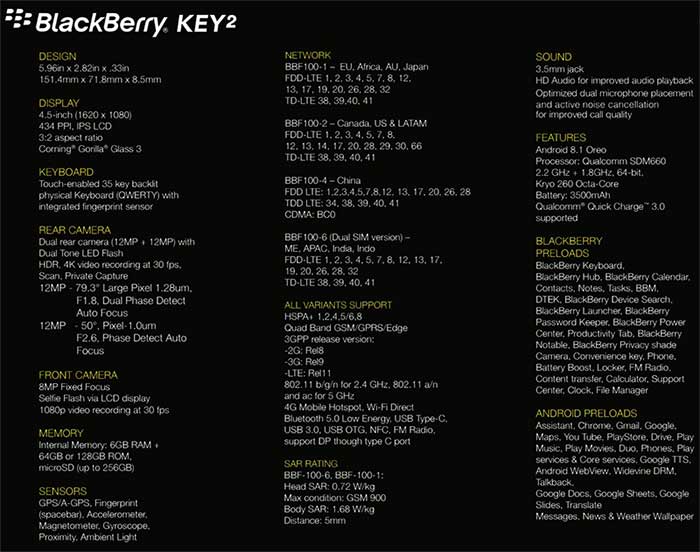 The display again is 4.5-inches at 1620×1080 px resolution, which is the same as seen previously on the KeyOne. As you can see from the image above, the Key2 will come with a QWERTY keypad. The best thing about which is that it will support an integrated fingerprint sensor as well. On back resides the dual 12MP + 12MP camera setup, with the former being the wide aperture lens. The BlackBerry Key2 will come with 6GB of RAM in 64/128GB variants. The microSD slot supports expandable storage up to 256GB.
When it comes to the software, it comes with Android 8.1 Oreo out-of-the-box. The unit is powered by a Qualcomm Snapdragon 660 processor and also supports the Qualcomm Quick Charge 3.0 module.
That's already quite a lot even before the official launch which is right ahead of us. So stay tuned while we bring more information to you.
Source: Evan Blass (evleaks)