Have you already updated your Pixel device to Android P Developer Preview? In case you want to roll back, follow this tutorial to downgrade Android P to Oreo firmware on Pixel devices.
There are a lot of smartphone manufacturers who are still working to release devices in Android Oreo. And many of the devices are still waiting to get the update for the new version of  Android. While this all is going on, Google announced the Android P Developer Preview. We are quite sure that a majority of users would have already updated their supported Pixel devices. If you are thinking of it, then first go through our post and find the reasons for why you should not install Android P just yet. The release is considered to be very early and probably not suitable for daily usage just yet. Or you may find that after actually installing the dev preview. Anyhow, you can easily roll back to the previous stable Android version. In this guide, you will learn how to downgrade Android P (Android 9.0) to Android Oreo on your Pixel device.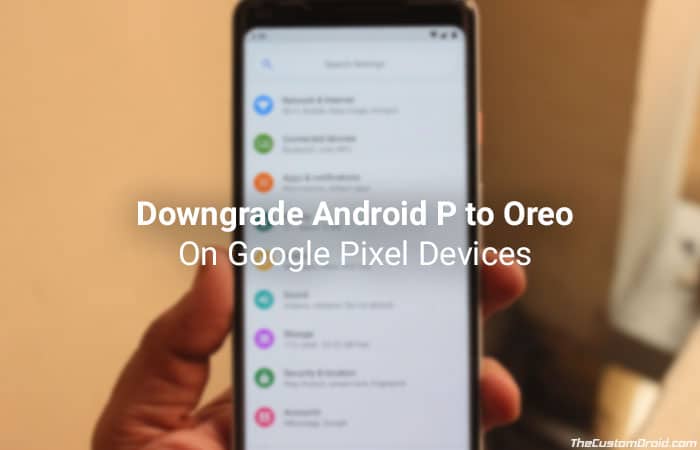 Table of Contents
Guide to Downgrade Android P (Android 9.0) to Android Oreo
At the moment Google has only released the preview for the Pixel devices released in 2016 and 2017. Android P proves that it has a lot of advanced features that users would definitely look forward to. Even though it has gained a lot of attention among the users, it is not advised for the general public to install the preview on their Pixel devices. It is called a "Developer Preview" for a reason and may also not be as stable as the standard Oreo build. The battery consumption may as well be affected because apps are currently not optimized for daily usage. If you are one among the Android enthusiasts who downloaded Android P Developer Preview and who want to switch back to normal predecessor version that is Android Oreo, then we got you covered in this article.
The process to downgrade Android P to Android Oreo is quite simple, especially on the list of Google devices. All you have to do is, download the Oreo factory image for your device and flash it using a PC. Like we said, only a small bunch of Pixel devices are supported (list below), and so the same applies to this tutorial as well.
Google Pixel (sailfish)
Google Pixel XL (marlin)
Google Pixel 2 (walleye)
Google Pixel 2 XL (taimen)
While the process may seem to be simple for experienced users, it could also be confusing for novice users who are new to the Google devices. To overcome that, we have stated each and every step in detail, that would help you downgrade Android P to Oreo by flashing the factory image using fastboot.
Prerequisites
Back up all the files before you read the steps below. The process will wipe your device clean, which means all the data including internal storage, messages, apps, contacts etc will be wiped. You can follow our extensive guide on how to backup Android devices.
Charge your phone to a minimum of 60-70% of charge before performing the downgrading operations.
In order to flash Oreo factory image, you must first install Android SDK tools on your PC. You may further add Android SDK to PATH on your Windows/Linux PC.
You must also enable OEM unlocking and unlock bootloader on Pixel.
Once the requirements are fulfilled, follow the instructions below to downgrade Android P developer preview to Android Oreo.
Download Android Oreo Factory Image
You will be required to download the Android Oreo factory image for your Pixel device. It is recommended to download the latest version of the available image based on Android 8.1 Oreo.
For more older factory images, you can directly visit this page.
Instructions to Downgrade Android P (Android 9.0) to Oreo
First, download Android Oreo factory image for your Pixel device.
Extract the ZIP file to get the required files.
Move the factory image files to C:\adb folder. This is where the ADB/Fastboot binaries are present on your PC.

Next, power down your Pixel device.
In order to flash Oreo factory image and downgrade Android P, you must boot your Pixel into bootloader mode.
So, hold the Volume Down and Power button simultaneously to enter bootloader mode.

Once your phone is in bootloader mode, connect it to the PC using the USB cable.
On Windows, go to C:\adb and find the "flash-all.bat" script.
[If you don't want to wipe] Edit flash-all.bat using a text editor like Notepad++ and remove the "-w" flag from the listed commands.

Double-click on flash-all.bat to install Android Oreo factory image and downgrade Android P developer preview.
On Linux/macOS, open a Terminal window and execute the following command:

./flash-all.sh

The flashing process will begin and would take a minute or so to finish.
When complete, your Pixel device will reboot automatically. You may then disconnect the device from the PC.
Once your Pixel device boots, you shall go ahead and follow the standard procedure of setting it up. Your device should now be fully downgraded to Android Oreo and attain the same stability as before. The process would have also given you a clear idea of how to flash OS images to restore your phone back to factory state.
So, this was our guide on how to downgrade Android P to Android Oreo. For any queries regarding the process, leave a comment below.