When Android Pie released in its entirety, it came packed with a load of features. Google is always popular for its innovation and uniqueness. Reflecting the same on Android Pie, the company came up with the concept of Digital Wellbeing. Almost everyone knows about this feature. According to the official statement, this attribute aims to improve the time and experience of users which they spent digitally. Technology should be an aspect of life. It should not dominate the human lives. There is scientific proof that too much unnecessary indulgence in technology affects our day-to-day lives in both personal and social platforms.
So, the Digital wellbeing aims to make the smartphone users aware of the usage and abuse of their gadgets. The only issue amidst all the advantages of this feature was its limitation of availability. Only those devices which run on fresh stock Android 9.0 Pie are entitled to make use of this feature. Now a majority of Android devices are still running on Android OS 7.x Nougat and 8.x Oreo. So, this prevents everyone who owns an Android device to take the benefit of Digital wellbeing. So, to deal with this issue, third-party developers have entered the scene. They have developed a new app called "ActionDash".
The ActionDash is similar to Digital Wellbeing but it has its own unique touch which has already made it a talk of the town. This App can literally run on all Android devices starting from Android Lollipop and later. If you use any Android device, you can now download official ActionDash App from the PlayStore. With this App, you'll be able to know how much time you are spending on which Apps. You can even get to know how many times you've unlocked your device in a week.
[googleplay url="https://play.google.com/store/apps/details?id=com.actiondash.playstore"]
Installing the ActionDash App is very easy. You don't need any root access or any other rocket science. All you need is a working Android device. After you install this app, you have grant access by enabling the toggle button in Usage Access under the Settings tab.
Like any other Apps out there, ActionDash has a premium version($7 upgrade) which has more lucrative and useful features. This includes dark mode, data backup, customizations, unlimited history of the total usage of the device etc. This is the unique point of this App which Google's Digital Wellbeing doesn't have. So, yeah, you can count on ActionDash for this mater.
We did try out this App(non-premium version) on our device. This is how its interface looks. You can see how many minutes you have spent using which App on your device. Tapping onto the App name, you can see a detailed usage of that App.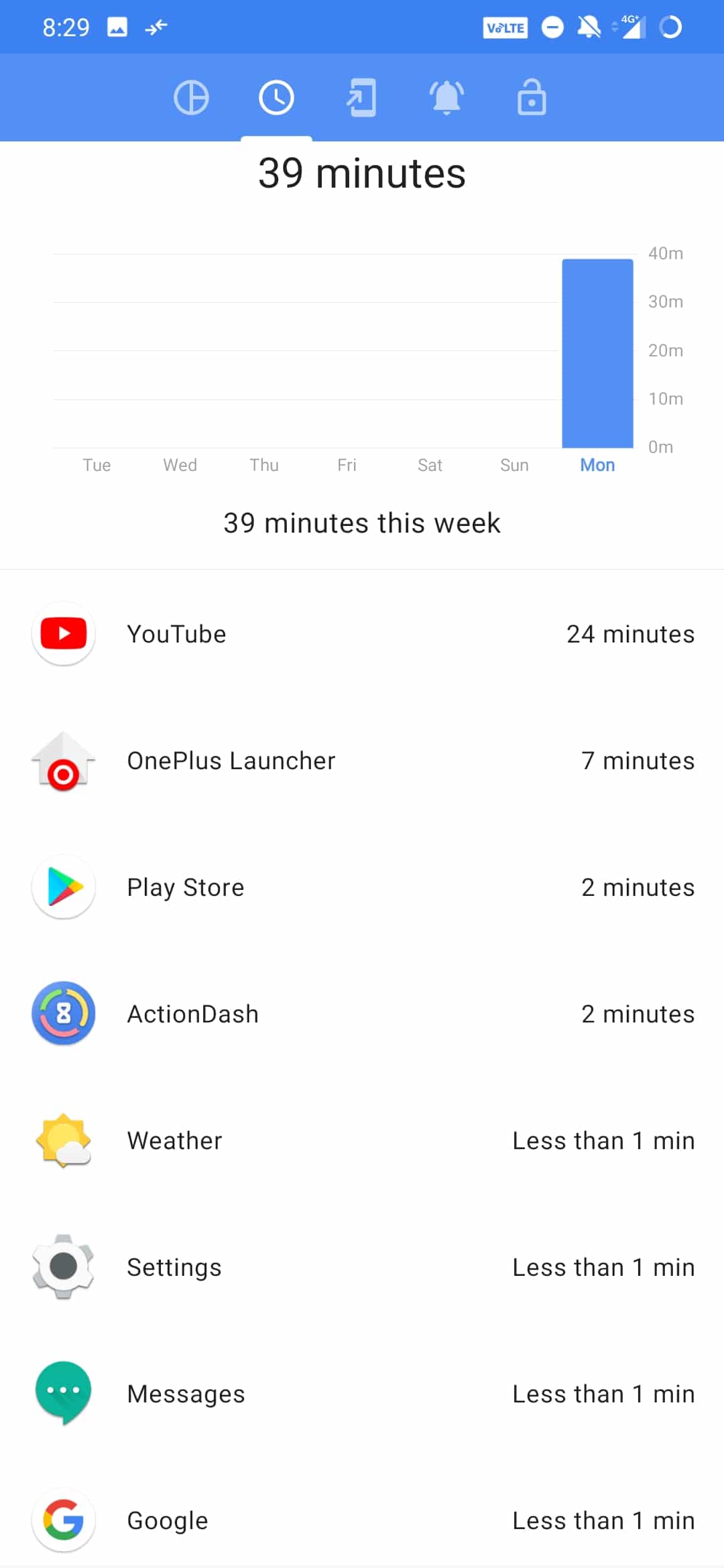 You can also check how many times you've unlocked your device in a week.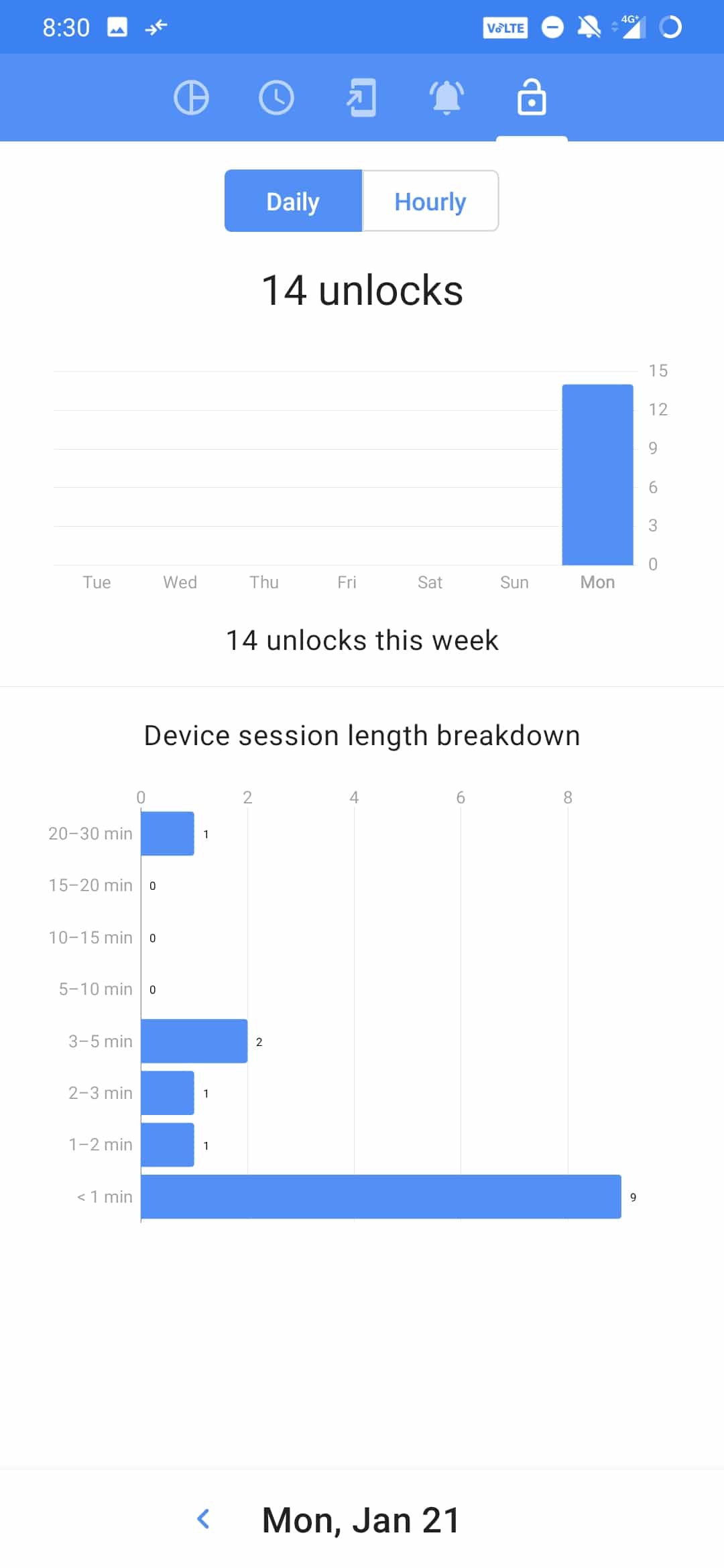 Here is a total roundup of your device usage depending upon the top Apps you use. It also provides an App session length breakdown.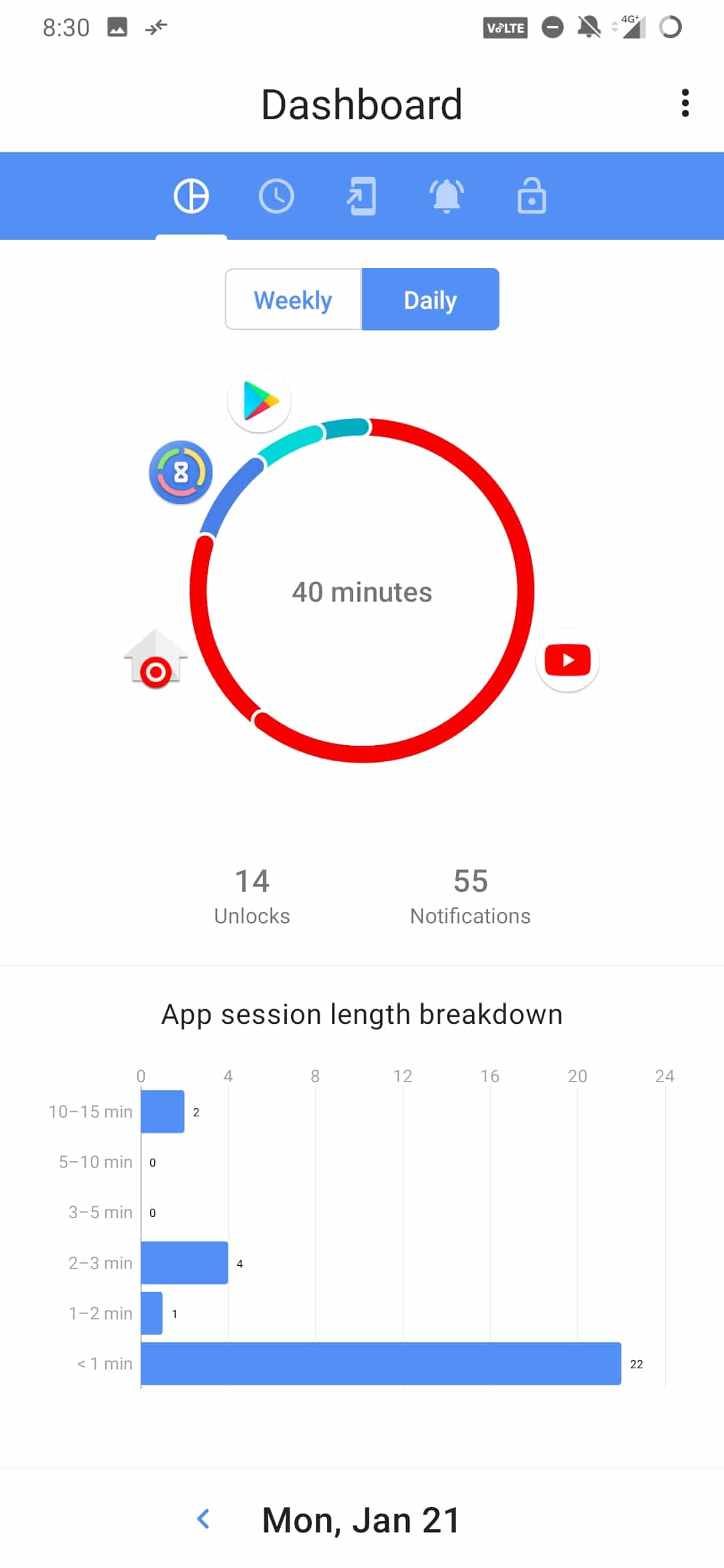 This is a useful app for sure but then again everything comes down to the individual user. Its the user who must act on the awareness and know what he needs to use on his device. Technology is there to help the people. Sometimes it's the people who end up abusing technology. So, here is where Apps like ActionDash come into the scene. So, if you think your gadgets are getting the better of you, then grab this App and improve your usability.