Here's the complete collection of Asus ROG Phone Wallpapers and Live Wallpaper that you can download right now. There are a total of 18 stock wallpapers and a live wallpaper that changes state.
This year, we saw a lot of new phones from different OEMs that commonly revolved around minimal bezels and a notched display. On the other hand, there were only a few that focused on mobile gaming. To start with, there was Razer Phone last year. This year, there were several others including the Xiaomi Black Shark, Honor Play, and more.  To add to this list, Asus also released a gaming-centric smartphone back in June, this year – the Asus ROG Phone.
Now before you download Asus ROG Phone wallpapers and live wallpaper, let us take quick dive into some of the major highlights of this phone.
Comparing with the rest of the gaming phones that we saw, the ROG Phone has an upper hand in various sections. To start with, the phone runs on the Qualcomm Snapdragon 845 chipset with a 6.0-inches AMOLED display that offers HDR visuals and a whopping 90Hz refresh rate. Since the phone focuses majorly on a pure gaming experience, it is built that way. It includes a custom-spec'ed port on the side. With the added AeroActive Cooler, you get to have a side-mounted USB Type-C port and a 3.5-mm headphone jack for an unhindered gaming experience.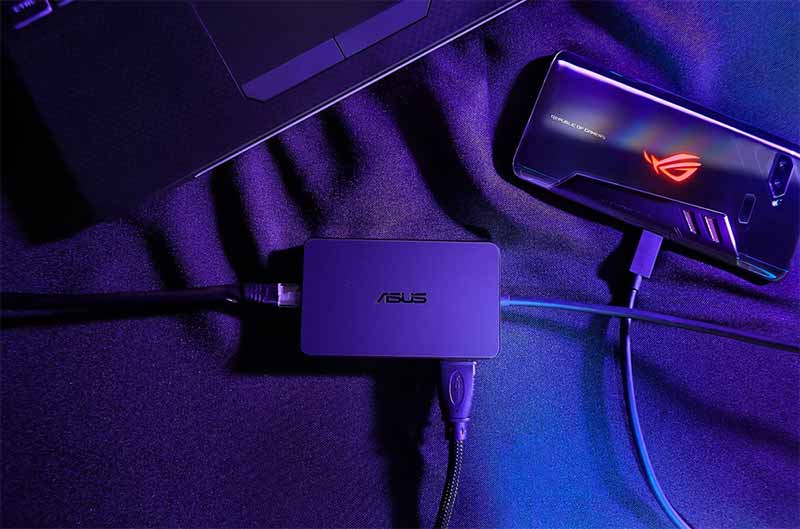 Constant gaming also means a lot of heat that's generated, which directly impacts the performance of the phone as well. The GameCool vapor-chamber cooling system allows you to utilize the phone to its full performance. The detachable AeroActive Cooler offers a cooling boost whenever you need the maximum sustained performance. The complete spec-sheet of the ROG Phone could be found here.
Asus ROG Phone Wallpapers and Live Wallpaper
Despite being released a few months back, the ROG Phone is only available in China, for now. So, while you still wait to get your hands on the phone, you can add a bit of its touch to your current smartphone by downloading the Asus ROG Phone wallpapers and live wallpapers. Thanks to XDA Developers, we now have hands on all the stock wallpapers and a unique live wallpaper.
Mishaal Rahman@XDA was able to extract all the Asus ROG Phone wallpapers directly from a system dump. There are 10 different tech and structure-style wallpapers available. To add, Mishaal was also able to extract a bunch of 8 other wallpapers from the stock launcher APK. In this bunch, there are 4 wallpapers offering the Asus Republic of Gamers theme, and another 4 related to the Battle Royale game.
Further, there's also a unique live wallpaper too that belongs to the live wallpaper app called "GameModeLiveWallpaper". It changes state once the gaming mode (X Mode) is triggered on the ROG Phone.
Below is the preview of all the Asus ROG Phone wallpapers that are available for download. You can click on the preview thumbnail below to expand it.
We have packed all the wallpapers in a zip file for your convenience. But if you'd still like to download individual wallpapers, then you can get them from the Google Drive folder.
Activating Asus ROG Phone Live Wallpaper's State
While you can download and install the Asus ROG Phone live wallpaper on any Android phone, but it won't change the states. Reason – Well, you do not have ROG gaming mode on your phone, do you? But thanks to XDA Recognized Contributor linuxct you can download a companion app that works as a shortcut to toggle the live wallpaper states.
In order to use the 'ROG Companion Controller' app by linuxct, you must grant WRITE_SECURE_SETTINGS permission to it. If your phone is rooted, you can do it pretty quickly. If not, then you can use the following command over ADB to grant the required permission. Of course, first, ensure that you have Android platform-tools installed on the PC. The command you need to execute in the command-line window is as follows:
adb shell pm grant com.linuxct.rogcontroller android.permission.WRITE_SECURE_SETTINGS
Once granted, you can place the app's shortcut on the homescreen and use to trigger the live wallpaper's state. Below is the preview of the Asus ROG Phone live wallpaper running on my Pixel 2 XL with Android Pie. As you can see, the wallpaper's state is changed in the screenshot on the right after activating the 'ROG Controller Companion' app.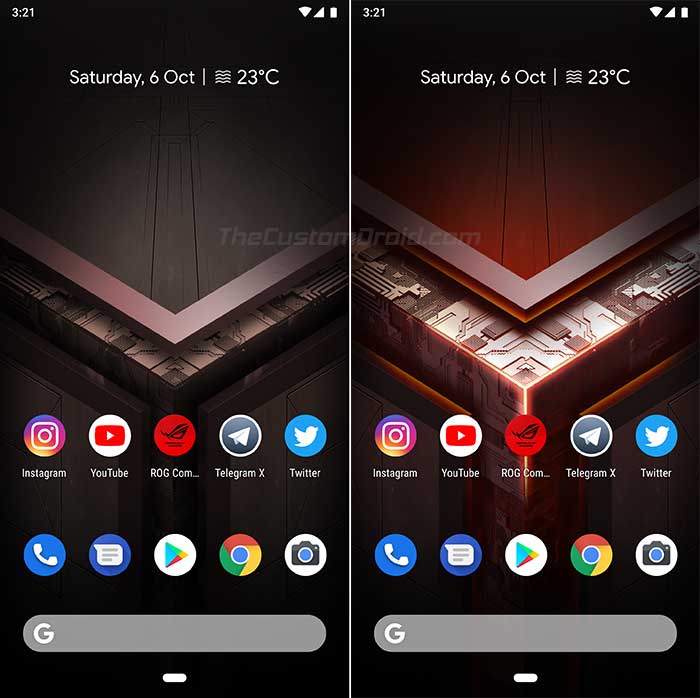 So there you go! You have just been able to download Asus ROG Phone wallpapers and Live Wallpaper for your Android device. We hope you'd like them! Our thanks and all the credits go to XDA for extracting these wallpapers and making them available for the public.
Source: XDA