Google has just showcased some cool wallpapers matching the Spring 2018 season. One of these wallpapers also gives you a hint of the Android P name. In this post, you can download Google Spring 2018 wallpapers for your mobile device.
We all know about the first Android P Developer Preview that was announced back in March. The new iteration of Android is planned to be released in Q3, which is somewhere near August this year. Apart from the hefty new features, there's one more thing that has got the users excited. And that's the actual name of the next Android version. The development phase is also the time, where communities and websites conduct polls, asking the users to vote for their best guess.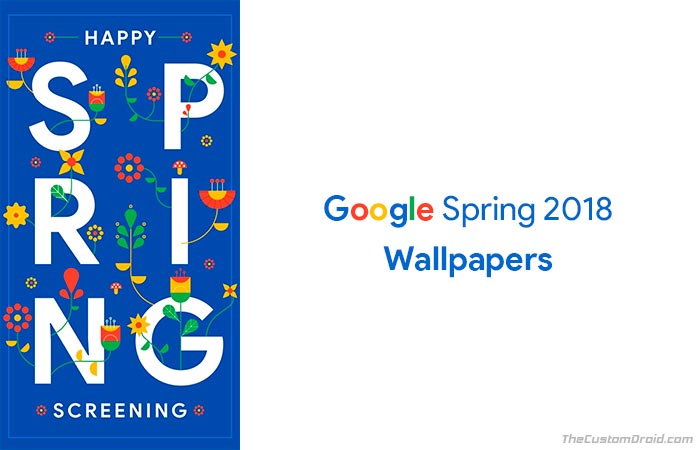 Android versions are usually named after a desert, and we all know that. So 'Android P' is not going to be any different. Users already have a big bet on 'Pie' being the final choice. But Google does want to remind us that there are several more deserts that associate with the letter 'P'. In the series of Instagram stories from Google, we could see one specific wallpaper that refers to both the Spring season and Android P at the same time. And if we are to believe that, then Android P could be well known as Android Popsicle.
Download Google Spring 2018 Wallpapers
The wallpapers are nothing but a part of the Instagram stories that Google shared on their official account, a few days ago. There are a total of 6 different and colorful wallpapers available for download, all of which share the Springtime theme. A total of four wallpapers are based on activities that we associate with the Spring season,  like flying kites, going out to the beach, etc. Apart from that, there are two specific wallpapers that seem to be out of the place.
One of which offers Spring greetings and another that is filled with Popsicles. The latter is something that would naturally refer to the Summer season, which is exactly when Google has planned to release Android P. That makes it more appropriate, right? Anyhow, that still doesn't make it 100% final. Who knows, Google could be having some Spring fun here with the users, getting the users up on their toes and building some excitement.
Below are the previews of all the Google Spring 2018 wallpapers that are available for download. Note that the ones displayed below are not the full-resolution wallpapers and are only here for your reference.
You can easily download Google Spring 2018 wallpapers from the download links below. We have packed them all inside a ZIP archive. Further, if you'd only like to grab individual wallpapers from the collection, you can click on the Google Drive folder link.
Download Links
So there you go! You have the complete collection of Google Spring 2018 wallpapers for your Android device. Go ahead! Apply them on your phone and let us know which of it looks more appropriate to the season.
Via: 9to5Google