A little surprise for our Motorola Moto Z users! You can now install Android P Developer Preview on Moto Z. Check out the new features and a few caveats of using the ported ROM on your device. Simply download Android P port for Moto Z and install it using the instructions given here.
Google's next major iteration of the Android OS is on its way. The OS is already available as part of a developer preview for Google's own line of Pixel phones. And we are soon approaching the Google I/O 2018 event that will provide us more insights about the upcoming version. That aside, it's highly likely for any other OEM device to get Android P before the final launch, at least that's what we have observed since the past few years. But that's gonna change now that we have an unofficial Android P port available for one such phone that is not manufactured by Google. Below, we will be discussing all the information about the port and also how you can install Android P Developer Preview on Moto Z.
Android P is definitely changing the game in mobile OS, as it brings enormous new changes to the system. These new changes and features not only enlighten the visual appearance but also bring more efficiency to the software. Smart replies, improved messaging experience in notifications shade, revamped notifications and quick settings toggles, multi-camera support, dedicated screenshot app (known as Markup), support for the notch, and new icons in settings menu are just to name a few. We're quite sure that the second preview release will come with much more.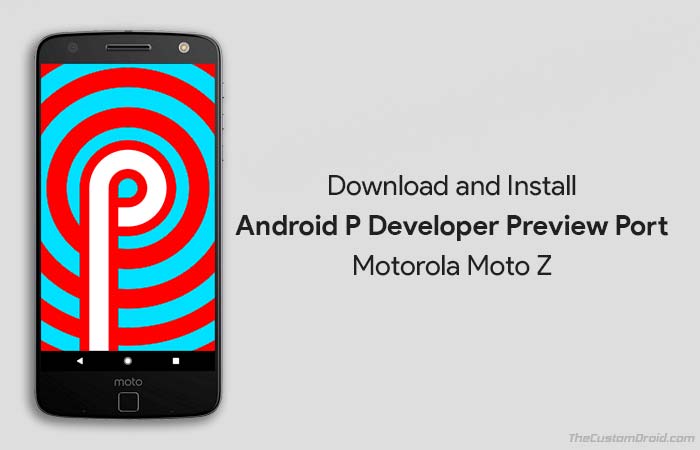 Table of Contents
Moto Z Android P Developer Preview Port
Now, over to what we are precisely here for today. Not so long after the official launch, third-party developers got their hands into porting some specific parts of the new OS. We already covered a post on how to get Android P features on any Android device. But it is to note that it doesn't really bring in any core changes and functions to a device, just the visual stuff. However, things are changing with a new port on the rise, that brings Android P Developer Preview on Moto Z.
The phone was first launched in 2016, with Android 6.0.1 Marshmallow and was recently updated to Android Oreo. Now that the users have been enjoying Oreo, they are likely to anticipate if Android P will approach the device as well. Well, we aren't so sure on that because the phone has already received support for two major Android versions already. Well, XDA Recognized Developer erfanoabdi is about to change that, unofficially. Indeed, the new features and changes held interest to the developer, from him to take a deep dive into the new OS and port it back to a rather old Motorola phone.
Before we get to the instructions to install Android P Developer Preview on Moto Z, let us first dive into more information about the Ported ROM.
For those who are interested in the technical details, here's more. According to XDA, the developer basically ported the Android P system image from the Pixel XL. Using his own script 'Capri Le Treble', he was able to flash the modified system image on his Moto Z without the /vendor partition. The ROM (image) was flashed over LineageOS 15.1, which means it uses the same kernel. It took several attempts and a lot of patience and hard work for the developer to finally boot Android P on Moto Z.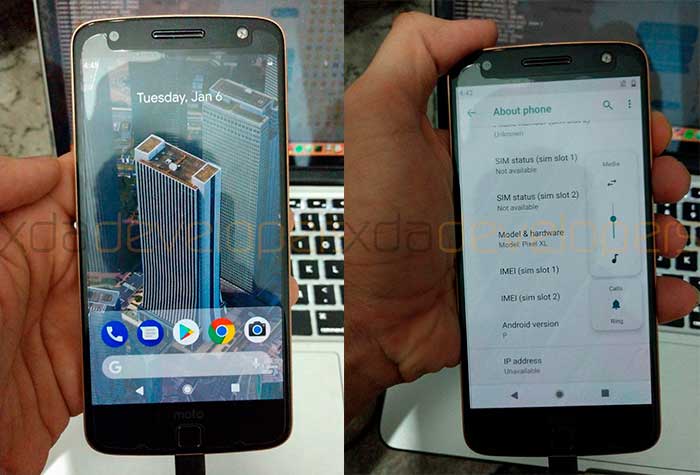 The build is now available for the public to install. Majority of the basic features work pretty well, which includes mobile network, camera (front & rear), WiFi, Bluetooth, Audio, NFC, and GPS. But, there are certain things that do not work quite as expected, which are as follows:
Secondary SIM slot in Dual-SIM devices
Flashlight quick settings toggle
Device encryption
So, if you're able to oversee these mentioned above, then go ahead and install Android P Developer Preview on Moto Z.
Requirements
The process will require you to format the userdata partition (Including internal storage) if it is encrypted. So, perform a full backup before proceeding. You can also view our Android backup guide for this.
Charge your Motorola phone to a sufficient battery level to avoid any sudden shutdowns during the process.
You must have TWRP recovery installed on the device.
If your Motorola Moto Z is encrypted, make sure to install ADB and Fastboot tools on the PC. You will need them for the additional instructions towards the end of this post.
You will also need to install LineageOS 15.1 on Moto Z. A few users have also reported of success using official Oreo firmware, but the chances are still slim.
Once you have fulfilled all the requirements, head down below to download and install Android P Developer Preview on Moto Z.
Download Moto Z Android P Developer Preview Port
How to Install Android P Developer Preview on Moto Z?
Download Android P ported ROM for Moto Z and Magisk 16.4 ZIP.
Extract the downloaded 'P_griffin.7z' file on the PC.
Connect Motorola Moto Z to the PC using the USB cable.
Transfer the following files to the phone's internal storage:

boot_lineage_0505.img
Pboot_temp.zip
system_P.img
Magisk-v16.4.zip

Disconnect the phone and power it off.
Boot Moto Z into TWRP recovery mode.
Tap on 'Install' and select the 'Install Image' option at the bottom.

Select the 'boot_lineage_0505.img' and flash it to the 'boot' partition.
Similarly, flash 'system_P.img' to the 'System' partition to install Android P Developer Preview on Moto Z.

Once flashed, go back to the main screen and tap on the 'Install' button again.
Flash the 'Pboot_temp.zip' and 'Magisk-v16.4.zip' files.

Finally, tap on the 'Reboot System' button.
When your phone boots, it shall be running Android P with all the latest features! So go ahead and check them out. If you're using an encrypted device, you will need to follow some additional instructions. Users who face problems with Google apps will need to disable the Google Play Services app in settings and install the latest one from here.
Additional Steps for Encrypted Device Users
After you install Android P Developer Preview on Moto Z and you couldn't boot into the OS, then there's a fix for that as well. According to the developer, the ROM would not support encryption due to the unavailability of source code. So for those who have got encrypted storage, would need to follow some additional steps as detailed below.
Power off Moto Z completely.
Hold the Volume Down and Power button simultaneously to enter Bootloader mode.
Connect the phone to the PC using the USB cable.
Open PowerShell/CMD window in the directory where the ADB/Fastboot binaries are present.
Enter the following command:

fastboot -w

Once complete, reboot the phone using:

fastboot reboot
This will completely format the storage and decrypt the phone.
Conclusion
It took a great deal of effort, time, and knowledge for the developer (erfanoabdi) to port Android P on Motorola Moto Z. We completely appreciate his tremendous work and the contribution he has made to the developers' community not just via this ROM, but also through the 'Capri Le Treble' script. He has enabled regular users to enjoy the latest Android version on their devices. If you like his work, then kindly show your gratitude by visiting the source link below.
So, this was our post on how to install Android P Developer Preview on Moto Z. If you have any questions regarding the flashing process or about the ROM itself, then don't hesitate to ask us via the comments.
(Source)