Official MIUI 10 China Developer ROM is now available for the Redmi Note 4. Follow the instructions below to download and install Redmi Note 4 MIUI 10 China Beta ROM right now.
Xiaomi released its latest stock skin – MIUI 10, which is currently the most impressive MIUI version released till date. With the latest version, the manufacturer aims at adapting the longer full-screen display. MIUI 10 features are not limited to that though. We have seen some major introductions such as AI Preload, AI Portrait, reconstructed Recents menu, and a few features identical to Android P. The official testing already began with the release of MIUI 10 China Beta ROM for devices such as Redmi Note 5 Pro, Xiaomi Mi Mix 2/2S, and Mi 6. But now, you can also install Redmi Note 4 MIUI 10 China Beta ROM that has been leaked.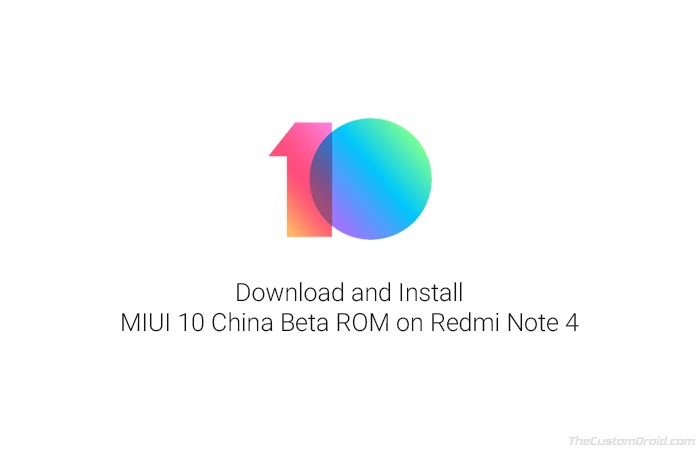 Table of Contents
Guide to Install Redmi Note 4 MIUI 10 China Beta ROM
The China Beta ROM has already been officially available for a list of devices. Although, Redmi Note 4 is officially supported too, but the build is yet not available for public testing. Thanks to XDA member Camerado, we now have official download links for Redmi Note 4 MIUI 10 China Beta ROM. The said member initially provided links for MIUI 10 8.6.19 and has now updated the links for the MIUI 10 8.6.22, which is the latest, as of 23 June.
To recap, MIUI 10 includes a lot of goodies for Redmi Note 4. Despite the fact that the ROM is still based on Android Nougat, you will still get to enjoy all the exclusive MIUI 10 features. Note that since this is an alpha version, it might contain bugs that may affect your daily usage. Also, since the ROM is for Chinese region, it does not contain any Google apps. But don't worry, we have that covered below as well.
Users who have already installed this have reported that the Portrait Mode still doesn't work. But we do expect it to be in full play with the upcoming versions.
Now, in order to install Redmi Note 4 MIUI 10 China Beta ROM/China Developer ROM, you must have TWRP recovery installed via Fastboot. Once that is achieved, you can easily download the ROM and flash it on your device. The instructions below will take you through the complete procedure.
Screenshots
Thanks to XDA member Rohit.ghosh!
Requirements
Ensure that you take a full backup of all your data before proceeding. You can also follow our guide on how to backup Android devices.
The phone's bootloader must be unlocked. If you haven't done it yet, then follow our guide to unlock bootloader on Xiaomi/Redmi devices.
You must have TWRP recovery installed on the device. You can download the latest TWRP image from here and use the following command to flash it:

fastboot flash recovery twrp-3.2.1-0-mido.img

Charge the phone to a sufficient battery level to avoid any sudden shutdowns during the flashing process.
Make sure to fulfill all the requirements before you install Redmi Note 4 MIUI 10 China Beta ROM.
Download Redmi Note 4 MIUI 10 China Beta ROM
Instructions to Install MIUI 10 China Beta ROM on Redmi Note 4
Download MIUI 10 China Beta ROM and lazyflasher's no-verity ZIP files.
Connect the phone to the PC and enable 'Transfer files' mode.
Transfer the downloaded files to the phone's internal storage/SD card.
Disconnect the phone and power it off completely.
Hold the Volume Up and Power button to enter TWRP recovery mode.
Tap on the 'Wipe' button and swipe the 'Swipe to Factory Reset' button.

Once done, go back to the TWRP main screen.
Tap on the 'Install' button.
Navigate the storage and select the ROM ZIP file.

Next, tap on the 'Add more Zips' button and select the 'lazyflasher-no-verity-opt-encrypt.zip' file.
Finally, swipe the button on the screen to install Redmi Note 4 MIUI 10 China Beta ROM.
When the flashing process finishes, press the 'Reboot System' button. The phone should automatically boot into the updated OS. The default language would be Chinese, so you would need to change that to English during the initial setup. Once done, you shall be able to experience all the hefty MIUI 10 features on your Redmi Note 4.
Now, to get Google Apps, you can simply download Google Installer APK and install it on MIUI 10 China ROM. Once installed, run the app and follow the on-screen instructions.
So, this was our guide on how to install Redmi Note 4 MIUI 10 China Beta ROM. If you have any questions regarding the process, feel free to ask us by commenting below.
Source: XDA-Developers