OnePlus 5 JCC Limited Edition Wallpapers are now available for download and to be used on any Android device.
We don't often see something like this usually, especially in our technology niche. It has always been believed that art and mobile phones don't usually go hand-in-hand. This is probably the first time that an Android device OEM has stepped up and changed the game with such an artistic approach towards its most anticipated flagship – OnePlus 5.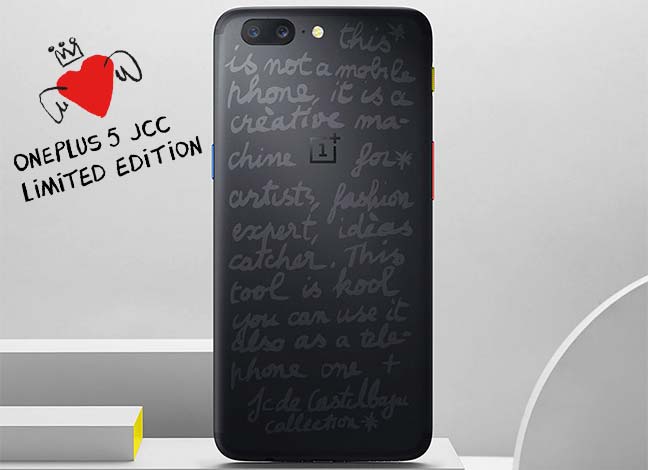 Several out there might think of this as a mistake, but OnePlus is courageous enough to take some bold steps and experiment to differentiate itself from the others. The OnePlus 5 JCC Limited Edition is an outcome of OnePlus's greatest creation and Jean-Charles de Castelbajac's design and creativity.
Before you buy the device, there's still a possibility to take its feel through OnePlus 5 JCC Limited Edition Wallpapers.
JCC, OnePlus, and an Idea
The idea behind this creation is to refine the line between Art and Technology, to bring you a machine, that is not just powerful, but an artistic piece of work at the same time.
This is not a mobile phone, it is a creative machine
Jean-Charles de Castelbajac (JCC) is a leading Fashion Designer who originated from Casablanca, Morocco. The company and himself have partnered together with a collective vision to bring a fine piece of artwork and imagination and combine it with the "Device of the Year". The new series of these limited editions OnePlus 5 is known as the "Callection". JCC is well known for his signature colors – Red, Yellow, and Blue. The designer has worked out these colors on one of your favorite device and given it a stylish new makeover with colored hardware buttons and a deep black rear.
Don't forget to check out more about OnePlus 5 JCC Limited Edition at oneplus.net/jcc
Download OnePlus 5 JCC Limited Edition Wallpapers
Now, even if you will or will not be ordering this new limited edition smartphone, you can still avail to have a bunch of it right now by downloading OnePlus 5 JCC Limited Edition wallpapers.
The artist (Jean-Charles de Castelbajac) has created 10 exclusive pieces of art wallpapers that will be packed inside every limited edition device. But to our convenience, these wallpapers have been made available openly for public use. So, all you need to do is download these beautiful hand-drawn wallpapers and set them on your Android's Home screen or Lock screen. These wallpapers are sized exactly for full HD – 1080×1920.
The previews (Click on them enlarge) of these wallpapers are shared below. Note that these previews are not full-sized wallpapers, you will have to download the complete pack (*.zip) below.
Download the full wallpapers package – OnePlus 5 JCC+ Limited Edition Wallpapers.zip
You might further need to resize these wallpapers for use on smaller screens. Let us know if you have loved them! Cause we do.