The gaming giant – Razer, recently launched its second gaming smartphone – the Razer Phone 2. The complete collection of Razer Phone 2 stock wallpapers is now available for download. All the wallpapers are in 1900×2560 pixels resolution.
The current smartphone market is revolving around top-notch hardware, bezel-less displays, and notches. At the same time, certain manufacturers have dedicated themselves to creating smartphones that aim a full-fledged gaming experience for mobile users. Last year, we saw the first gaming-centric Android smartphone from Razer, a brand known highly for manufacturing gaming laptops and accessories like mice, keyboards, etc. This year, both Xiaomi and Asus entered the competition with BlackShark and ROG Phone, respectively.
This month, Razer announced the Razer Phone 2 where the leading gaming performance meets the flagship-standard features. The manufacturer has worked hard to deliver improvements and corrections where the original Razer Phone lacked. So, before you go ahead and download Razer Phone 2 wallpapers, let us take a peek at some of the feature highlights.
Table of Contents
Razer Phone 2 Feature Highlights
Starting off with the design. Following the same aesthetics as the previous year's model, the Razer Phone 2 comes with a slab-like design with a metal frame. A major addition to this year's model is a glass back with a new illuminated Razer logo with customizable Chroma RGB lighting. You can freely choose from 16.8 million colors and select different lighting effects for it too. The phone also features dual front-facing stereo speakers with Dolby 5.1 digital surround sound.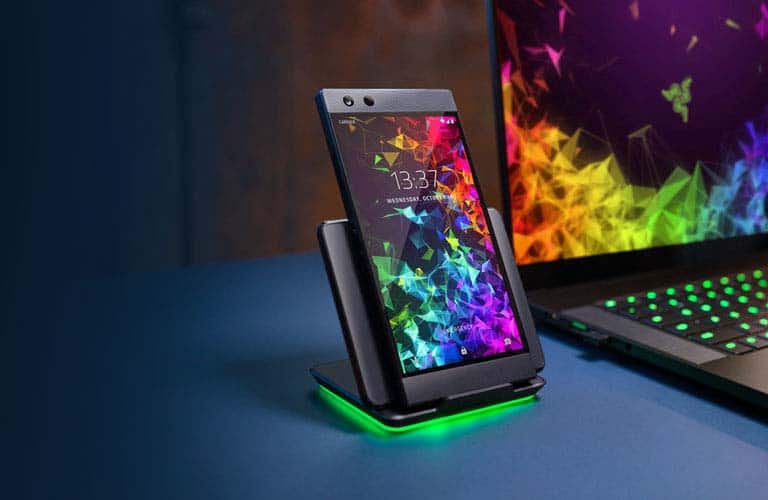 While the display stays almost the same when it comes to size (5.72-inches) and 120Hz refresh rate. But it provides about 50% more brightness when compared to the previous year's model.
Being a gaming smartphone, the Razer Phone 2 is meant to provide peak performance with optimal stability over time. Thanks to the new vapor-chamber cooling system, the phone is able to dissipate heat uniformly throughout the phone's body. Another major highlight of this new phone is the support for wireless charging, something that a lot of us look forward to.
Talking of the performance, the Razer Phone 2 ships with the Snapdragon 845 processor, 8 GB RAM, and a 4,000 mAh battery. As for the camera, there's a 12 MP + 12 MP shooter with dual-pixel PDAF and optical image stabilization on the rear and an 8 MP lens on the front. Majority of these features are what you'd normally expect from a flagship phone, and that is what Razer aims to deliver this time.
If you wish to buy Razer Phone 2, then you may view the complete list of specifications available here. The device is priced at a decent tag of USD 799, which makes it a great choice in the sub-$1000 category.
Razer Phone 2 Stock Wallpapers
Android enthusiasts have already taken their turn to bring the Razer Phone 2 Wallpapers for users looking forward to them. So, even if you don't plan on buying the phone, you can easily download these gorgeous wallpapers and apply them on your Android device for a refreshed feel.
A random user Peter Blanco shared the full collection of 9 different Razer Phone 2 stock wallpapers in 1900 x 2560 pixels resolution via a Google Photos album. All of these wallpapers follow a similar abstract design with popping colors as seen on the original Razer Phone.
Below is the preview of all the Razer Phone 2 wallpapers that you can download. You can click on the preview thumbnail to expand the image.
Download Links
For your convenience, we have packed all these wallpapers in an archive (.zip format). Should you only wish to download them individually, we have also provided a link to the Google Drive folder. Additionally, you can also click on the Google Photos album link and add all the wallpapers to your own library.
So there you go! You have just been able to download Razer Phone 2 wallpapers for your Android device. Go ahead and apply them on your phone now. We hope you'd like them!