Xiaomi has finally announced the latest successor to the budget-friendly Note series. In this post, you will be able to download Redmi Note 5 stock wallpapers.
Android OEMs are constantly striving to make their mark in the smartphone market. However, there are a couple of factors that can determine a company's success in this ever-growing scene. Xiaomi is better known for its ability to create powerful devices at easily affordable prices. For instance, the Redmi Note 4 took the market with a splash and became the highest selling smartphone. Incredible hardware, premium design, and constant software updates are a few aspects that contributed to its success. Following the success, Xiaomi has now announced the Redmi Note 5 and Note 5 Pro, the worthy successor to the Note 4.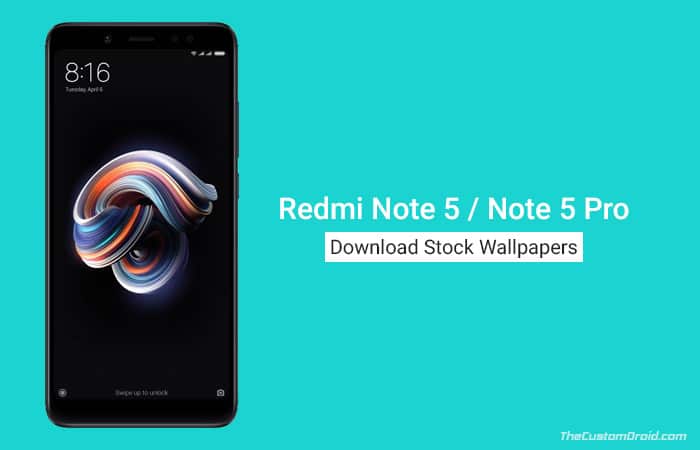 Not only has Xiaomi made it better in terms of the hardware, the design has seen a major overhaul as well. The Redmi Note 5 and 5 Pro comes with a Snapdragon 625 and 636 processors, respectively. Both the phones differ from each other in terms of design as well, but that is majorly because of the difference in the camera configuration. Before we even get to the links and download Redmi Note 5 stock wallpapers, let us discuss a few more details of the upcoming devices.
The Note 5 offers a single 12 MP rear camera with dual-flash and resembles more like the Note 4 itself, but just sleeker and taller. On the other hand the Note 5 Pro sports a dual 12MP+5MP rear camera with Sony IMX 486 premiere sensor. It's probably the wisest decision that Xiaomi has ever made in terms of the camera. Both the devices have a rear-mounted fingerprint sensor, placed right in the reach of your fingers.
The phones will come with MIUI 9 out-of-the-box, based on Nougat 7.1.2. Rest assured the device will be updated to MIUI 10 when it lands.
Download Redmi Note 5 Stock Wallpapers
Both the Redmi Note 5 and Note 5 Pro will go on sale on 22nd February in India. For the moment, the devices are only Flipkart-exclusive. It comes in 2 color variant that is Gold & Black. However, we do expect to see more color models as we saw in several renders online. Both the Note 5 and Note 5 Pro will be available at INR 11,999 and INR 13,999, respectively. There's still a week before you can actually get your hands on the device. Even if you don't plan to buy it, you can still add a little touch of its visual elements. So go ahead, download Redmi Note 5 stock wallpapers and apply them on your Android device.
We have been able to get our hands on what we believe are the Redmi Note 5 wallpapers. There is a total of 33 different wallpapers in 1080×20160 resolution. Most of which portray an abstract design and structures. These will best suit devices with longer screens like OnePlus 5T, Pixel 2 XL, Note 8, Oppo R11S, and more. You can easily crop the wallpapers on phones with smaller screens.
Below is the preview of a few Redmi Note 5 stock wallpapers. Note that these are not full quality wallpapers, but only available for preview.
Download Links
For your convenience, we have zipped up all the 33 wallpapers. For those who want to download individual wallpapers, can visit the Google Drive link below.
So you have just been able to download Redmi Note 5 stock wallpapers. We hope you'll enjoy them on your Android phone.