Samsung recently unveiled its 2020 Galaxy S flagship devices; the Galaxy S20, S20+, and S20 Ultra, during the Unpacked 2020 event held in San Fransisco. Through this post, you can download Samsung Galaxy S20, Galaxy S20+, and Galaxy S20 Ultra stock wallpapers and ringtone for your Android device. There are a total of 8 unique static wallpapers, 2 live wallpapers, and the stock ringtone available for download.
Unlike other Android devices, the Samsung Galaxy S20 didn't have many leaks/rumors. It was suspected to be named the Galaxy S11, which was the only thing that wasn't true. But a lot of its features and hardware specifications were confirmed prior to the official launch and almost everything turned out to be true.
Table of Contents
A Bit on Samsung Galaxy S20 Series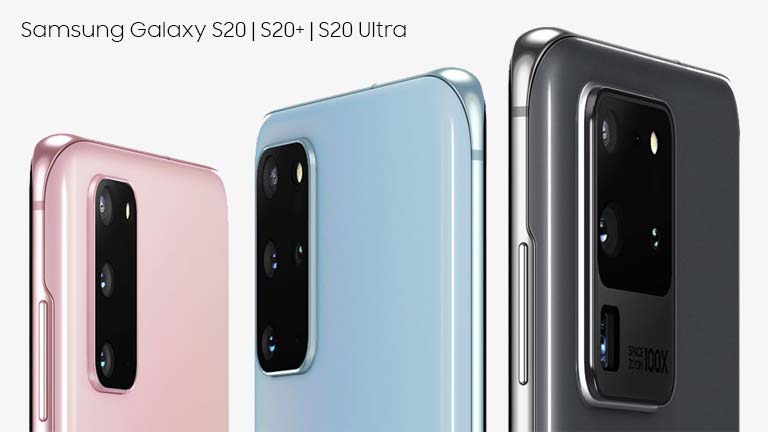 All three of the Galaxy S20 devices are powered by an Exynos 990 SoC for the variants that will be sold globally, and a Qualcomm Snapdragon 865 processor for variants sold in the USA.
The S20 and the S20+ will sport 8 GB of Samsung's LPDDR5 RAM and 128 GB of UFS 3.0 storage, while the base variant of the S20 Ultra boasts 12 GB RAM, which further goes up to 16 GB for the 512 GB variant.
In terms of the screen, the S20 series comes with a QHD Infinity-O display which is 6.2-inches when measured diagonally for the Galaxy S20, 6.7-inches for the Galaxy S20+, and a huge 6.9-inches for the Galaxy S20 Ultra. It also supports HDR10+ and 120 Hz of screen refresh rate at Full HD resolution.
During the Galaxy Unpacked event, Samsung emphasized a lot on two major things. First, that the complete S20 series will be 5G compatible and second, the camera. Both the S20 and S20+ come with a triple camera setup on the rear with a 64 megapixels telephoto lens. On the other hand, the S20 Ultra topped the charts with a 108 megapixels sensor and a quad-lens setup.
Well, we won't be wasting any more of your time discussing specs and features, because chances are that you already know about them. If not, just watch the video replay of the Unpacked 2020 event, which itself was shot on the S20, or visit the product page on the official website.
Samsung Galaxy S20 Stock Wallpapers
Now, according to Samsung, the S20/S20+/S20 Ultra will hit the market on March 6, 2020. So, there's still some time before you can actually purchase the device and get your hands on it. Well, even if you're not planning to buy, you can still add a bit of its touch to your existing Android device by downloading the Samsung Galaxy S20 stock wallpapers from here and applying them on your device.
The stock wallpapers were originally leaked to and shared by XDA-Developers. There are a total of 8 static wallpapers in 3200×3200 pixels resolution and 2 live wallpapers, which are available as MP4 video files.
All the wallpapers offer a splash of specific colors, matching the colors of the Galaxy S20 variants, which is in Pink, Blue, Black, and Grey. They look quite vibrant and offer a clean design so that your home screen icons don't get lost and are easily visible.
Below are the previews of all the Galaxy S20 stock wallpapers that are available for download.
For your convenience, we have compiled all the wallpapers in a zip package. Should you wish to download them separately, you can simply visit the Google Drive folder link.
How to Apply Galaxy S20 Live Wallpapers?
The live wallpapers are available in .mp4 video format. In order to apply these on your Android device, simply follow the instructions below:
First, download the Galaxy S20 Live Wallpapers in MP4 format.
Next, transfer the live wallpaper(s) to your device's storage.
Download and install the "Video Live Wallpaper" app on your Android device.
Once installed, go to the app drawer and launch the app.
Tap on the 'Choose video from gallery' button.
Select the Galaxy S20 Live Wallpaper that you want to apply.
After selecting, ensure that the 'Loop Video' option is checked and tap on 'Set Live Wallpaper'.
Finally, tap on 'Set Wallpaper'.
Download Samsung Galaxy S20 Stock Ringtone
Apart from the new wallpapers, the Galaxy S20 devices also come with a new stock ringtone. It is a remixed version of the company's signature "Over the Horizon" sound. The Galaxy S20 stock ringtone is a great example of harnessing nature for music. We suggest you play the YouTube video below to listen to it. It's surely very refreshing.
To apply the ringtone on your device, simply download the provided ZIP file and extract its content. You should have a file named "Samsung_Galaxy_S20_Ringtone.mp3". Just go to 'Settings' > 'Sound' on your Android device and use the menu to select it and set it as default.
So, you have just been able to download Samsung Galaxy S20/S20+/S20 Ultra Stock Wallpapers and Ringtone for your Android device. Go ahead and apply them on your phone now. We hope you'd like them, cause we sure do. We're also quite certain that once users get their hands on the device and post a firmware dump, we will have access to even more wallpapers from the Galaxy S20.
Wallpapers Source: XDA-Developers