Google released Android Messages for Web platform recently. If you haven't got the feature yet, then follow this simple tutorial that will help you enable Android Messages for Web on rooted Android devices right now.
Ever since last year, the search giant has been working it out pretty hard on its stock messaging app. We saw some real enhancements in play within the Android P Developer Preview itself, such as Smart Reply, OTP copying, link previews, and GIF integration. Despite all that, Google missed creating a unique messaging experience such as iMessage on Apple, which connects all your synced devices (Mobile, PC, tablet etc) for sending/receiving messages.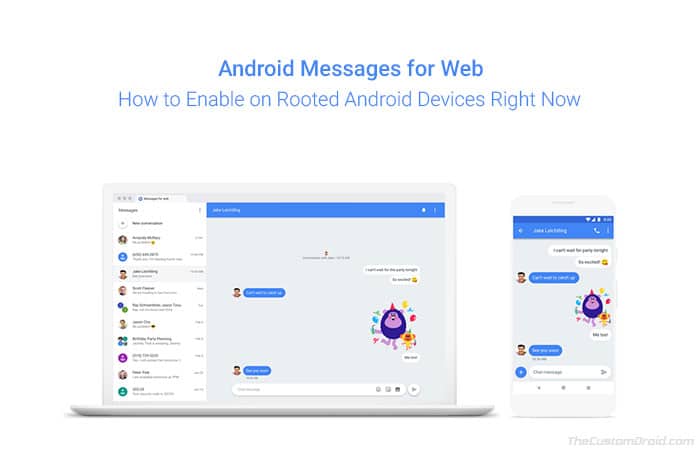 Table of Contents
Google Introduces Android Messages for Web
It was a few months ago when we started picking up traces of such messaging web client in the Android Messages app itself. It simply gave us hint that Google is indeed working on such a feature. However, we didn't realize that it was going to happen this quick. On 18 June, Google finally announced its Android Messages for Web service that works across Android devices and desktop browsers such as Google Chrome, Opera, Mozilla Firefox, and Apple Safari.
With the new Android Messages for Web client, you not only get to send or receive messages/stickers/emojis but also perform certain actions available through Google AI. The feature is rolling out in stages to the users and is believed to be a server-side switch that has to be enabled by Google itself. For those of you who got the feature already, might be enjoying it. But there are still a lot of users who haven't got the chance.
Enable Android Messages for Web on Rooted Android Devices
Don't worry, thanks to XDA Recognized Developer Quinny899, you now have a chance to forcibly enable Android Messages for Web on your rooted Android phone. Before you head down to the procedure, make sure to open the 'Messages' app on your phone, tap on the menu icon and check if the 'Android Messages for Web' option is available or not. If no, then you can proceed with the instructions below.
The method is pretty simple. We will start by using the Preferences Manager app to change two boolean values of specific XML file of the 'Messages' app. Once that is done, we will be using a Terminal emulator to initiate the Android Messages for Web option with the app.
Requirements
First and foremost, your Android phone must be rooted. You can root it using SuperSU or Magisk, whichever works best for you.
You must also make sure to update the 'Messages' app on your Android phone to the latest version (v3.3.043 or above). If the update is not available via Play Store, then you can also grab the latest APK from APKMirror and sideload it manually.
Also, download and install 'Preferences Manager' and 'Material Terminal' apps on your phone.
How to Enable Android Messages for Web?
Open the app drawer on the phone.
Launch Preferences Manager app and grant root permissions when prompted.

Scroll through the app list and find 'Messages'.
Swipe right until you find the 'PhenotypePrefs.xml' tab.
Press the search icon on the top and search for 'Multi'.

Tap on the preferences as shown in the image above.
Change the boolean values to 'True'.

Once done, close the Preferences Manager app.
Also, force close the 'Messages' app. DO NOT OPEN THE APP YET!
Now, launch 'Material Terminal' app on the phone.
Enter the following commands in order to enable Android Messages for Web right now:

su

am start -n com.google.android.apps.messaging/
com.google.android.apps.messaging.ui.ditto.DittoActivity

As soon as you complete entering the last command, the Messages for Web client will open up in the Android Messages app.
You can then follow our tutorial on how to set up and use Android Messages for Web to send text messages from PC. Ensure that you select the 'Remember this computer' option. This will ensure that your phone is connected to the computer's web client since the actual 'Messages for Web' option will still not be available in the app until Google rolls it out to your phone.
So, this was our tutorial on how to enable Android Messages for Web on Rooted devices right now! Once the feature is available on your phone, you wouldn't need to go through any such hassles. Don't forget to let us know your opinion on Google's new messaging platform. Also, which of the already available features are your favorite? Write to us in the comments section.