OnePlus now supports the infamous Face Unlock feature on all its supported devices. In this guide, you will learn how to enable Face Unlock on OnePlus 5, OnePlus 3 and 3T.
Ever since the launch of OnePlus 5T in November, there is a particular feature that has been in the chatters. This highly anticipated feature is known as 'Face Unlock'. And as the name suggests, it allows a user to unlock his/her device with just a quick glimpse of their face. While people would often compare the feature to Google's Smart Lock or iPhone's Face ID, it is a bit different than both. OnePlus's Face Unlock feature is quite faster and more responsive than Google's own Smart Lock and on the other hand, it doesn't support IR technology like iPhone's Face ID. Still, the feature has been very effective and is now available for all supported OnePlus devices. If you haven't used it, then follow the steps below to enable Face Unlock on OnePlus 5, OnePlus 3 and 3T.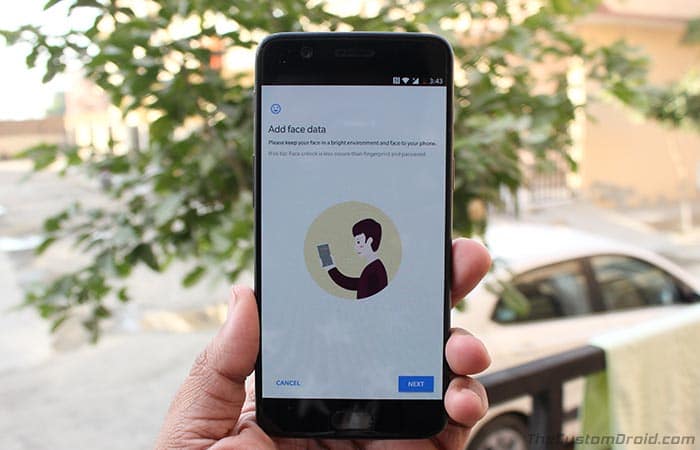 Face Unlock has ever been in demands since the launch of the 5T. It works efficiently and allows you to quickly unlock your device without merely pushing any buttons or swiping. The manufacturer heard the users pretty quickly and finally introduced this hefty feature to the rest of the devices through respective Open Beta updates. If you've not yet installed the latest Open Beta firmware, then quickly grab it from here and follow our tutorial to install OxygenOS on OnePlus devices.
If you've not set up Face Unlock during the initial device setup, then follow the quick steps to enable Face Unlock on OnePlus 5 and OnePlus 3/3T.
Enable Face Unlock on OnePlus 5, OnePlus 3 and 3T
Open 'Settings' on your Android phone.
Scroll down and tap on 'Security & lock screen.

Select 'Face unlock' and enter the PIN/Password to access the Face Unlock settings.
The first step is to add face data. Just like fingerprints, you can also add different faces for recognition.
Tap on 'Add face data'.

Select 'CONTINUE' when prompted.
Then follow the setup screen and keep your face straight while keeping the phone's front camera at a distance.
As soon as the identifier detects your face, you shall see a blue progress bar circling around.

When the facial recognition process is complete, tap on 'CONFIRM'.
So you have just been able to enable Face Unlock on OnePlus 3/3T and OnePlus 5.
Once done, you can start using the all-new unlock method on your device. Once locked, keep your face centered with the phone and press the Power button. Your OnePlus device will be instantly unlocked.
OnePlus recently added a little tweak in the settings known as 'Assistive lighting'. Once enabled, the option will assist you in locking your device using facial recognition in the low-light environment.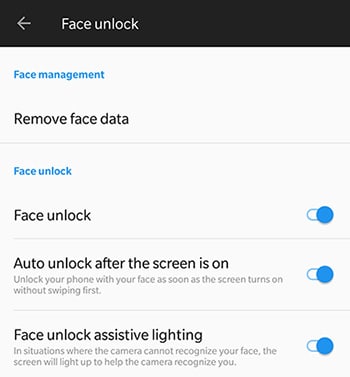 You have finally succeeded to enable Face Unlock on OnePlus 5, OnePlus 3 and 3T. We hope this quick tip has proved useful to you. If you have any questions, leave a comment down below.