Missing the fingerprint gestures on your Nexus running Oreo? You don't have to, cause we have got just the thing for you. This short guide will help you easily enable fingerprint gestures on Android Oreo.
Pixel owners have forever been able to use gestures by simply swiping on the fingerprint sensor. Despite the large volume of Android devices that now come with fingerprint sensors, gesture control is a feature that has been pretty limited. Even though they are fully capable of using this feature, it seems like the OEMs are least interested to implement it natively. We feel that Google has made up their mind to keep this feature exclusive to the Pixel series. Even after the Oreo update, there isn't any sight of it on the Nexus 6P or 5X. But that doesn't limit you now, just follow the steps below to easily enable and use fingerprint gestures on Android Oreo .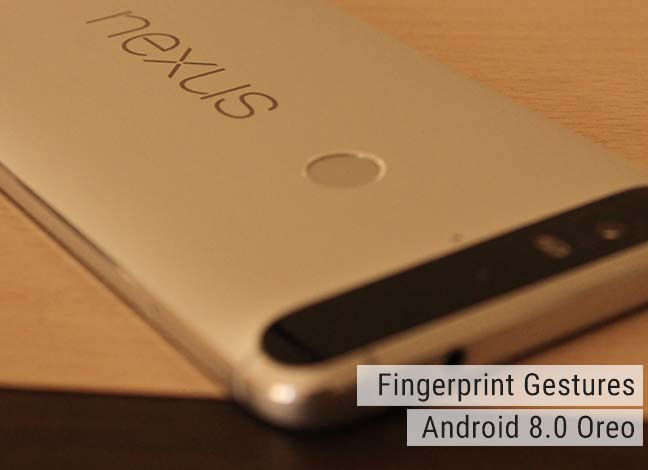 We wouldn't be asking you to root your device or install a custom ROM to achieve this. It can easily be handled by using a third-party app. Read more about it below.
Table of Contents
Fingerprint Gestures on Android Oreo
Today, we will be focusing to get the job done and enable fingerprint gestures on Android Oreo using – Finger Gestures for 8.0. It has been brought to the public by Simone Sestito. Though the app is in the development phase and is tagged "Unreleased", it still performs the job exceptionally well.
It allows the users to customize the swipe gestures of the fingerprint scanner and grant individual custom actions to them. This gives you even better control over your device functions. The major advantage of using this app is that you wouldn't require root permissions. The app is not just limited to the Nexus devices, but also any other device that is running Oreo unofficially too.
Step 1: Install 'Finger Gestures for 8.0' App
To begin with using fingerprint gestures on Android Oreo, download and install the Finger Gestures for 8.0 app. The app is only targetting Oreo (API Level 26), so it can only be installed on devices using Oreo officially or unofficially. And yes, the most important part, your device must have a fingerprint sensor (haha!).
[googleplay url="https://play.google.com/store/apps/details?id=it.simonesestito.fingergestures"/]
Step 2: Grant Appropriate Permissions
Once the app is installed on your Android Oreo device, go to the app drawer and run it. As soon as you do it, the app will instantly open the device's Accessibility settings. It is important for you to grant accessibility permissions because the app wouldn't run without this.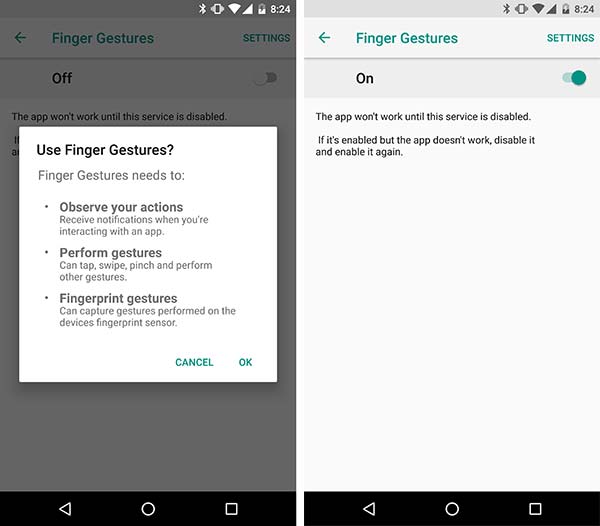 So press on "Finger Gestures" under the Downloaded services..service.. section. Switch ON the toggle that you see on the screen and select "OK" when prompted for confirmation.
Note that in order for several app features to work and use fingerprint gestures on Android Oreo, you must also enable "Device admin apps" and "Notification access" permissions by going to Settings > Apps & notifications > Advanced > Special app access.
Read: How to Customize Android Oreo NavBar without Root
Step 3: Check if Your Device is Compatible
To use fingerprint gestures on Android Oreo, you must first check if your device is compatible. Finger Gestures on 8.0 app relies on FingerprintGestureController API to analyze this.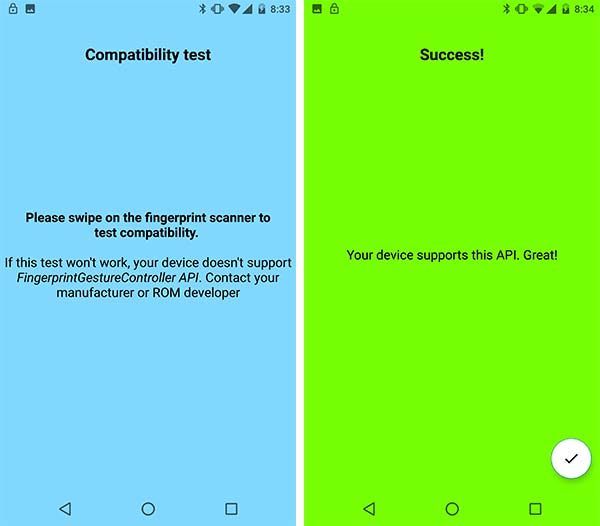 So, as soon as you enable accessibility permissions and return to the app, it will display the Compatibility Test screen. Now, follow the on-screen instructions and swipe once on your fingerprint scanner located on the rear or front of your device to test compatibility. The app will hush and display the result in a second. If the test is successful, you shall see the "Your device supports this API. Great!" message.
Just tap on the round-tick button on the bottom-right of the app screen.
Step 4: Setup Fingerprint Gestures on Android Oreo
You shall now be seeing the app interface with four tabs – Single swipe, Double swipe, Profiles, and Settings.
We will be focusing on Single swipe which is a free feature. On the other hand, Double swipe and Profiles are premium features. The developer has enabled an option to start a trial period for these premium features and test them for 3 days. If you like them, you might consider paying $1.49 and unlock these sweet features after the trial.
Single Swipe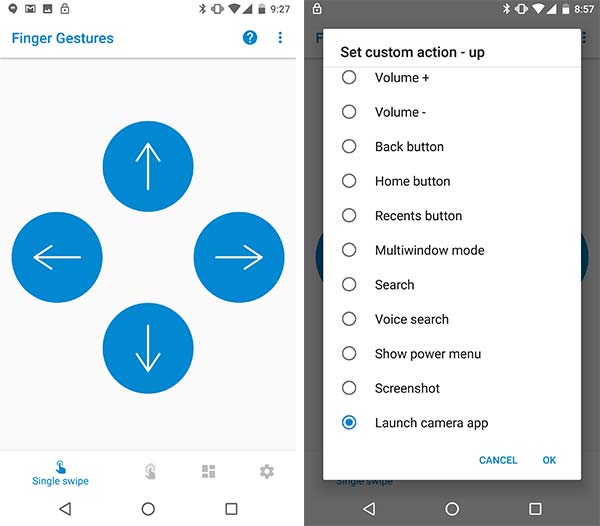 Choose the "Single swipe" tab.
You shall see 4 round-shaped arrow icons on the screen. These are the swipe up, swipe down, swipe left, and swipe right gestures.
To demonstrate we will be customizing the Swipe up gesture, as an example.
So, just tap on the arrow icon facing upwards.
The available custom actions for the swipe up gesture will appear inside a menu.
You can scroll through the list of these actions and choose accordingly. We will be choosing the "Launch camera app" action.
Finally, tap on "OK" to confirm the selection.
Now, just swipe up your finger on the scanner and the default camera app will launch. In a similar manner, you can choose Volume up and Volume down actions for the Swipe up and Swipe down gestures to reduce the strain on the physical volume keys.
Double Swipe
The double swipe feature gives you the ability to launch extra actions by double swiping on the scanner. To setup fingerprint gestures on Android Oreo using double-swipe, read the instructions below.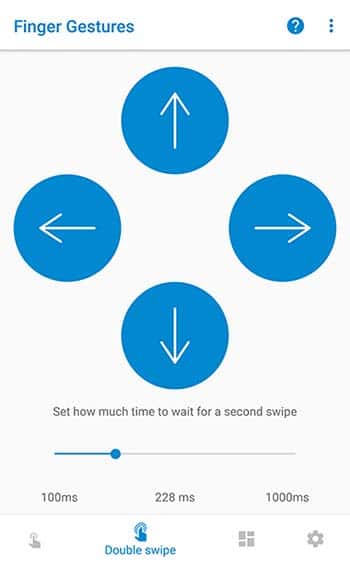 Press the "Double swipe" icon on the bottom of the app screen.
Tap on the swipe direction you want to set the double-swipe action for.
Choose your desired action and select "OK" to confirm.
Below the gesture icons, you must see the option to adjust the wait time before the second swipe.
The least available time is 100ms (milliseconds) and the max is 1000ms (milliseconds) or 1s (Second). So, adjust the slider accordingly and you are done.
Now just double-swipe on the fingerprint sensor to launch the action you chose. ..choose..
Profiles
For your added convenience and to save your time adjusting the settings everytime, the app consists of a profile feature. This helps you save your existing actions on corresponding gestures as a profile. You can then choose and select different profiles. Savy, eh?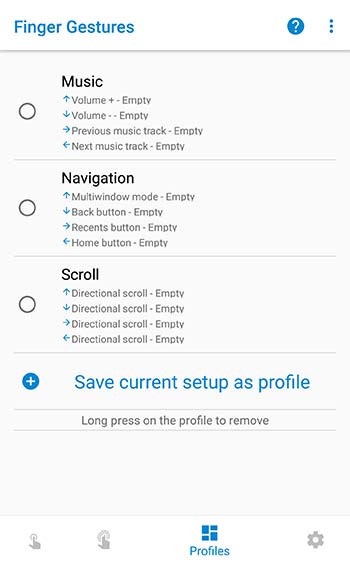 To do so, press on the "Profiles" tab on the bottom. By default, the app offers three inbuilt profiles – Music, Navigation, and Scroll. You can either choose one of these or save your own settings as a profile by pressing the "Save current setup as profile" option.
You may further open the "Settings" tab and enable "Vibration" settings for gestures. Cool right? So you are now using Fingerprint gestures on Android Oreo.
We feel that the app serves justice to the fingerprint sensor present on our devices. We can only hope that the OEMs choose to integrate these functions in the devices by default, like in several Huawei Honor smartphones.
Also check: How to Hide Persistent Notifications on Android Oreo
Do you like this app? Don't forget to leave your feedback and give it a rating on the Play Store. If you want to report any bugs, you can directly email the developer at – simone.dev.help@gmail.com.
Stay tuned while we come back with some other cool apps to make your Android work more efficiently. Leave your opinions in the comments section below, cause we love to hear 'em.