Interested in the Google Lens? Try it right now on your device. This guide will help you enable Google Lens on Android devices. The only downside is that your device must be rooted.
Google Lens is a new feature that the company introduced during the Google I/O event 2017, along with Android Oreo. The purpose of this feature is to bring up relevant information of what your phone's camera sees. The Google Lens service integrates with Google apps such as Photos and Assistant. So supposedly, you open up your camera application and point at a shopping store, the phone will automatically come up with relevant information like the name, address, reviews, etc. Follow the simple steps below to enable Google Lens on your rooted Android phone.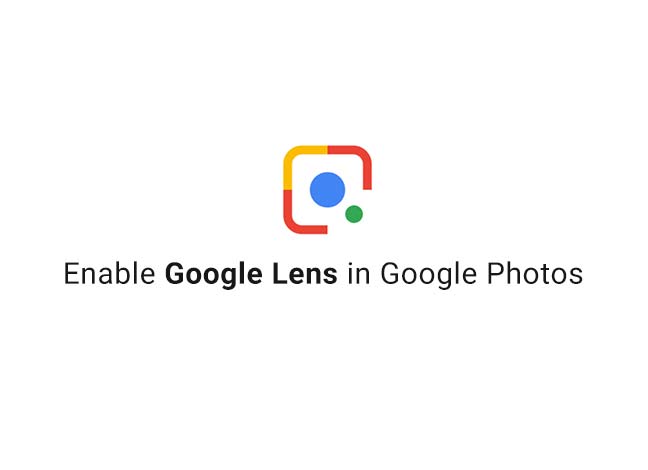 Table of Contents
How to Enable Google Lens on Android (Root)
Google Lens is much like Google Lens, which has been around for quite some time. But the prior is much more advanced and efficient in its job. We recently saw the Google Pixel 2, which comes with Google Lens pre-installed and ready-for-use. However, there's no information on when it will be landing on older devices including the Google Pixel and Nexus.
It seems like XDA senior member – ZeevoX has discovered a way to enable Google Lens in the Google Photos app. We have often tried to trick Google by making a few build.prop tweaks, but it seems like Google is patching that method as soon as it goes online. In today's case, we will follow a rather different approach to enable Google Lens in Google Photos.
We will be tricking Google Photos to think that the device is a Pixel 2 by adding two different config files to the system partition of the phone. This could only be achieved if you have a rooted device. The files have been discovered by XDA member Zeevox, namely "pixel_2017.xml" and "pixel_2017_exclusive.xml" in /system/etc/sysconfig. These have been extracted directly from the Pixel 2. It seems like these two files hold a crucial part in letting the apps know that Pixel 2 exclusive features shall be enabled on a specific device.
Zeevox has personally made a flashable zip for this, to spare you the trouble of manually copying the files and setting appropriate permissions. This zip could be easily flashed on any device that has TWRP installed. Another forum member – Flint2 has compiled the files as a Magisk module, which is even more convenient for those using Magisk already.
Now without any further ado, let us hop onto the instructions to easily enable Google Lens on your rooted device.
Prerequisites
Your device must have TWRP recovery installed if you're going to using option #1. You can follow this tutorial or check for your device-specific guide in our database.
In case you are opting to use option #2, you will need to have Magisk installed on your device: Tutorial
Make sure to update to the latest Google Photos app: APKMirror
Once you have attained these two, you are free to go forward and enable Google Lens using the simple steps below.
Instructions to Enable Google Lens
Now, there are two different ways to achieve this. You can either flash the installer zip through TWRP or if you have Magisk installed, you can opt for using the dedicated module.
Option 1: Flashing Through TWRP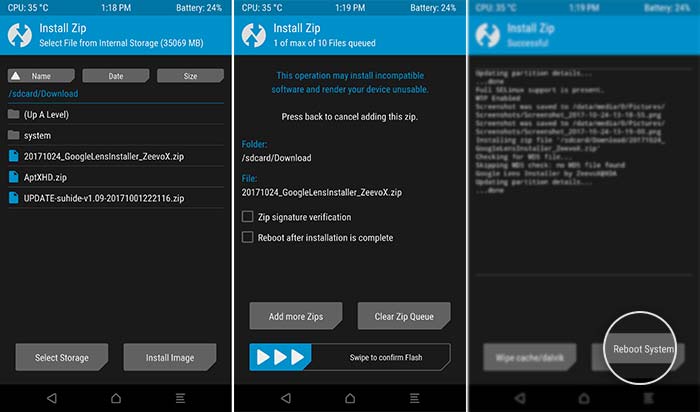 Download the TWRP flashable zip from here.
If you have downloaded the file on your PC, then connect your phone in MTP/File Transfer mode.
Transfer the 20171024_GoogleLensInstaller_ZeevoX.zip to the device's storage.
Disconnect the device and reboot it into TWRP recovery.
Tap on the "Install" button.
Navigate the storage and select the installer zip file.
Finally, swipe the "Swipe to confirm Flash" button on the bottom of the TWRP screen.
It should not take more than a few seconds to flash. Once done, tap on the "Reboot System" button. You have succeeded to enable Google Lens on your Android through TWRP.
Option 2: Using Magisk Module
Download the Magisk module to enable Google Lens on your device (Credits: Flint2): Link
Copy the module to your device's storage.
Go to the app drawer and open the Magisk Manager app.
Swipe out from the left edge of the screen to open the menu.
Select "Modules".
Tap on the "+" icon on the bottom of the screen.
Now select the GoogleLensInstaller_Flint2.zip module file.
Press on "Open". The module installation process will complete in a few seconds.
Finally, tap on "REBOOT".
There you have it! You have just enabled Google Lens on your rooted Android phone.
Using Google Lens on your Device
Once your phone has rebooted, open the Google Photos app from the app drawer. Select a photo and tap on the Google Lens icon in the bottom menu.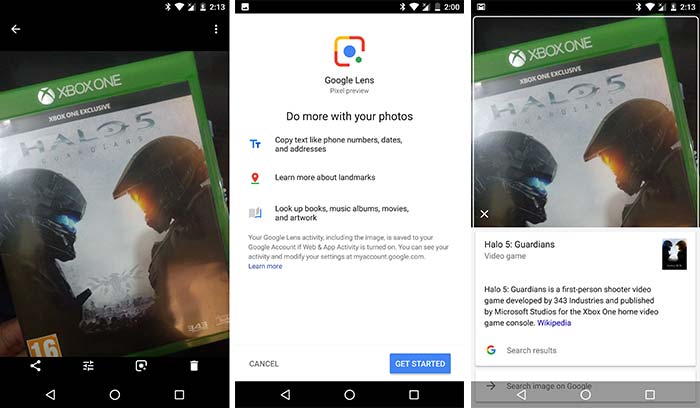 When the first time you do this, you will be taken through the initial setup, so tap on "Get Started" button. Google Lens will now instantly show relevant information regarding the photo you choose.
So now you have succeeded to enable Google Lens on your Android device! Go ahead and use it to explore places, books, brands, business cards, etc.
If you have any problems while enabling Google Lens on Android, drop your questions below.