MacBook Pro's Touch Bar is the all-new exciting feature that Apple users enjoy. You can use this guide to easily enable Mac-like Touch Bar on Android without rooting.
Touch Bar is the Control Strip placed on the latest MacBook Pro, which allows you to access quick toggles for controlling various system settings, effectively on your fingertips. Seems like there's nothing that stays far from Android, not even a feature that is native to Apple's OS. Now, you can add Touch Bar on Android too. Of course, you won't be actually adding an extra hardware strip, but a Touch Bar like interface within the OS.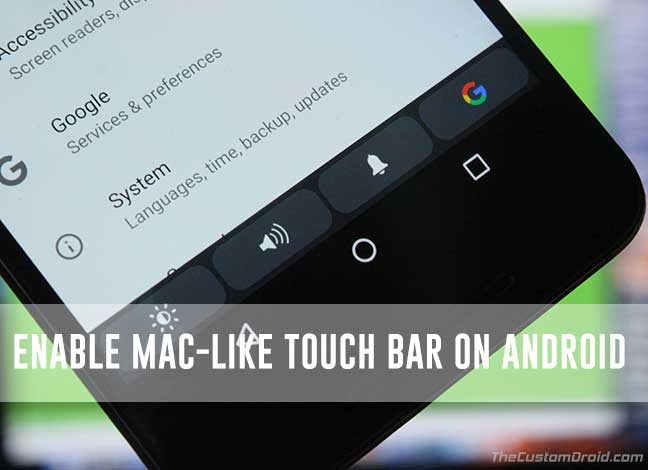 The significance of this hefty feature is to provide more controls at your fingertips. Generally, if you would want to toggle WiFi, Hotspot, Do Not Disturb, or Battery Saver you would have to pull down the notification drawer to access Quick Settings toggles. But with Touch Bar on Android, things get even easier.
If you have tried getting this feature on your iPhone, you would have known by know that it requires you to jailbreak the device. This is not a situation with Android and you can easily enable Mac-like Touch Bar on Android devices without root. I think it's a cool feature that you would definitely like to have on your Android device. So, go through the guide to know more.
Also see: How to Customize Android Oreo NavBar without Root
Enable Mac-like Touch Bar on Android Devices
To get this feature "Touch Bar for Android" app is needed to be installed on your device. This awesome app has been developed by XDA member – alecot18. We appreciate his hard work and unique idea to bring this to us. The app adds a strip of controls on the lower half of your phone's screen, which lets you perform several actions.
To begin using it, go ahead and download the app on Google Play: Link
Once the app is installed on your device, go to the app drawer and launch it. Once the app screen is visible, you will see a section labeled "Special Access" with a bunch of required permissions. Now, if your device running on Android 6.0 or above, you will need to grant all these permissions for TouchBar controls to work properly and blend in with the system. So start by tapping on "Overlay Screen". As soon as you do it, the permission settings will open for "Display over other apps", so toggle it to ON.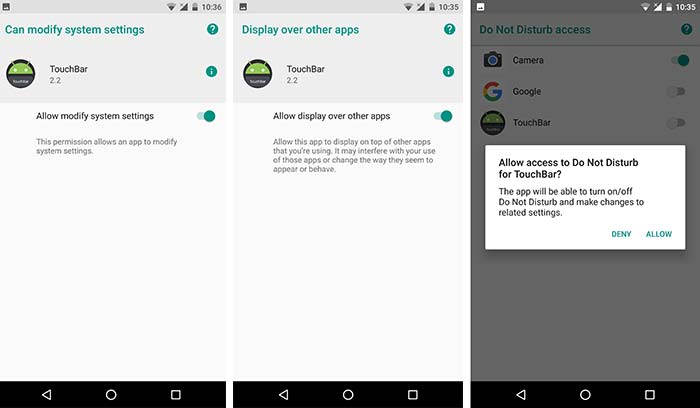 Go back to the main screen and do the same for "Write System Settings" and "Do Not Disturb Access".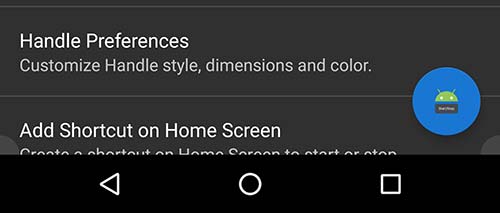 As soon as you grant all the permissions, you will see a round-blue icon on the bottom-right of the app window. This will enable Touch Bar on Android. Once it is enabled, you can easily access it by just swiping from the bottom left or right corner of your phone's screen.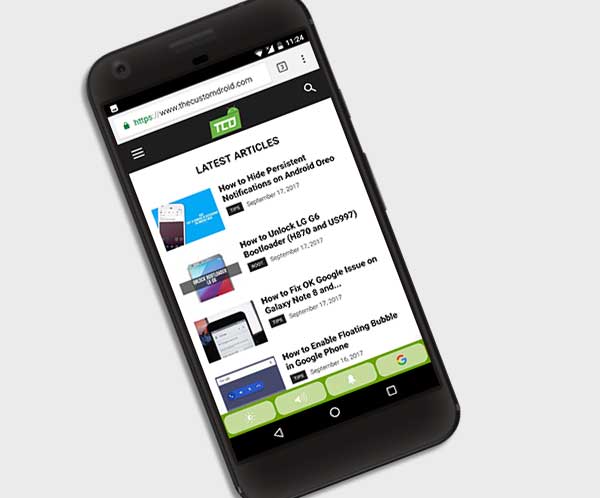 This just doesn't end here. The TouchBar is extremely customizable and you can do so within the app itself. Open the app, and scroll down to the "Main Preferences" section. The following options are available to customize:
TouchBar Preferences: Change background/buttons color, set auto-hide functionality, toggle vibration, and add custom app shortcuts on Touch Bar.
Handle Preferences: Change the launch position of Touch Bar and change the colors of handles.
Add Shortcut on Home Screen: Add a shortcut on your phone's home screen to toggle Touch Bar ON and OFF.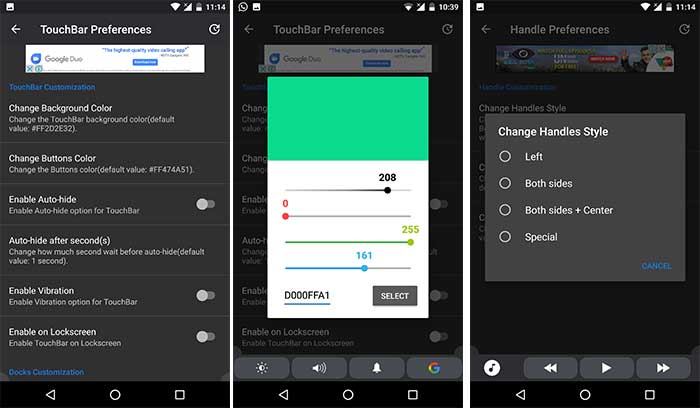 So now you have it; Mac-like Touch Bar on Android! Enjoy the new feature and perform action or launch apps more efficiently.
More for you:
I hope, you enjoyed this cool feature. So, let's share this with others too and let them know. If you have any problem or query regarding this guide then, feel free to drop a comment.