Privacy is a major concern for Android users. While your phone's inside is strengthened with monthly security updates, there's much less that you could do to physically protect it, especially from things like theft. Of course, you can't just throw it in the locker to keep it safe. We recently covered an article on how to secure your Android inside and out, but the one thing that we missed in there was an app. It is called Eradoo. And the sole purpose of the app is to remotely erase data of your lost or stolen Android device, to prevent your personal data from reaching someone else's hands.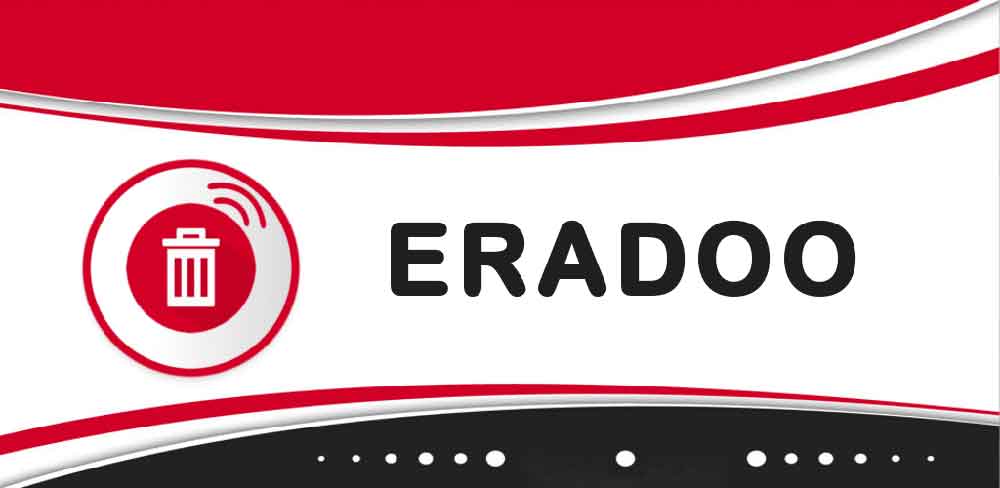 Also read: Secure Android Devices: Top 10 Tips & Tricks for better Privacy & Security
Now, you must have heard of Android Device Manager and other similar apps that let you do the same. So how does Eradoo distinguish from them, and what makes it better? Let's find out why you would ditch any other app for this one.
Remotely Erase Data on Android using Eradoo
In most situations, the whole theory about erasing data remotely works only if your stolen/lost device has data network access. So then you could initiate a wipe from a specific app over the internet. But not everyone keeps the data connection toggled on, and that becomes the potential breakpoint of this method.
Eradoo is different, it doesn't require the internet to trigger a complete wipe-off. Yes! You have read it right. It equips the right technique to get the job done. Now there are four different triggers/situations when it shall remotely erase data present on your Android device.
The mind behind this amazing app is XDA member – mrYoussef135. I appreciate the hard work that he has put in to better secure our data on Android devices.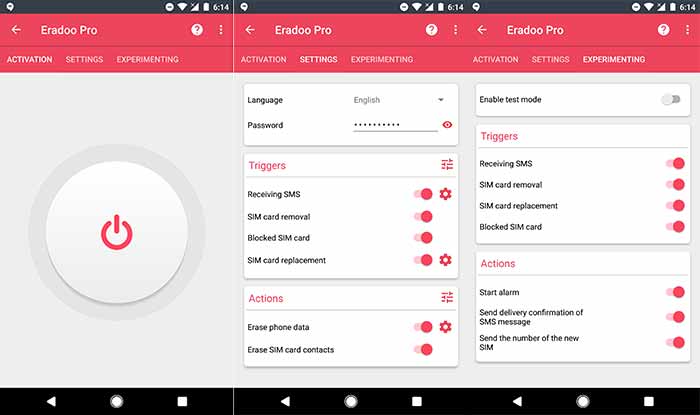 4 different triggers to remotely erase data:
By sending an SMS

: Sending a predefined message from a listed number will trigger the erase. In the Triggers card, tap the gear icon corresponding to "Receiving SMS". Write down the message that you would like to use as a trigger. Make sure that you type in something unusual. You can also select a specific contact for it, or simply keep the option open for any number.

If the SIM card is removed

: SIM card removal will make trigger the wipe.

SIM card is replaced with another

: A more promising option if you are willing to find your phone. If the SIM is replaced with a new one, a message will be automatically sent to a defined number consisting the phone number of the newly inserted SIM. Make sure that you disable the "SIM card removal" trigger if you are going to use this.

When the SIM card is blocked

: If your phone has maxed out SIM lock-pin entries, the data will automatically be erased.
The app offers a simple material design and is extremely lightweight, only ~8 MB after installation. It doesn't take the juice off your battery by running in the background and will only run when triggered.
Download Eradoo
You can download and install the Eradoo app directly from the Google Play Store. Once installed, run the app and swipe to the Settings tab. Set a password first, this will prevent anybody else from accessing Eradoo and disabling the triggers. You can then enable and setup individual triggers.
The developer is generous, to grant free promo codes to unlock the PRO version for the time being. If you want one, you can request it by commenting on the XDA thread.
The PRO version adds two features that make the app even more productive. These include:
SMS delivery confirmation for the "SMS message" trigger. A confirmation message will be sent to you when the wipe is successfully initiated.
Receive the number of the new SIM inserted, for the "SIM card replacement" trigger.
We dearly hope that your device never gets lost or stolen. But it is better that you take some appropriate action pre-hand, and install this app right away, to protect your private data.