Having deep sleep issues? We are going to help you fix deep sleep on Galaxy Note 5 running Android Marshmallow.
If you have lately installed Android Marshmallow on your Note 5, there might be a strong chance that you are facing the famous deep sleep problem (means, your phone won't enter sleep at certain instance). If you still haven't noticed, go-on and check again. Users at XDA-Developers have already reported this problem, and is a real battery sucker, troubling everyone. The steps below will help you fix deep sleep on Galaxy Note 5.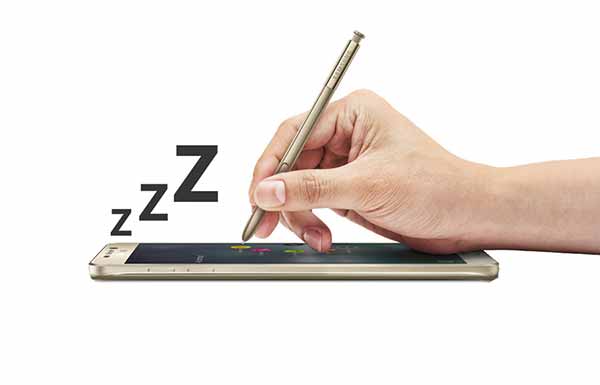 To tackle this issue, XDA member – dr.ketan, who is also a worthy Android ROM developer, has released a fix (View XDA thread), which will set your device free from deep-sleep and you can once again attain the stability with the latest software. The developer has also introduced a Deep Sleep Test application, which will specifically check whether the issue has been fixed or not. It has been confirmed and tested on the Galaxy Note 5 (SM-N920C) running Marshmallow 6.0.1.
Please note, that this will only fix the issue related to the system software. Any other deep sleep encounters with third-party apps will have no effect. So know what you're doing.
Disclaimer
This is not for the faint-hearted. It may leave your Note 5 in a boot-loop if done wrong. We shall not be held liable for any such damage. However, we will help you, if you find yourself in any such situation.
Fix Deep Sleep on Galaxy Note 5
To perform this fix, you will need to have TWRP installed on your Note 5. You can directly grab it from the TWRP website, and flash it using Odin flasher.
Now, download the fix: N920C_MM_DeepSleep_FIX_DrKetan_final.zip
Transfer the downloaded file to your Note 5 by connecting it to the PC.
Disconnect the device and power it off completely.
Boot into TWRP recovery mode – Simultaneously, press and hold the Home, Volume Up and Power keys until you see the phone's screen light up. Your phone will enter TWRP recovery mode now.
Once you are in TWRP, go to Install. Browse and find the "N920C_MM_DeepSleep_FIX_DrKetan_final.zip" file you have earlier transferred.
Now, swipe the "Swipe to Confirm Flash" button on the bottom of the screen.
The process will start, and finish within a matter of seconds. Once it has, tap on Reboot System.
Your Note 5 will now boot into Marshmallow, with fixed deep sleep. To test whether the fix has confirmed, download DeepSleep Test 1.0.apk and run it.
Has this solved the issue on your Galaxy Note 5? Also, tell us more about your experience with Android Marshmallow, via the comments.
More for you – Enable Edge Features on Galaxy Note 5