FlashFire is an on-the-go flasher app, which is also the successor to the old Mobile Odin program, developed by – Chainfire. The app lets you perform several different actions on your device, while in the OS mode, most of which are usually carried out in the recovery. These include flashing OTA zips on rooted/modified firmware, taking Nandroid backups of ROMs and restoring them, flashing ROM/Kernel/Mod zips, and wiping device partitions. Yet today, Chainfire has released FlashFire v0.33 that might just make you happy, with some more useful features that have been added.
Table of Contents
FlashFire v0.33 (Beta) Update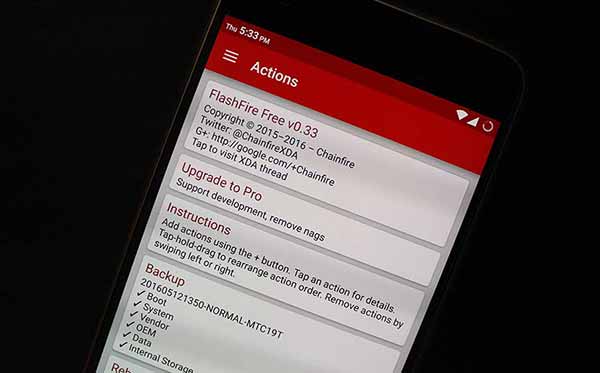 Earlier last month we saw FlashFire v0.32 in the wild, bringing in the ability to make fastboot flash-able backups. While still being in Beta stage, the app offers a fine level of stability. We have seen many new additions in every update, and in today's update, Chainfire has introduced a feature that will enable the users to back up and restore partitions via ADB, over USB or WiFi.
You will now be able to stream your backups or restore them through your PC using ADB, either over a direct USB connection or the same WiFi. The process makes use of a special ZIP format, instead of the regular backup format.
While backing up, make sure that you choose the "Location" as "Android Debug Bridge (ADB)", select your desired partitions and follow the on-screen instructions.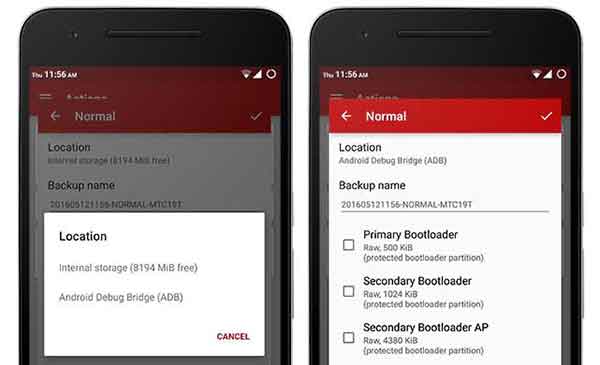 Another functional change is, that FlashFire will now intelligently adapt between the operations carried out on internal storage and adopted storage. So now, if you're choosing the backup location as internal, then the backup will stick with true internal, and not the adopted storage.
Other Improvements
Apart from this, the update is accompanied by a long list of fixes and additions that would definitely turn out to enhance your experience while using FlashFire.
App startup time has been improved to a great extent.
Progress information will now be more detailed for ongoing processes. The shown information includes the current files being backed up/restored, the total amount of data that is read/written/transferred, the current transfer speeds, and the operation time.
The embedded SuperSU binaries have been updated to v2.72 BETA.
The complete changelog, as stated in the release notes:
Add support for backing up to and restoring from ADB, through USB or Wi-Fi (special ZIP format)
Completely reworked progress code, more info is shown in more places now (current file, speed, progress)
Improved back key handling
Improved app startup performance
If sdcard is adopted, reflect that in location display name
Fix adopted SD card sometimes not showing up in mixed partition mode
Attempt to identify external sdcard (rather than calling it USB)
Adjust storage location display order
Add warning when using adopted storage
Rewrote file creation routines to cope better with adopted storages
Fix reboot card popup title
Refactor shell commands as root
Change install location to internal-only
Fix backup of internal storage not skipping backups in some cases
Adjust ZIP parser so it can cope with Samsung FOTA ZIPs
Added warning for Huawei users about brickability
Add OEM partition to TWRP emergency restore
Fix backup/restore per-file progress freezing
Archives: Add suppport for Huawei's UPDATE.APP format
OTA: Add detection for Samsung
OTA: Add detection for Huawei
– OTA: Add detection for HTC
OTA: Add detection for Letv
OTA: Add multi-zip-file capability
Partitions: Add various Tegra-specific partitions
Partitions: Add various Mtk64-specific partitions
Partitions: Add various Huawei-specific partitions
Partitions: Add various Pixel-C-specific partitions
Partitions: Add generic Factory Reset Protection partition
Partitions: Add support for eMMC boot and general purpose partitions
Partitions: Attempt r/w unlock before writing
EverRoot: Updated embedded SuperSU to v2.72 BETA
EverRoot: Use LESSLOGGING mode, reduces SuperSU output
Download Flashfire v0.33
FlashFire is still in BETA and requires you to be a tester, to download it from the Play Store. Once you have opted for beta testing, you can the link on the sign-up page and download the app to your phone/tablet. If you want to download the APK directly, you can grab it from APKMirror.
Has backing up and restoring over ADB on WiFi gave a relief to you? We are totally getting in deep with FlashFire, what about you? Let us know through the comments.