Seldom it happens that even before Google drops its monthly security updates, some OEM sneaks ahead and rolls it. However, norms are made to be broken. Speaking of which, Samsung is currently seeding out the monthly security patches for Galaxy Note 8, Galaxy S8, and Galaxy S9. Samsung is pushing the very first patch of the month. It is one step ahead of Google this month. The build number for the Galaxy S8 update is G950FXXU3CRGH and it weighs 420 MB. Galaxy S9 August 2018 Security Patch bumps the build number G960FXXU2BRGA. 
The Galaxy s8 and Galaxy S9 August 2018 Security Patch are rolling in Germany.  On the other hand, Galaxy Note 8 is getting its share of the August security update via the build number N950FXXU4CRGA. There are no details of the security update from Google or Samsung yet, but they should be available anytime soon on the Android Security Bulletin.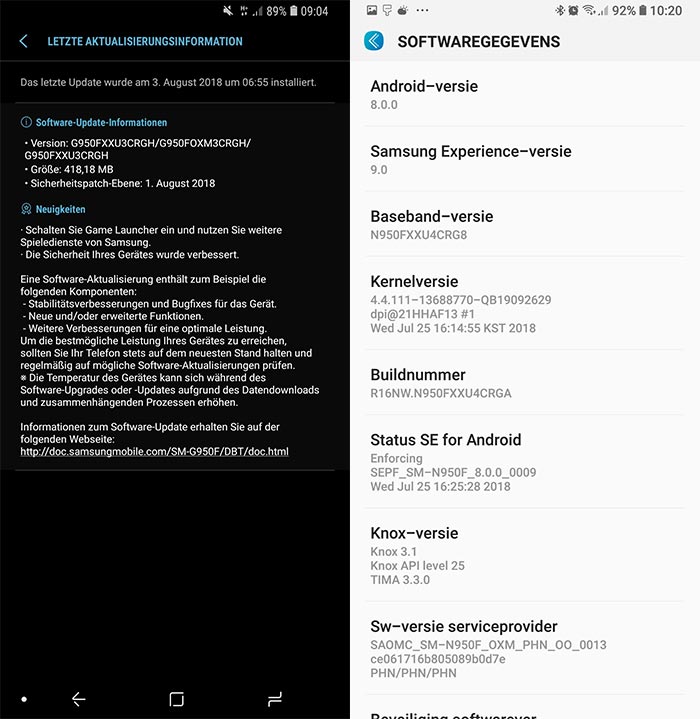 The changelog for Galaxy S8 mentions of improvements in security and update to the game launcher or gaming services. Currently Galaxy Note 8, Galaxy S8, and Galaxy S9 August 2018 Security Patch is not rolling for all regions. However, it's a gradual process. So, in the coming days, it will seed to all the regions. You can yourself check for the August 2018 update too. To do it manually, go to the Settings -> Software update and tap on Download updates. If you see the new update available with the above-mentioned build numbers, then follow the instruction on the screen to download and install it.
Samsung once again proves its efficiency. Even though the OEM is busy for the release of its upcoming flagship Galaxy Note 9, the older flagships are not neglected. The security updates are knocking in just in time. So, watch out for the monthly software rollouts. Do share with us what changes do you observe after upgrading to the Galaxy Note 8, Galaxy S8, and Galaxy S9 August 2018 Security Patch.
Source: SamMobile 1, 2