When a smartphone is about to launch the hype meter really rises up high. Everyone keeps looking for any smaller info possible about the future devices. Though many sources put out many details, more than half of them are based on mere speculations. One of the few trustable sources for smartphone details come from benchmark listings. Geekbench is the primary source of such information. Speaking of which, the upcoming flagship machine from Samsung Galaxy S10 Plus was spotted on geekbench. The Galaxy S10 Plus GeekBench Listing hints that the device may sport the all-new Snapdragon 855 chipset.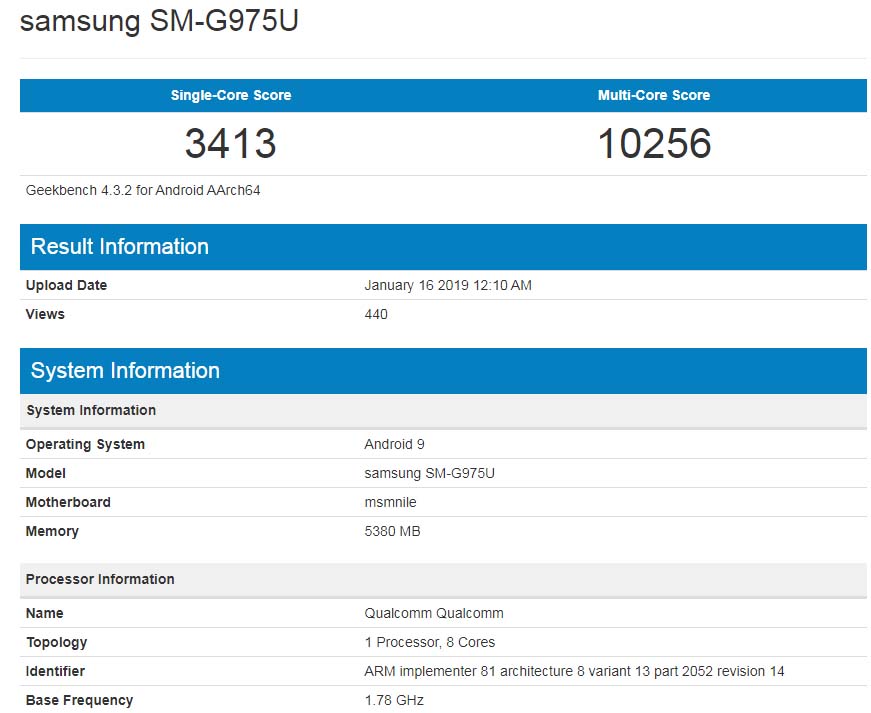 The benchmark score is quite solid as it is of the high Samsung standards when we consider both single and multi-core scenario. Though it doesn't mention concretely, the chipset goes by the name msmnile. This may be the mighty Snapdragon 855 processor from Qualcomm. Also, the device goes by the model Samsung SM-G975U. So, basically, the device under testing is for the users in the US. We may also see an Exynos variant of this device as well.
Also, as you can see the listing mentions a 6 GB of RAM. Now, we may also expect an 8GB RAM variant for the S10 devices. After all, we are talking about a ten year anniversary of the S series of devices. So, Samsung may have special plans for its devices. Of course, the device will run Android 9.0 Pie out-of-the-box. It will also get the Android 10.0 aka Android Q later in 2019.
The upcoming premium flagship from Samsung will surface for public view on February 20th,2019. Recently an official press invite poster revealed the release date of Galaxy S10/S10 Plus/S10 Lite. Though there was speculation that the S10 and its counterparts may show up at MWC 2019, however, Samsung is going for an early release.
Whatever it may be, the Galaxy S10 Plus Geekbench listing is a proof that the device will be a powerful entry. It will prove the worth of its flagship stature. So, let's keep our eyes out for the Galaxy S10, S10 Plus, and S10 Lite.