WhatsApp is finally testing a new feature that lets you unlock the app using your fingerprint. And the instructions in this post will help you enable WhatsApp's Fingerprint Lock feature on Android. Your phone must be running Android Marshmallow or above and must have a fingerprint sensor.
Like many other Android apps, WhatsApp also has its own beta channel, that enables users to test experimental features before they are rolled out to stable users. And since the past few months, the renowned messaging app has been testing a new feature known as 'Fingerprint lock'. This feature allows you to unlock the application by using your fingerprint.
According to WABetaInfo, traces of the Fingerprint Lock feature showed up in v2.19.3 update. iOS beta users already got this feature (Known as 'Screen lock' in iOS) about 3 months ago. With the WhatsApp v2.19.221 Beta update, it is now available for the Android users too.
Now, without any ado, go through the instructions below to enable the Fingerprint Lock feature on your Android phone right now.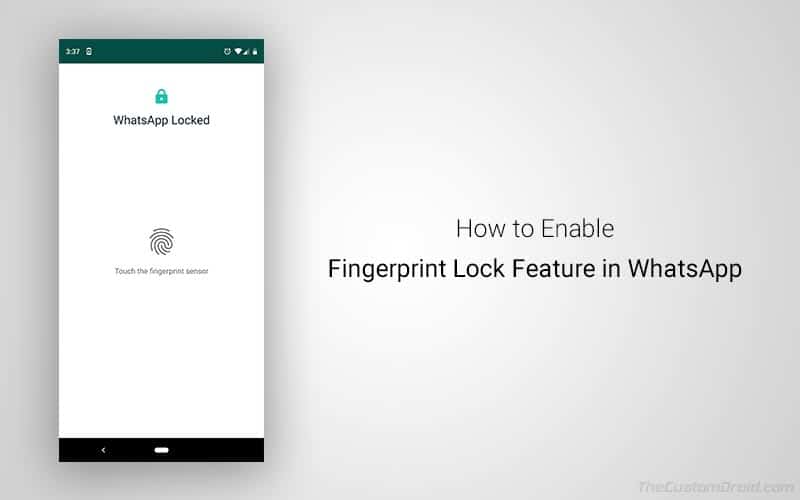 Requirements
In order to enable this feature, you must have the latest beta version (v2.19.221 or above) of WhatsApp installed on your phone. If you haven't opted yet, then visit this page to join the beta program. Once opted, you can download and install the latest WhatsApp beta app directly from the Play Store. If the version 2.19.221 of the app is not available, then you can also download the APK from here and install it manually.
Your phone must be running Android Marshmallow or above (I have tested it on Android Pie too).
And of course, your phone must have a fingerprint sensor.
How to Enable WhatsApp's Fingerprint Lock Feature on Android
Go to the phone's app drawer and launch 'WhatsApp'
Tap on the menu icon (3 dots) on the top-right of the app's window

Select 'Settings'
Scroll down to the bottom and select 'Fingerprint lock'
Finally, touch your phone's fingerprint sensor to confirm the fingerprint.
With the feature enabled, you will still be able to reply to messages from within the notifications or answer WhatsApp calls without having to unlock using your fingerprint.
You will also get options to customize the time interval after which the app will be automatically locked. The first option 'Immediately' will lock the app as soon as you exit it. It might be quite annoying, but best if privacy is the major concern for you. The other intervals are 'After 1 minute' and 'After 30 minutes'. It would be great if WhatsApp would allow more granular control over the time intervals in the future.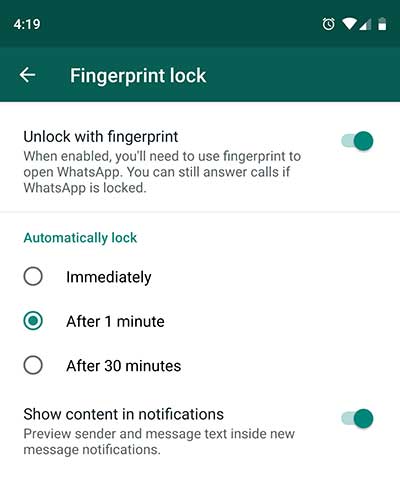 And then, there's also a 'Show content in notifications' option that lets you control if you want the sender's message preview to be shown in notifications if the app is locked using the 'Fingerprint Lock' feature.
So there you go! You have just enabled WhatsApp's Fingerprint lock feature on your Android phone. It's cool, right? Can you think of any more options that should be present to provide more control? Let us know through the comments.
Source: WABetaInfo