Huawei took to the IFA 2018 to announce its latest flagship chipset, the Kirin 980, which is the world's first processor to be made on a 7nm manufacturing process. Compared to the 10 nm process, the 7 nm process offers an improved performance of 20% and an optimization of 40% in power consumption. In addition, it is loaded with lots of improvements, focusing more on AI technology and aiming to crush 10 nm chipsets like Qualcomm Snapdragon 845 and Apple's A11 Bionic.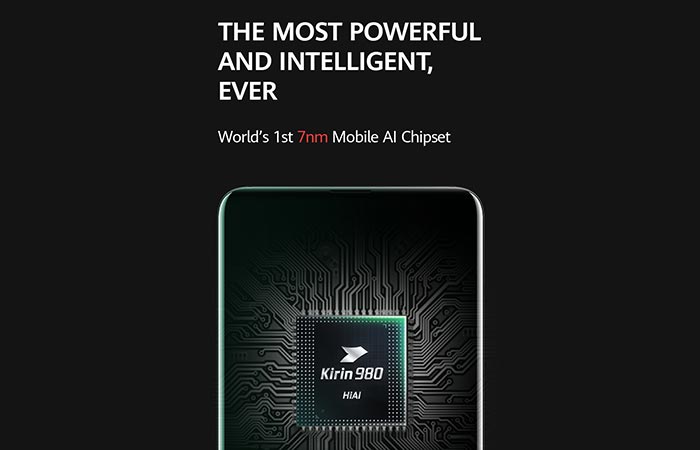 Huawei's Kirin 980 Key Details
As explained by Richard Yu (Executive director of Huawei's consumer group), the Kirin 980 has 6.9 billion transistors which are 1.6 times more compared to 2.5 billion in its predecessor. In addition, to be the world's first 7nm chip, it is also the world's first Cortex-A76 architecture CPU, the world's first to feature dual NPU (Network Processing Unit), and the world's first to support LTE Cat.21 modem, capable of reaching a maximum downlink of 1.4 Gbps, making it is slightly faster than Qualcomm X20 modem inside the Snapdragon 845, limited to 1.2 Gbps
As we have mentioned earlier, the Kirin 980 is fabricated on a 7nm process based on ARM's Cortex-A76, a new core architecture built on the company's DynamiQ Technology. It has total 4 cores of Cortex-A76, the first 2 super cores of Cortex-A76 are responsible for intensive tasks, while the other 2x Cortex A76 big cores are responsible for long-term maintenance. In addition, it has 4x small cores of Cortex A55, making it 75% more powerful and 58% more efficient than the previous Kirin 970 SoC.  In addition, the chipset is so using a 'Flex-Scheduling intelligence mechanism', in order to allow the CPU to adapt in heavy, medium and light-load scenarios by reducing its power consumption and giving users a longer battery life.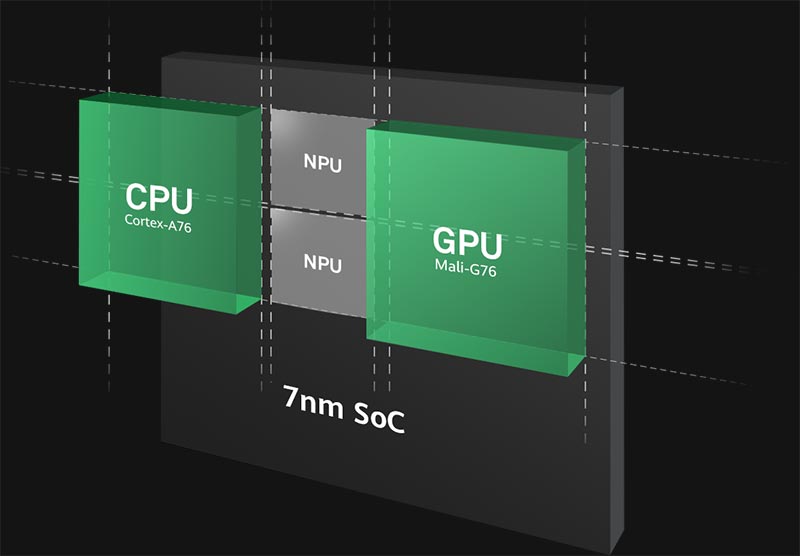 With faster clock speeds, the Kirin 980 provides faster app launch, with enhanced multitasking and smoother user interface. In order to provide realistic graphics, the Kirin 980 includes a Mali-G76 GPU. As the name suggests, this is a successor to ARM's current high-end Mali-G72 GPU and provides 46% improved performance than it.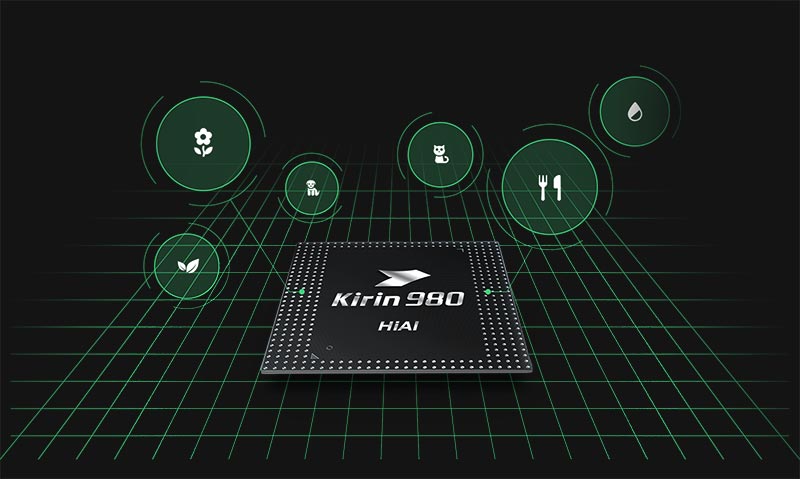 The Kirin 980 also integrates a new Dual-core Neural  Network Processing Unit (NPU), focusing on accelerating the AI efficiency and image processing speed. The Kirin 980 can recognize up to 4,500 images per minute, while Qualcomm's Snapdragon 845 and Apple's A11 identified 2,371 and 1,458 respectively. In addition, the Kirin 980 is equipped with dual ISP, that can take photographs 46% faster, improving energy efficiency by 23%. Apart from that, it is also capable of capturing "better contrast" and "finer details".

The new Huawei SoC also supports native connectivity for 5G, compatible with Huawei's Balong 5G modem. As described by Huawei, the modem has the world's fastest Wi-Fi with the downlink of 1,732 Mbps. In addition, It is also equipped with advanced dual frequency GPS ((1575.42 MHz), to give you a more accurate target location when using map navigation, even in complex terrains.
As described by Richard Yu (Executive director of Huawei's consumer group), Huawei has contracted with around 1,000 senior semiconductor design experts and in order to develop the powerful and compact, Kirin 980 SoC. Apart from that, The processor has goes through 5,000 engineering verification boards before and after.
With the announcement of Kirin 980, Huawei has also confirmed the release date of the upcoming Huawei Mate 20 series. The Mate 20 and Mate 20 Pro will be the first two devices that will be powered by this new chipset and they will be announced on October 16, 2018. There's no doubt that Kirin 980 will be a game changer in the smartphones industry, as a result of the features it is offering. It would be quite interesting to see this new processor taking on the Snapdragon 845 in a performance test.
What are your opinions, does the latest Kirin 980 take Qualcomm's's Snapdragon 845 throne? Do let us know in comments. Stay tuned!
Source: Huawei