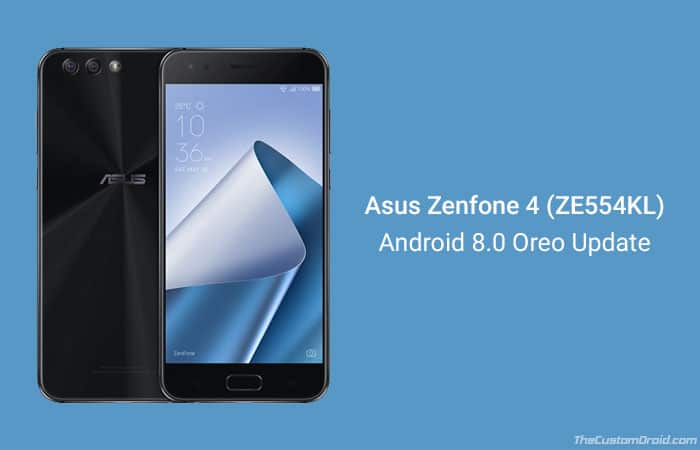 Asus has started rolling out the latest Android update to its Zenfone series phones. Follow this guide to download and install Android 8.0 Oreo on Asus Zenfone 4 ZE554KL.
Recently Asus has begun rolling out the Android Oreo to a selected Zenfone device. The manufacturer is already working and will be pushing the update to all its supported devices. Other Asus phones will be getting Android 8.0 in the coming months. This latest official update comes with version number 15.0405.1711.76 along with latest security patch. Since the update is rolling out in phases, it could take a bit of time to reach your device. Following the instructions below, you will be able to manually install Android 8.0 Oreo on Asus Zenfone 4.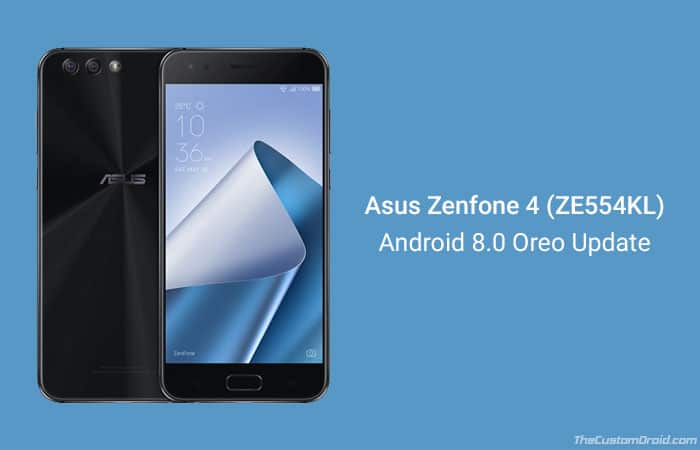 Android 8.0 Oreo Update for Asus Zenfone 4 (ZE554KL)
The release was officially announced at Asus ZenTalk forums as a New Year surprise. The Zenfone 4 was launched in August 2017 and comes with Android 7.0 Nougat out-of-the-box. Now it is possible to upgrade your phone to the latest Android version. It brings several improvements, tweaks, bug fixes over the previous software.
Now before you install Android 8.0 Oreo on Asus Zenfone 4, let us talk a bit about the features. The official update comes with several new and most popular features like Picture-in-Picture mode, Notification Dots, Background limits, Autofill framework, Smart text selection, Instant Apps, and more. It also includes a couple of bug fixes and increases the performance aspect of the device.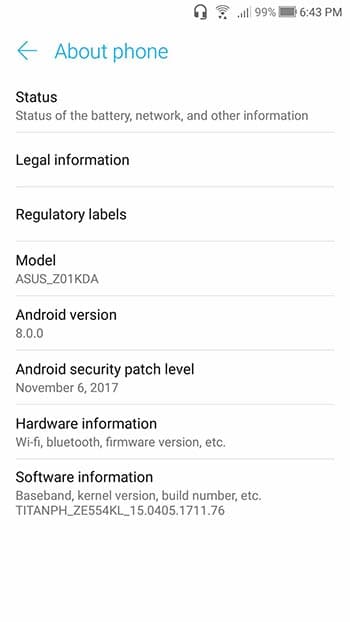 The update is rolling out to the public over-the-air, which means not all users can get the update at the same time. If the OTA update has not yet reached your phone, then you can still manually install Android 8.0 Oreo on Asus Zenfone 4 (ZE554KL) by following this simple step-to-step guide.
Apart from the Oreo-exclusive features, there are also several other updates to the stock ZenUI. For starters, there's an updated launcher that brings up all apps using the swipe-up gesture. We always strongly recommended keeping your Android device updated to the latest software, for both – better performance and security. So, go ahead and follow the steps to install the Asus Zenfone 4 Oreo update.
Prerequisites
Your device must be running stock Nougat firmware and should not be rooted.
The instructions will help you install Android 8.0 Oreo on Asus Zenfone 4 using stock recovery.
Updating your device manually could wipe the apps and data, so make sure to take a complete backup first. You may follow our guide on how to backup Android devices.
Also, make sure to install ADB and Fastboot on your PC.
Download Asus Zenfone 4 Android Oreo Update (V15.0405.1711.76)
How to Manually Install Android 8.0 Oreo Update on Asus Zenfone 4
Download the OTA package and move it to C:\adb folder on your PC. This is where the ADB and Fastboot binaries are present (Prerequisites, #4).
Hold the SHIFT key and right-click on an empty space inside the same folder.
Select 'Open PowerShell window here' from the pop-up menu.

Next, boot your Asus Zenfone 4 into stock recovery:

Power down the device completely.
Press and hold the Volume Down and Power button together until the Asus logo appears.

In stock recovery, touch input doesn't work. You will need to use the Volume buttons on your device to move the selector and confirm any highlighted option by pressing the Power button.
While your device is in recovery sideload mode, connect it to the PC, using the USB cable.
Finally, enter the following command to install Android 8.0 Oreo on Asus Zenfone 4.

adb sideload UL-ASUS_Z01KD_1-WW-15.0405.1711.76-user.zip

The update process will begin. So wait for it to complete.
Once the process finishes, select 'Reboot system now' option in the recovery.
Your device will boot into the updated Oreo firmware. Check out all the new features including Autofill framework, Picture-in-Picture mode, etc. The new software should definitely perform better in terms of every aspect.
So you have just succeeded to update Asus Zenfone 4 to Android Oreo. If you have any questions regarding the procedure, kindly leave a comment down below.