We have already seen the glimpse of the latest upcoming Android N, as a developer preview. Now if you have one of the supported devices, you can easily install Android N Developer Preview. Either through OTA updates using Android Beta Program or by simply installing the system image. We are here to guide you through the same process here.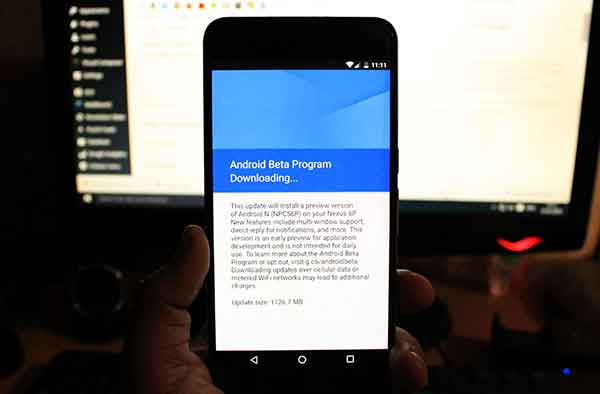 The process involves the same steps as you would do while installing the factory images. So, just like it, this will also wipe your device completely. So, make sure that you have taken a backup of everything. If your device is rooted, this will also reset it to stock.
Please note that this guide is kept up-to-date with the latest preview available at the particular time. If you need help with installing a previous version of the preview, kindly contact us or comment below.
Disclaimer
Android N Developer Preview is not for the faint hearted, it may contain bugs or cause app incompatibility, and you might not be able to use many of your favorite apps, as yet. We shall not be held liable for any damage to your device. However, we will definitely help you, to pull you off from the issues.
Table of Contents
Before You Begin
Charge your device to at least 60% battery level. This will help avoid disturbances during the process.
Install Android SDK or use 15 Seconds ADB Installer. This is required to setup fasboot on your PC.
Make sure to take a complete backup of everything. The process is going to wipe your device and restore it to stock.
In order to flash, you must have unlocked bootloader on your device. First, enable OEM unlocking in Developer options. And then, use 'fastboot flashing unlock' command to unlock the bootloader.
Downloads
Grab the Android N Developer Preview system image for your supported device directly from the Android Developer Preview website.
Instructions To Install Android N Developer Preview
First off, download the developer preview system image for your device.
Extract the downloaded system image to a suitable location. In my case, for the Nexus 6P, it would be 'angler-npd35k-factory-81c341d5.tgz'. Once the file has been extracted, you will see a image-xxxx-npd35k.img (e.g. image-angler-npd35k.zip), where 'xxxx' would be your device's codename. Extract this file to the very same folder.
Once you have extracted, you will have the following files.

Within this folder, where the files have been extracted, press SHIFT key and right-click on a random space. Select Open command window here from the menu pops-up that appears.

Boot your device into fastboot/bootloader mode – This could be done through two ways. Either by using an ADB command:

adb reboot bootloader

or, Power off your device completely. Press and hold the Volume Down and Power keys simultaneously, until you see the bootloader screen.

Your device will now be in the bootloader mode.

Now, connect the device to the PC, using the USB cable.
Open the command-line window that was initiated in step #3.
Start by flashing the bootloader:

 fastboot flash bootloader <bootloader-filename>.img

Example:

 fastboot flash bootloader bootloader-angler-angler-03.51.img

Reboot the bootloader (It's necessary):

 fastboot reboot-bootloader

Flash the radio now:

 fastboot flash radio <radio-filename>.img

Example:

 fastboot flash radio radio-angler-angler-03.62.img

Reboot the bootloader, again.

fastboot reboot-booloader

Now, erase the current filesystem.

fastboot erase recovery
fastboot erase boot
fastboot erase system
fastboot erase cache
fastboot erase system
fastboot erase vendor

Start by flashing the developer preview partitions:

fastboot 

flash recovery

 recovery.img
fastboot 

flash boot

 boot.img
fastboot flash system system.img
fastboot flash cache cache.img
fastboot flash userdata userdata.img
fastboot flash vendor vendor.img

In case you want to relock the bootloader, enter:

fastboot flashing lock

Once everything is done, reboot your device:

fastboot reboot
Installation By Sideloading OTA
Another simple method to update to the latest preview is by sideloading the OTA zip through stock recovery. Google has been generous enough to provide us with OTA zips. You can download the OTA zip files from here, and sideload them. If you're not aware of the process to sideload, refer to the tutorial linked below.
How to sideload OTA updates on Nexus devices
Now that you have installed the preview, let us know how it's treating you and your device. Are you a developer? How have you planned on updating your apps for Android N? Let us know via the comments below.