Empower your Nexus 4 with the latest Android version available. This guide will help you install Android Oreo on Nexus 4 using Unlegacy Android Custom ROM.
The Nexus 4 is a remarkable device, even after years of its release, the phone just refuses to die. It was unfortunate to see that such a capable device was not further supported by Google after the 5.1.1 Lollipop update. A few years later, I was able to personally revive my Nexus 4 using custom ROMs that brought the latest available Android version to the device, unofficially. But just as the time passed away, there wasn't much left for it. Well, that's just until today, because you can now update Android Oreo on Nexus 4 too, via custom ROM.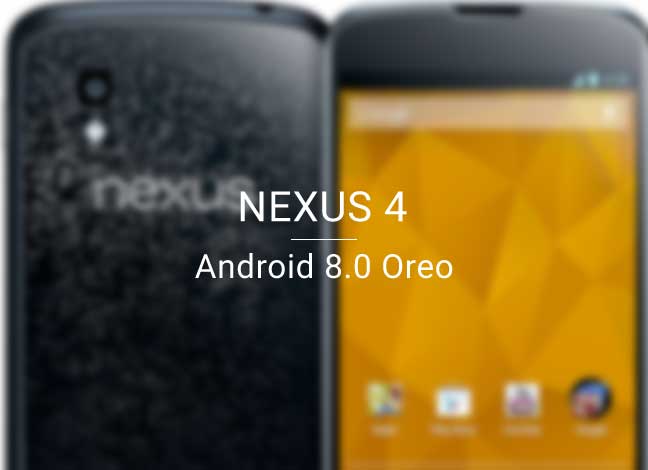 Table of Contents
How to Install Android Oreo on Nexus 4
The ROM is known as "Unlegacy Android Project". It focuses on bringing latest Android versions like Nougat and Oreo to legacy devices, that have been pushed out of official updates support. We appreciate the XDA developer – Ziyan who has made this possible for us to install Android Oreo on Nexus 4.
— Android Oreo Features – 10 Awesome New Features & Changes
Unlegacy Android Project is nothing fancy, but a stable and fast compilation of AOSP sources. The developer is keen enough to keep a tap on issues and bug reports that could affect the stability of the ROM. If you plan on using extra features, you can always add them using Magisk modules. The list of feature/functions that might not work as expected after you install Android Oreo on Nexus 4 are listed below. Kindly go through them first.
What's not working:
AOSP Clock app (You can simply use Google's Clock app from Play Store)
NFC (Turn it off to avoid any further issues)
Bluetooth (You can expect a fix in future builds)
As you have seen above there are not many issues that you would have to face while using Android Oreo on Nexus 4. So go ahead and Install Android Oreo on Nexus 4 to enjoy the latest Android version right away!
Screenshots
The screenshots that you see here have been provided by XDA Recognized Contributor – nitin.chobhe. We appreciate his help.
Prerequisites
To install Android Oreo on Nexus 4 using this ROM, your device must have an unlocked bootloader with TWRP installed.
Backup your N4 completely. In case anything goes wrong, you wouldn't lose your data and can restore it pretty easily: Tutorial
Charge your Nexus 4 to at least 60-70% battery level.
Read: How to Install Custom Themes on Android Oreo without Root
Downloads
— Unlegacy Android Project ROM for Nexus 4: Download link
— GApps: Slim GApps or Pico ARM GApps from here
Instructions to Install Android Oreo on Nexus 4 using Unlegacy ROM
Download the ROM and GApps package from the links above.
Connect your Nexus 4 to the PC using USB cable and transfer both the files to the device's storage.
Next, disconnect the device and power it off.
Boot into TWRP: Press and hold the Volume Down and Power buttons simultaneously until you see the bootloader screen. Then tap either of the Volume buttons a few times until you see "Recovery mode" selected on the screen. Finally, press the Power button to reboot Nexus 4 into TWRP mode.
Go to Wipe > Advanced Wipe. Select the Dalvik/ART Cache, Cache, System, and Data options. Follow the button on the bottom of the screen to wipe the device.
Go to the "Install" menu and select the ROM zip file (ua_mako-8.0.0-EXPERIMENTAL-20170918.zip). Swipe the button on the screen to start the flashing process.
After flashing the ROM, go to Reboot > Recovery. This will reboot your system back to recovery for flashing GApps. This is important! If you flash the ROM and then the GApps right after it, the initial setup on the device will display FCs.
Once your device comes back to TWRP, again go to "Install" and flash the GApps file (Example: Slim_gapps_revisited_8.0_micro_05092017_test.zip) this time.
Tap on "Reboot System" to boot your Nexus 4. You might see a "No OS Installed" message, just bypass it. Don't worry, your ROM will boot and work.
If you would like to Root Android Oreo on Nexus 4, you can use SuperSU 2.82 zip and flash it through TWRP.
If you face any bugs after installing the ROM, you can report them directly to the XDA thread. Or, you can leave a comment below and we shall do it for you.
Check out more on Android Oreo:
Go on, enjoy Android Oreo on Nexus 4 now! Take the taste of what the latest new Android version has to offer.