Want to get the taste of BlackBerry Priv Apps like Launcher, Keyboard, Messenger and Blackberry Hub etc on your Android? Then, here we will help you install BlackBerry Priv apps.
BlackBerry has indeed ruled the smartphone market for so long. Indeed, it provided best privacy controls, robust design, and a more premium outlook. We have always loved BlackBerry for what it has provided us with. But Android grew along the way, the devices running it certainly could beat any other mobile OS, because of its open-source nature and room for unlimited customizations. So, BlackBerry planned a comeback and finally announced the Priv, which was the first ever Android-based BB phones. While you may not have brought the device, you can still install BlackBerry Priv apps on your Android to take a taste of it.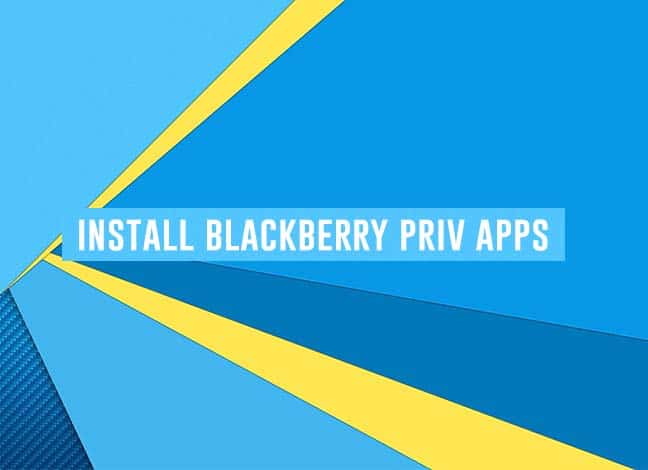 Install BlackBerry Priv Apps on Any Android Device
To get BlackBerry Priv apps on Android device, we will use an app named "BlackBerry Manager". The app is developed by XDA member- cobalt232. Using this app, you can easily download and install BlackBerry Priv apps on your Android device.
While you can download several of the BlackBerry apps from the Play Store, a few of them including the Keyboard is only limited to the Priv. But using BlackBerry Manager, you will be able to download all of the BB apps. Below is the updated list of all BlackBerry Priv Apps that can be downloaded through blackberry Manager App:
BlackBerry Calendar
BlackBerry Contacts
BlackBerry Hub
BlackBerry Hub+ Services
Notes by BlackBerry
Tasks by BlackBerry
BlackBerry Keyboard
BlackBerry Launcher
BlackBerry Manager
BlackBerry Messenger
BlackBerry Password Keeper
BlackBerry Privacy Shade
BlackBerry Device Search
BlackBerry Content Transfer
The best part of these apps is that they are ad-free, so you will have no intrusions while using these. Other than that, BlackBerry Manager allows the users to download the apps from Play Store and notifies the users of the latest app updates that are available.
Android Devices running on 5.0 Lollipop or higher are only compatible with the Blackberry Manager app. Any lower Android version is currently out of the question. That is primarily because the first Android-based Blackberry device – Priv itself came apps that target Lollipop and above.
How to Install BlackBerry Priv Apps using BlackBerry Manager
Before you head over the instructions, please remove or uninstall all the Blackberry apps that you may have installed from any other source than BlackBerry Manager.
Go to your Settings > Security.
Tap on the option "Unknown sources". Then you will be prompted to confirm, so tap on "OK".


Left: Unknown sources in Nougat and below | Right: Install unknown apps in Oreo

Now, download "BlackBerry Manager" App using the link. Once it is downloaded, install it on your device.
Launch the app and tap on "Continue" and allow media and contacts permissions to the app.
Now follow the on-screen instructions to allow BlackBerry Manager to access the Play Store using your Google account.
You should then see all the available BB apps that could be installed.


Install BlackBerry Priv Apps – BlackBerry Manager

You might notice that some apps, like the Password Keeper, Contacts, Calendar, Tasks, etc will require you to first install BlackBerry Hub+ Services. That is because the app relies on these services.
So, begin by tapping on "BlackBerry Hub+ Services" and select "INSTALL". The BlackBerry Manager will download and install the patched ad-free version of the specific app.


Installing BlackBerry Hub+ Services
Now, go ahead and install BlackBerry Priv apps that are available on the list.
If you swipe from the left-edge of the screen, a hamburger menu will open. You can use the inbuilt tools in BlackBerry Manager app to download BlackBerry Priv apps, check for updates, backup them, and more.
Also read: How to Enable iPhone-like Face ID Feature on Android
So, how's the experience of BlackBerry apps on Android? Let us know by the comment. If you have any problem, drop a comment below.