Nostalgic for the old blob-style emojis you enjoyed before Oreo? Well, it's now simpler than ever to get them back and without Root. So follow this guide to install Blob Emojis in the two most used IM apps – WhatsApp and Telegram. The tutorial is specifically meant for rootless Android Oreo users.
Android Oreo is a conjunction of several major and minor features that we love. One of these is the new set of Emojis that have accompanied the release. These were first announced during Google I/O 2017 and were already stated to be included in Android O. The all-new emojis have set apart the trend of the infamous and more widely-used blob-style emojis that Google has had for a long time now.
But not everyone is an admirer in this case (like me!). I have absolutely loved blob-style emojis. They were different, more emoting, and definitely cute! And were probably a big reason behind me using Hangouts more than any other IM application. And now, I would rather just use stickers and leave the emojis alone.
Check out – Android Oreo Custom ROMs List for Popular Devices – Find Yours Now!
Well, it's not going to be the case for long.
Install Blob Emojis in WhatsApp and Telegram on Android Oreo
The Android community has recently received full OMS support on Oreo, courtesy of Substratum and Andromeda. This not only enables a user to modify framework/app colors, but also other aspects like fonts. So we are going to take advantage of this awesome feature and install Blob Emojis on two famous Android IM apps – WhatsApp and Telegram.
This is not a single mod/theme that will cover the whole situation. We will be using two different methods, separate for each app. To know more, read below. Since we are going to use Substratum and Andromeda to install blob emojis, it is important that you first set that up on your Oreo device. Follow the link below.
— How to Install Custom Themes on Android Oreo without Root
Once you have done that, you can proceed below.
WA Emoji Changer is a Substratum theme that is dedicated only for this job. It has been developed by Prerak Bhatt. The theme actually consists of WhatsApp overlays that could allow you change the default WhatsApp emojis to a different one. The current Emoji packs that the theme supports are:
Android Nougat
HTC 10
Emoji One
Twitter
You could see that "Android Nougat" emojis are a part of it and we can use that to install Blob Emojis on WhatsApp & Telegram. Now, just follow the steps below.
Instructions
Download and Install [Substratum] Emoji Changer available on Google Play.
Once installed, go to the app drawer and launch "substratum".
Scroll through the list of installed themes and select "Emoji Changer".
You will see that the only overlays that this theme consists of, is WhatsApp. So tap on the drop-down menu that you see on the WhatsApp overlay card. Select "GoogleNougat".
Now select the WhatsApp overlay card by tapping on the checkbox.
Finally, press the paint-roller icon on the bottom-right of the app screen and select the "Build & Enable" option to begin the installation process.
When the installation is complete and everything goes well, you can restart WhatsApp. You will then be able to see the old blob emojis.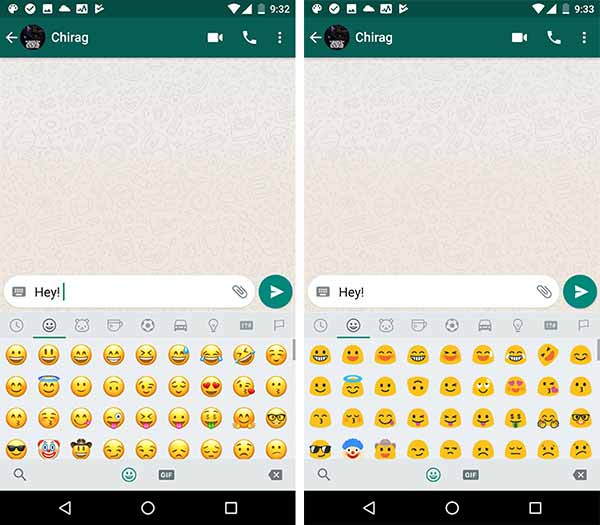 Now you have successfully installed Blob Emojis on WhatsApp and Telegram. Currently changing fonts and emojis on devices without root is only possible with Substratum overlays. We are sure that more and more developers will now be concentrating on Substratum to apply visual customization on non-rooted Android phones.
Check out more on Android Oreo:
Stay tuned! We will be back with other tutorials like this, that will involve using Substratum. If you have any questions, drop a comment below.