In this article, we will show you how to download and install Franco Kernel on Redmi Note 4.
The latest in the series – Redmi Note 4 marked a sale of 20 million units, which was an excellent mark for a powerful phone in a pocket-friendly price range. Over the past one year, the phone has seen the MIUI 9 update, along with enormous progress in the developer community. Which means if you want to root your device, add more features to it or enhance its performance, you can do it pretty easily. Well, after a year-long wait, one of the most powerful and optimized custom kernels has arrived for the device. You can follow this guide to install Franco Kernel on Redmi Note 4.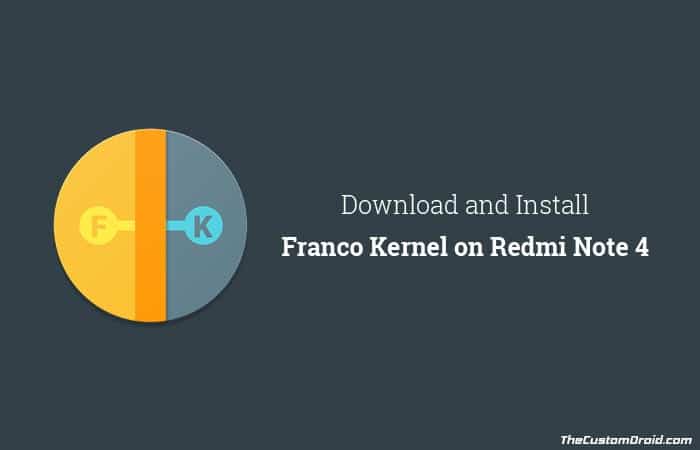 Table of Contents
Download and Install Franco Kernel on Redmi Note 4
Android has emerged to be a very volatile operating system as a result of its continuous updates and upgrades. A similar upgrade was launched a few weeks back in the form of Franco Kernel for Redmi Note 4. Franco Kernel is the most prevalently used custom kernel for Android phones. This is because it comes with the very stable package and easy to use companion app. It is now available for download and could be installed easily using TWRP recovery.
Now, the million dollar question that arises is that why any user should take the pain to install Franco Kernel on Redmi Note 4. The article here enlists six reasons that would instigate you to opt for Franco Kernel:
Appreciated battery life owing to idle power consumption

Support for various CPU governor profiles.

Flash & forget- Becomes your savior at times of unexpected data loss

Bypasses the verified boot flag for Android Pay compatibility

Support for Kernel Manager Performance Profiles

No "magical" optimizations to lure you into

non-active therapeutic impacts

Seamless integration with the official FKUpdater app.
You can follow the latest changes on Franco's official Github.
Features of Kernel Manager for Franco Kernel
Get Kernel Manager for Franco Kernel on Google Play
Understanding the general features of Kernel Manager app that have already made it outstanding in the league; the article will now draw the attention of the readers to some of the specific features of the official companion app.
Auto flash updates

–

Franco Kernel is exceptionally handy with its updates wherein it possesses the ability to flash via just a press of the button.

CPU Governor

–

Franco Kernel has the ability to autoload the "governors" or different configurations by customizing the CPU clock speeds so that the activities that require a little more horsepower, can be easily launched.

System Monitor

–

It monitors the smartphone closely by keeping an eye on

 

battery temperature, CPU frequency, GPU frequency and other similar aspects.
Prerequisites
Before moving on to the steps to install Franco Kernel on Redmi Note 4, make sure to fulfill the following requirements.
Download Redmi Note 4 Franco Kernel
Following are the links to download Franco Kernel for Redmi Note 4, for both Android Nougat and Android Oreo.
Once the kernel is downloaded, proceed with the following steps to install Franco Kernel on Redmi Note 4.
Instructions to Install Franco Kernel on Redmi Note 4
Download Franco kernel zip file from above.

Connect your Note 4 to the PC using the USB cable.
Transfer the downloaded zip to the phone's internal storage or SD card.

Turn off your phone.

Boot into TWRP by holding down the Volume Up and Power buttons simultaneously.

Navigate to the location where you transferred the kernel flashable file.

Finally, swipe the confirm flash button to install Franco Kernel on Redmi Note 4.

Wait for the flashing process to complete.

Once it is finished, tap on 'Reboot System'.
Now enjoy the unique features and upgraded performance of your device owing to Franco Kernel. Just download the Kernel Manager app from above and install it on your device. You can then use the app to customize various aspects of the kernel including the CPU manager, Performance profiles, display controls, and more.
So you have just been able to install Franco Kernel on Redmi Note 4. If you have any questions, leave them down in the comments.