Another Oreo beta update has arrived for the Galaxy S8 and S8 Plus. Follow this tutorial to install Galaxy S8 Plus Android Oreo Beta 3 right now.
We recently showed you how to install Oreo Beta 2 on Galaxy S8 and S8+. And it seems as if Samsung is moving in fast towards the final release of Android Oreo for its flagship devices. The company is not alone, other famous OEMs including OnePlus, Huawei, Sony, and HTC are also pretty much on the same path. The update, however, is limited to the selected testers only. If you wish to install Galaxy S8 Plus Android Oreo Beta 3 update, then we will help you do just that here.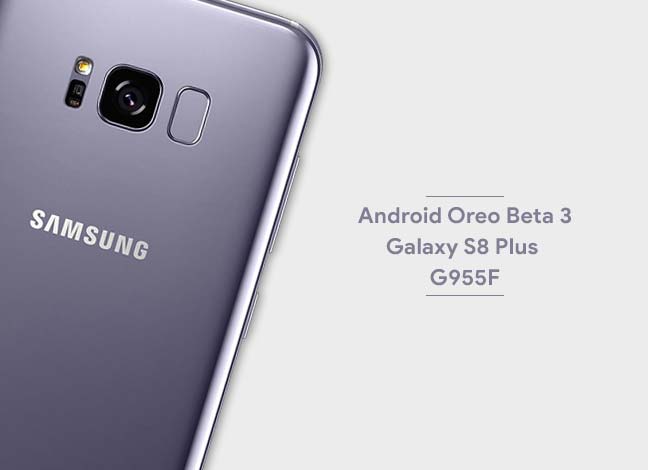 Table of Contents
Galaxy S8 Plus Android Oreo Beta 3 Update
Samsung began the Oreo Beta program with Samsung Experience 9.0. But was only made accessible for those who have enrolled in the selected regions. Over the course, the company has further released the second beta more than a week ago. In the last few days, the third beta release has also been rolled out for the S8 and S8 Plus.
Android Oreo Beta 3 was released on November 23 and offers a plethora of new improvements and changes. The build number for this update is G955FXXU1ZQKG.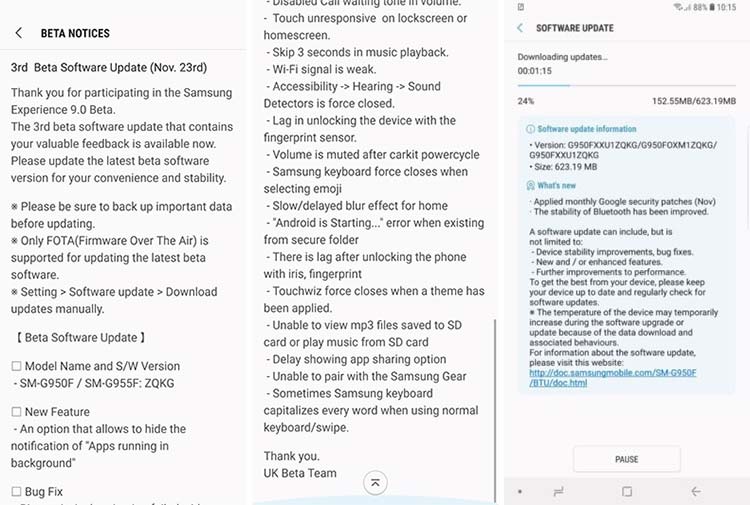 The official changelog for the Galaxy S8 Plus Android Oreo Beta 3 update is as follows:
Added a feature to hide 'Apps running in background' persistent notification
Biometric Authentication failed with Samsung Pass fixed
Fixed Music icon stuck on Always-On Display
Fixed time mismatch error
Sluggish Samsung Keyboard and FC while emoji selection fixed.
Fixed couldn't open camera in lockscreen
Fixed unresponsive touch
Weak WI-FI signal fixed
Sound Detector force-close error fixed
Fingerprint sensor and Iris unlock lag fixed
Fixed blur effect
Fixed Touchwiz force-close after applying theme
These are just the outlined changes, fixes, and new features in the Galaxy S8 Plus Android Oreo Beta 3 update. There could be plenty more inside changes that you would observe after installing it.
Prerequisites
The instructions here are strictly meant for the Galaxy S8 Plus running the Exynos chip. Do not try these on any other variant.
Charge your Galaxy device to at least 50-60% battery level.
Before you install Galaxy S8 Plus Android Oreo Beta 3 update, make sure to take a full backup of your device and possibly a Nandroid backup of your current ROM using TWRP. You can follow our guide on how to backup Android devices.
Your phone must have TWRP installed. If you don't have it yet, you can follow our guide to install TWRP recovery on Galaxy S8 Plus.
Instructions to Install Galaxy S8 Plus Android Oreo Beta 3
XDA senior member – poczynek has already installed the said update. He has also managed to provide the complete Beta 3 ROM as a TWRP backup. We appreciate his effort to share the files and allow other S8 Plus users to take its benefit.
Now follow the steps below to download and install Galaxy S8 Plus Android Oreo Beta 3.
Boot your device into TWRP recovery mode:

Power down your Galaxy device.
Press and hold the Volume Up + Bixby + Power button altogether to enter TWRP.

Once your S8 Plus in TWRP, go to 'Backup' and swipe the 'Swipe to Backup' button on the screen.

A Nandroid backup of your current ROM will be created and stored under 

sdcard/TWRP/BACKUPS/

with a special name. Example: CVH7N15A28001224.
Now, connect your device to the PC via USB cable. Go to 'Mount' and press the 'Enable MTP' button.
Download Android Oreo Beta 3 for Galaxy S8 Plus: ZQKG TWRP Backup files.zip
Extract the downloaded file and move its content into the backup folder:

sdcard/TWRP/BACKUPS/CVH7N15A28001224/

Here the folder 'CVH7N15A28001224' might have a different name on your device.
Once you have copied the files successfully, disconnect your phone.
Now, go to the 'Restore' menu and restore the backup to install Galaxy S8 Plus Android Oreo Beta 3 ROM.
Note: If you wish to root the device, do not reboot your phone. Simply skip ahead to the rooting instructions.
Once complete, you can reboot your device into the OS. Go to 'Reboot' » 'System'.
Root Android Oreo Beta 3
Now that you have installed Galaxy S8 Plus Android Oreo Beta 3 ROM, you can root it pretty easily using SuperSU.
Download the SuperSU root package: SR5-SuperSU-v2.82-SR5-20171001224502.zip
Connect your S8 Plus to the PC and 'Enable MTP' in the 'Mount' menu.
Copy the root file to the storage and disconnect the device.
Go to the 'Install' menu and select the SuperSU zip file.

Swipe the button on the screen to root Galaxy S8 Plus Android Oreo Beta 3 ROM.
Once the file has been flashed, tap on the 'Reboot System' button.
Fix Issues
Certain people reported about random reboots and issues with KNOX. To fix these problems, you can perform a few simple build.prop edits once you have rooted your Galaxy S8 Plus.
Download and install the BuildProp Editor app on your phone.
[googleplay url="https://play.google.com/store/apps/details?id=com.jrummy.apps.build.prop.editor"/]
Next, run the app from the app drawer and grant it root permissions.
Now find the following string and change its value from "1" to "0".
ro.config.tima
Find the string below and change its value to "v30".
ro.config.knox
Finally, click on the Save icon and reboot your device.
There you go! You have just been able to install Galaxy S8 Plus Android Oreo Beta 3 update and root it. If you have questions regarding the process, then let us know.
OTA Screenshots from SamMobile | Source: XDA-Developers