Another Android Oreo-based Open Beta release has been announced. Follow this guide to install OxygenOS Open Beta 27/18 on the OnePlus 3 and 3T.
Majority of Android device manufacturers are now shifting their attention to Oreo. OnePlus is also making high efforts to deliver the latest Android version to its devices. There has been no official news of Android Oreo for OnePlus 5. And it seems like the predecessors are receiving the deserved attention. Today, Adam Krisko (OxygenOS Beta Program manager) has announced a new update for the OnePlus 3 and 3T.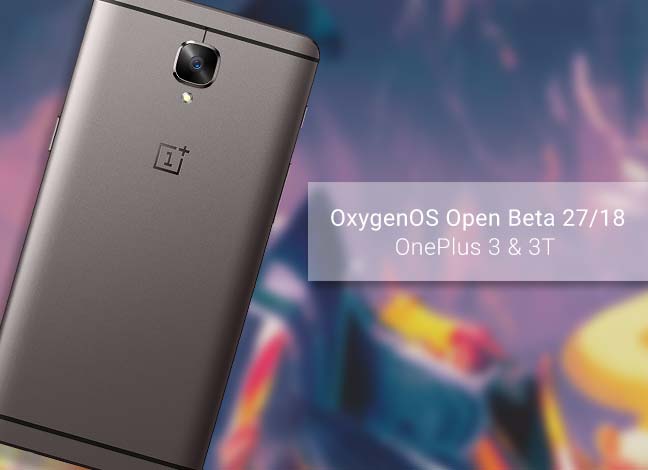 Check out more on Android Oreo updates:
Table of Contents
Install OxygenOS Open Beta 27/18 on OnePlus 3/3T
OnePlus is progressing fast towards the final release of Android Oreo. Within the last 30 days, the manufacturer has already released OxygenOS Open Beta 25/16 and OxygenOS Open Beta 26/17 for the OnePlus 3 and 3T.
With every succeeding update, we have seen several enhancements that make the system more stable. Today, another update was released for the devices. It brings some new reforms to a few UI elements, along with several other stability fixes. You can now follow the instructions here to easily install OxygenOS Open Beta 27 on OnePlus 3 and Open Beta 18 on OnePlus 3T.
According to the source, the OxygenOS Open Beta 27/18 update brings in the following changes.
Android security patch level October 2017.
Do Not Disturb user interface has been reworked.
Optimizations for standby battery usage.
Android Oreo's Smart Text Selection should work properly.
Fixes for several applications including OnePlus Gallery, Weather, Recorder, and File Manager.
Apart from these, there are several general improvements and minor fixes.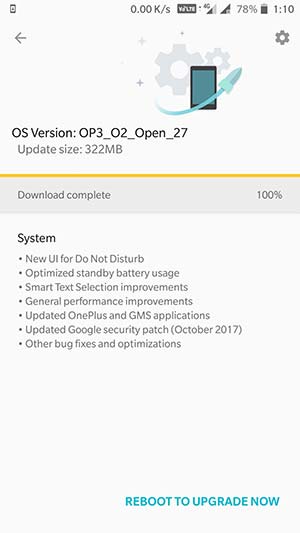 A few users at the OnePlus community have already received the OTA notification. You can check by going to 'Settings' -> 'System updates'.
If you still haven't got the update, you can follow the steps below to manually install OxygenOS Open Beta 27/18. Even if you're coming from a different ROM or using TWRP, we have got you covered.
Disclaimer
According to OnePlus, this new update has a visual bug, where you might see blank spaces in the UI. We are not responsible for any damage or data loss on your device. Make sure to follow the instructions to the point.
Prerequisites
Before you head over to install OxygenOS Open Beta 27/18, we strongly recommend that you take a full backup of your OnePlus 3/3T. You can follow our detailed guide on how to backup Android devices.
Make sure to charge your device to 50-60% battery level. This will prevent any shutdowns during the update process.
Downloads
OxygenOS Open Beta 27 for OnePlus 3
OxygenOS Open Beta 18 for OnePlus 3T
Steps to Install OxygenOS Open Beta 27/18
We have split the instructions at your convenience. If you have the stock recovery with OxygenOS Open Beta 26/17 installed, then simply follow method #1. In case you have TWRP recovery/Custom ROM/ Stable build installed, then follow method #2.
Method 1: Using Local Upgrade
First, download the OTA zip package corresponding to your device.
Now, connect your device to the PC using the USB cable.
Enable the File Transfer (MTP) mode and copy the OTA *.zip package to the root (outside all folders) of the internal storage.
Once copied, disconnect your OnePlus 3/3T.
On your device, go to 'Settings' -> 'System updates'.


Install OxygenOS Open Beta 27/18 using Local Upgrade

Press the cog (gear icon) located on the top-right and select the 'Local upgrade' option.
Just press the displayed filename and choose 'UPGRADE NOW'.
The update process will begin and install OxygenOS Open Beta 27/18 on your OnePlus device.
Method 2: Install Full ROM Package
In case your phone is rooted or you have TWRP recovery installed, then you can install OxygenOS Open Beta 27/18 by flashing the full ROM.
Download the full ROM package from the section above. Then connect your OnePlus 3/3T to the PC and copy the full ROM package to the internal storage. Now, power off the phone and boot it into recovery mode.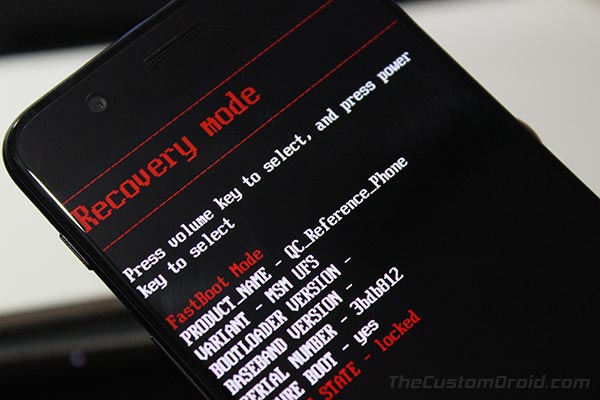 Press and hold the Volume Down + Power button altogether.
Your phone will then enter the bootloader mode.
Then, tap the Volume keys a few times until 'Recovery mode' comes up on the screen.
Press the Power button to boot into recovery mode now.
Now, follow the instructions below according to the recovery you have installed on your phone.
Oxygen Recovery
When the recovery boots, select 'English' as the preferred language.
Then select 'Install from internal storage' or 'Install from local', whichever option is available.


Install OxygenOS Open Beta 27/18 using Oxygen Recovery

Browse to the storage and select the full ROM zip file.
Select 'Yes' to confirm and install OxgenOS Open Beta 27/18 update.
When the process is complete, go back to the recovery main screen and select 'Reboot'.
TWRP Recovery
Select the 'Install' option.
Browse to the internal storage and select the full ROM package.
Once the file is selected, swipe the 'Swipe to confirm Flash' button on the screen.
This will install OxygenOS Open Beta 27/18 update on your device.
Finally, select the 'Reboot System' option when the process is complete.
Once your OnePlus 3/3T boots into the OS, you will be able to enjoy all the new features.
Source: OnePlus