We have stepped into 2019 and new software updates from Google are already knocking into the devices. January 2019 Security Update is now rolling out for first, second and third generation Google Pixel Devices. The security step-up for this month tries to fix problems at the kernel and system levels.
With the January update, Google is trying to resolve the audio quality while recording a video on a Pixel 3/3XL. You may want to know more about security aspects and vulnerabilities the latest January patch fixes up. Then do check out Android Security Bulletin for January 2019 and Pixel Bulletin.

Along with the other devices, Pixel C is also getting the January 2019 Security Update. However, it still sticks to Android 8.1 Oreo. Apparently, Google has no plans to throw any Pie party for the Pixel C.
Check for the OTA on your Google Pixel now!
Of course, the January 2019 Security Update for Google Pixel is rolling over-the-air. It's a gradual process, so the update will not kick into everyone's device at one time. You have to wait patiently for it. In case, you think waiting is a waste of time, you can force-check for the OTA as well. Simply go to device Settings > System > System Updates and tap on Check for Updates. If you see the new update, download and install it. The OTA on my Pixel 3 XL weighed 57.9 MB and should be around the same size for the rest of the devices.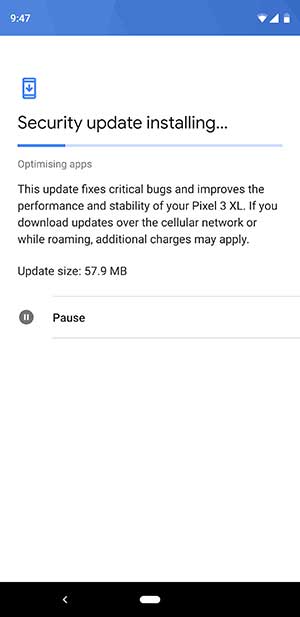 With the January 2019 Security Patches now available, other OEMs including Samsung, LG, Sony, Mi, etc should start to roll out the update for their supported devices as well.
Alternatively, you can also download device specific OTA files or Factory Images and flash them manually. In case you may wonder how to install these images and OTAs, you can follow our Google's OTA & Factory Image Installation guide. Security updates are always of the utmost importance, so do not miss it.