There are certain OEMs who are really sluggish when it comes to providing timely software updates. LG is, unfortunately, one such OEM. Usually, we see non-flagship devices not getting software updates or get fewer updates. With LG, even flagships don't see one basic system update in time. However, LG is trying is best to improve the situation and in the process, its new Software Update Center comes to the rescue. It provides the software updates in a proper time frame. Speaking of which the Korean OEM is now rolling out Android Oreo for LG G5 Users on T-Mobile and Verizon.
This is quite interesting as LG G5 is a device which released all the way back in 2016. As per norms, a device gets around two big system upgrades within a two-year time frame from its release. LG G5 saw a step-up to Nougat but now after a lot of delay second system update, is rolling for it. Now, most of the devices are busying enjoying their share of the Android's latest offering Pie. Here, LG G5 is getting a step-up to Android Oreo. Well, better late than never.
Verizon and T-Mobile LG G5 Android Oreo update pack many cool features such as Notifications channel, Picture-in-Picture(PiP) Mode, Notification dots, Multi-display support, Night-light, keyboard navigation. Also, you can enjoy new features such as NAN which is Neighborhood Aware Networking. This makes it easy for devices to connect with one another without an internet access. Adaptive icons are another great attraction of Android Oreo. The App icons can be shaped into various styles as per the user's choice. Battery life also improves to a great extent with the new system update.
Update Now!
Android Oreo for LG G5 Verizon and T-Mobile is rolling over the air and it will knock into your devices in batches. It is worth noting that both Verizon and T-Mobile are yet to make the official announcement for the same. So, you have to patiently wait for it. Your phone will automatically detect the update. Then you will get a prompt to install the same. Alternatively, if you don't like waiting for the OTA update to show up, then you can manually search for it as well.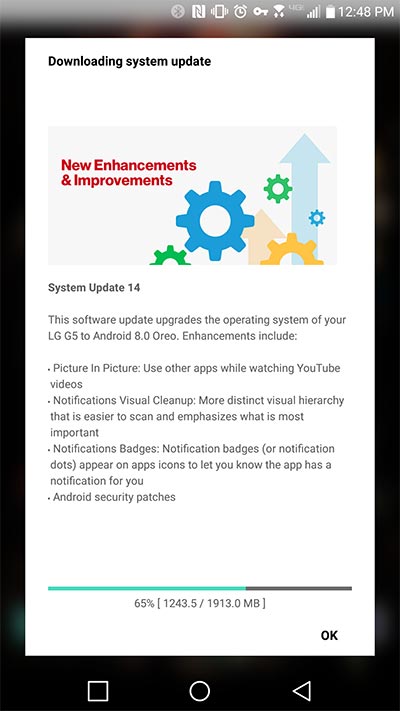 To force-check for the latest LG G5 Android Oreo update on your own, go to your device Settings -> General -> About phone -> Software info. If the new update is available it will show up. Obviously, it will be a large software as it is a major system upgrade. So, try to find and connect to a good Wi-Fi network to download the OTA. You may download using your carrier data but you may be charged for the same.
So, if you are on Verizon or T-Mobile carrier, then do not miss the new update of Android Oreo for LG G5. This may be the very last update LG G5 will see. A system upgrade is always important to keep in line with the modern Android developments.
Source: XDA