Parallel Space is a unique app, only one on the Play Store, that lets you manage more than one social accounts on a single device.
Yes, we have all tried to trick our Android smartphones and tablets to use two instances of a single app, so that we can ultimately put more than one account to use. While Google already supports that (You can add several Google accounts to your Android), Instagram has also joined the list. But there are other social media platforms out there too, of which, Facebook and WhatsApp are ones that 80% people use regularly.
Natively, you cannot use two Facebook or WhatsApp accounts at once. But now you can do just that, with the unique app – Parallel Space. It is not a hack, but some simple container technology that mirrors your currently installed social app, and let it use with a secondary account. We, however, have limited our discussion to social apps, but Parallel Space performs without any limits, supporting about 99% of the total apps available on the Play Store.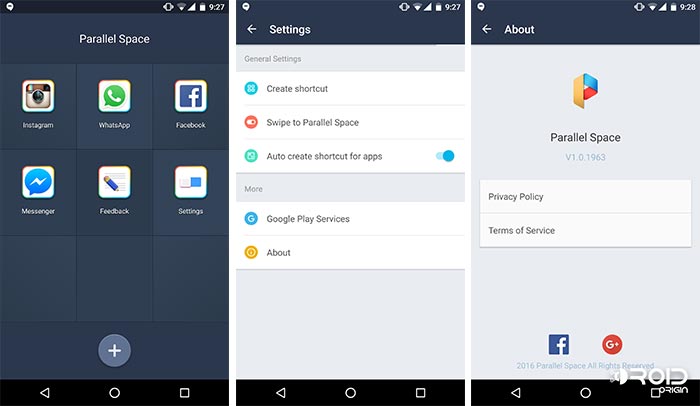 INSTALL PARALLEL SPACE
Just download the app from Google Play Store. You can also grab the APK from here.
Once you have installed the app, open Parallel Space from the app drawer.
By default, apps like Instagram, WhatsApp, Facebook, and Messenger are already stacked.
To add a new app, tap on the "+" icon. Browse and select the app of your choice (e.g. Twitter).
The selected app will then be added to the Parallel Space stack, where you can tap on it and begin the setup for your secondary account.
For the apps that have been set up, will appear in the app drawer with the app icon with a multi-color outline.
Since forever, I have wanted to use multiple WhatsApp accounts on my Android, but that ultimately required some kind of hack, and this app has finally made me do it, in a few taps. For now, it is only tested with Facebook, WhatsApp, Telegram, Twitter, and Skype. You can try yourself for other apps and report below in the comments.
You can visit the XDA thread for more information and discussion with other Parallel Space users.