Hi-Performance DAC Enabler is a Magisk module meant to enhance your Qualcomm device's sound quality.
When we talk about sound enhancements on Android, the first thing that hits is ViPER4Android. And why shouldn't it? It's probably the best sound enhancement tool available out there. However, its usage is pretty much limited to intermediate and advanced users, who can make use of the provided aspects and tweak them to maximize the sound quality on their Android devices. The situation is different for the novice users since they first have a hard time installing V4A and then understanding all its option until they could finally get what they want.
But! If you are new to the whole Android customization scene, own a Qualcomm-based device, and still struggling with its audio quality, then we are here for you. We will help you get the most out of your Android's sound using Hi-Performance DAC Enabler.
What is Hi-Performance DAC Enabler?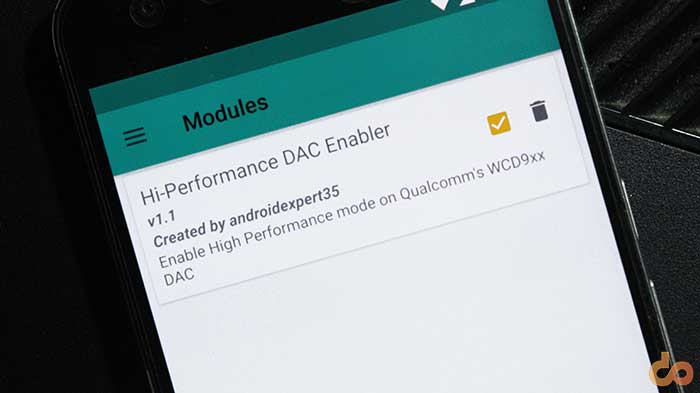 Hi Performance DAC Enabler is a module for Magisk, that is designed to work only with Qualcomm SOC-equipped devices and give a nice push to its sound quality. So why just Qualcomm devices? Well, the mod works on the inbuilt WCD9XX audio DAC on all Qualcomm-based devices, and configure it to the "High Performance mode" and max out the supported power output and sound quality.
It is brought to the public by XDA member – androidexpert35 and we appreciate his hard work. You can use this mod on any Android device running Lollipop 5.0 or above.
Also read: 10 cool things to do with Google Chrome on Android
If you're a techie and want to learn more about how it works, then read this post by LazerL0rd.
Instructions to install Hi-Performance DAC Enabler
The module works on its own and doesn't require any extra effort than just installing and enabling it. So if you want a simple yet an effective sound mod for your Qualcomm device, this is where your search ends.
You must have TWRP recovery installed.
Since it is a module for Magisk, you have to install Magisk on your device.

Once you have it, download the Hi-Performance DAC Enabler flash-able zip file: Link
If you have downloaded the file to your PC, make sure to transfer it to your device.
Now, reboot your device into TWRP by either using the following ADB command or using the physical button combo for your device, if you know it.

 adb reboot recovery

When your device has booted into TWRP mode, go to Install. Browse your device's storage and select the Performance_DAC_Enabler_v1.1_By_androidexpert35.zip file.

Confirm it to begin the flashing process. It shouldn't take more than a few seconds and then you may tap on Reboot System.
Upon rebooting, open any music player of your choice, plug in your earphones, play some music, and boom! You should feel the difference in sound quality at once.
If you have any problems installing this mod, comment below to let us know. Don't forget to share this article on your social media and let your friends know about it.
More for you: