Chinese smartphone manufacturer Meitu is reportedly ditching MediaTek processor in favor of the Snapdragon. The news came after an alleged Meitu smartphone leaks on Geekbench.
Unlike its previous offerings, the company's next flagship smartphone is said to be powered by Qualcomm Snapdragon 845, which has been the common SoC for flagship smartphones today. This could also mean that Meitu is now ready to compete with other Chinese OEMs in the tough flagship category.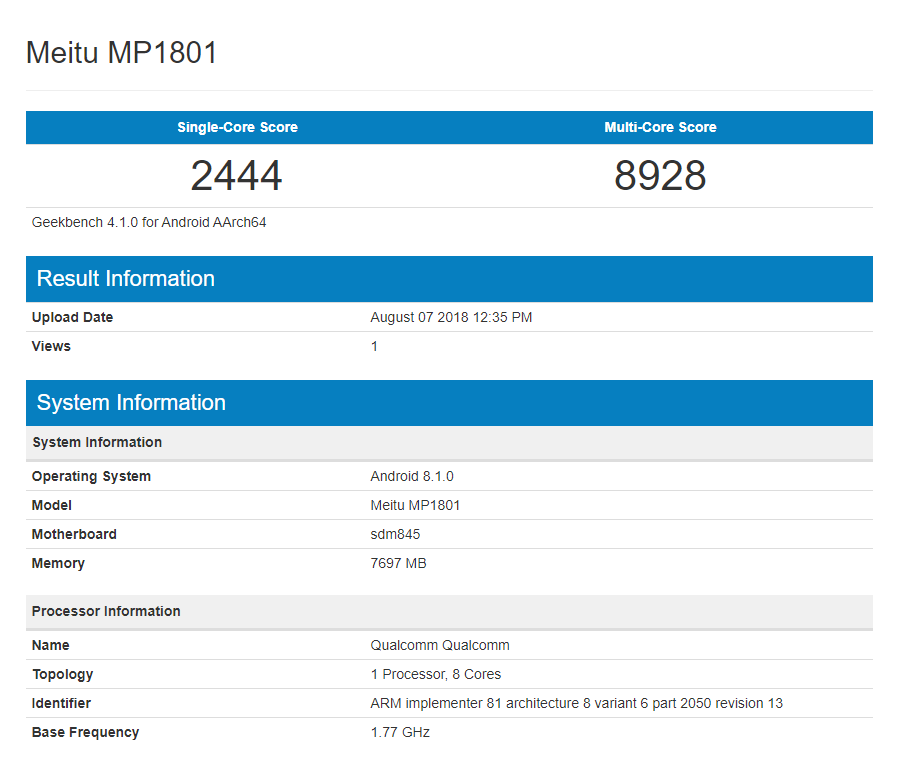 The smartphone, codename Meitu MP1801, will be accompanied with 8GB of RAM and will run on Android 8.1 Oreo out-of-the-box. While the listing didn't reveal the true nature of the device, the use of Snapdragon 845 hints that it is indeed a flagship device. The listing didn't reveal further details.
Last year, Meitu launched the Meitu V6. The design is reminiscent of the luxury phone brand Vertu (formerly owned by Nokia), but with up-to-date specifications. It comes with colorful hand-stitched calfskin leather and 18K gold rivets on the back. The device is powered by MediaTek Helio X27 SoC, 4GB of RAM, and even a huge 5.6-inch FHD AMOLED display. It also has dual-cameras, both on the front and rear of the device.
When launched, the standard version of the Meitu V6 was priced at $745 while the Advance Custom Edition translates to a whopping $1022.