Finally, Android Oreo Update for Moto G5 is currently rolling in the Indian region. In a surprise move, Motorola straight-away makes a jump to Android 8.1 Oreo instead of rolling the 8.0 Oreo. There has been a lot of soak tests for trial purpose around various regions. Usually, Motorola system upgrades are slow but this system version hopping is a good move from the OEM. Several OEM phones have already been updated to Andriod Pie, which is the latest offering from Google. At least Motorola users get to experience the second most popular Android OS i.e Oreo.
Android Oreo Update for Moto G5 also packs the August 2018 Android security patch for the device. The latest system upgrade also brings stability improvements to the device. This update also bumps a new build number to the Moto G5 and it is OPP 28.85-16.
Along with these changes, the new update also comes with the standard Android Oreo features. These include a redesigned Power and Settings menu, auto dark and light theme, autofill API and more. Android 8.1 Oreo also allows you to limit the background activities on your device for effective power management. Besides this, there will be the popular Notification dots, picture-in-picture mode, etc.
Update Moto G5 to Android 8.1 Oreo Now!
Android Oreo Update for Moto G5 is moving as an airborne update. It will reach your respective phones in batches. So, have some patience while the OTA update shows up. Your device will itself catch the OTA update and prompt you to install the same. However, if waiting is not your cup of tea, then you can manually search for OTA as well.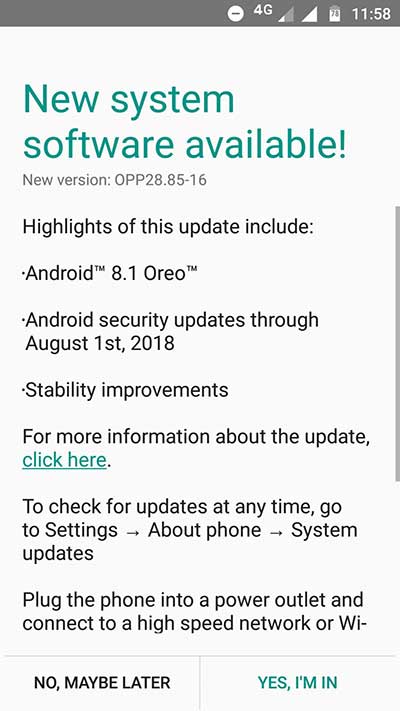 To do it, go to your Moto G5 Settings -> About phone -> System Updates. Try to connect to a good Wi-Fi network to download the OTA. System update files are usually large and weigh in Gigabytes. So, downloading through Wi-Fi will save your precious carrier data.
Moto G5 marked its entry in early 2017 with Android 7.0 Nougat out-of-the-box. Now more than a year after it got a step-up to Android v8.1 Oreo. A device usually gets two major Android OS updates within two years of its release. So, we can expect the Pie treat for Moto G5. However, given the sluggish nature of Motorola's software rollout, upgrade to Android Pie may sound far-fetched.
Anyways, getting Android 8.1 Oreo instead of 8.0 is definitely a great move from Motorola which the user will appreciate. So, if you are in India, then make sure you grab the Android Oreo Update for Moto G5. Users from other regions should wait a while to have a bite of the Oreo. We expect the system update will soon show up in other parts of the world.
Source: XDA