Earlier this week, we saw speculations and rumors about a new Google Pixel phone that would lie in the mid-range spectrum of the price tag.  Allegedly, the device is planned to be launched in India. According to The Economic Times, Google is sharpening its focus on the Indian market with a moderately priced Pixel variant. The strategy is to take on the current leading smartphone brands in the Indian market like Apple, Samsung, Xiaomi, etc.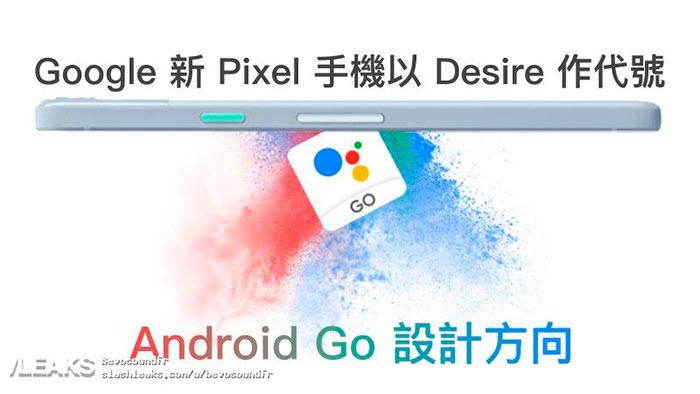 Today, we got another hint at the upcoming mid-range Google Pixel device from SlashLeaks. According to the provided image, one can easily depict that the new mid-range Pixel phone will have the codename – 'Desire'. The image also indicates that the device will be running the Android Go edition software. With the launch of Android Oreo last year, Google introduced a new initiative aiming to create a powerful software experience for entry-level smartphones. Which means that the new phone might possibly run on the Go edition of the latest Android version.
Google is figuring out that they have a lot of growth potential in the Indian market. But with high-end devices like the 2017-launched Pixel 2, it is hardly possible. The phone itself is priced way higher and could definitely not be considered as a device that every Android lover could buy. Their best bet is to enter the market with a device that could be easily afforded by an average consumer. It's highly possible that this new strategy will get Google a new position in the expanding smartphone market of India.
There is yet no details about the exact hardware specs of the phone. Yet, it could be expected that the new mid-range Google Pixel device may be powered by a mid-tier Qualcomm Snapdragon SoC. It would be nice to see if Google plans on taking the project outside of India. We shall be updating the users once we have any more confirmations about the device.
Source: SlashLeaks