Nexus 6P and Nexus 5X are the two latest new high-end flagships by the manufacturer. The phones themselves have a lot to offer – a powerful hardware and the latest Android Marshmallow, to take the devices far from excellence.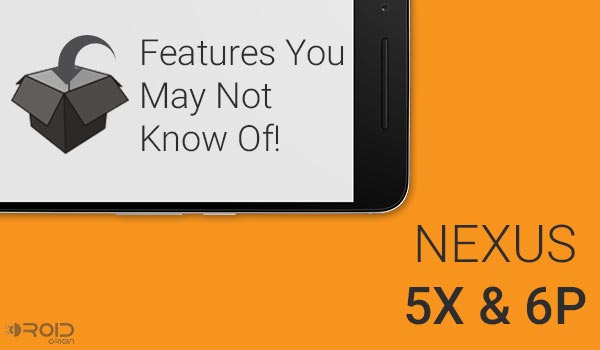 Now, holding the phone in your hand, it does feel great. But today, we would like to boost that feeling by letting you know about a list of Nexus 5X & Nexus 6P features you may not know of. Some of you might even know a few or even all of them, but we don't mind sharing our knowledge with our readers.
---
Nexus 5X & Nexus 6P Features You May Not Know Of!
---
1. Launching Camera
Who doesn't like short-cuts? Of course, you can launch the default camera app by swiping from the right-bottom of the lock screen. But what if you want to open the camera without even unlocking or viewing the lock screen.
Yes, this could be easily done on the Nexus 6P, with an in-built feature and no third-party apps.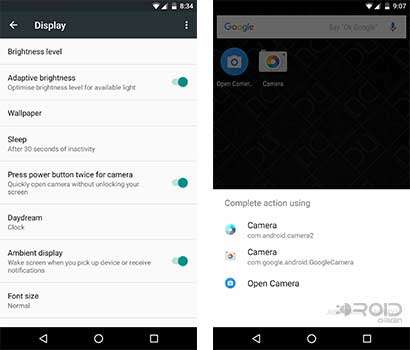 Just go to Settings > Display, and enable Press power button twice for camera. Now, you might also want to change the default camera app that shows up after you press the power key, to do so, follow the steps below.
Go to Settings > Apps.
Find Camera and tap on it.
Make sure that you have the third-party camera app already installed.
Now, press the power button once to lock the Nexus 6P.
Press the power key 2 times continuously, the phone will wake and prompt to select the default app.
Nexus Imprint is the most highly anticipated feature of the latest Nexus flagships – Nexus 6P and Nexus 5X, also making the first Android smartphones to offer fingerprint support. This feature is not just limited to unlock the lockscreen or app unlocking, but the Fingerprint Security API allows the users to authorize their Google Play Store purchases using the fingerprint technology.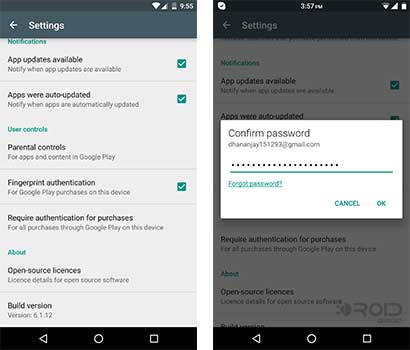 To enable this feature:
Go to the app drawer and open Play Store.
Open Settings.
Now, enable Fingerprint authentication under User controls. You will be prompted to enter your Google account password, so enter it and it will be activated.
3. Quick Settings Customization
Slowly and steadily, Google is definitely bringing a list of custom features to its Nexus series smartphones. You can now customize the Quick Settings toggles. With System UI Tuner you can add or remove the quick toggle tiles, and status bar icons.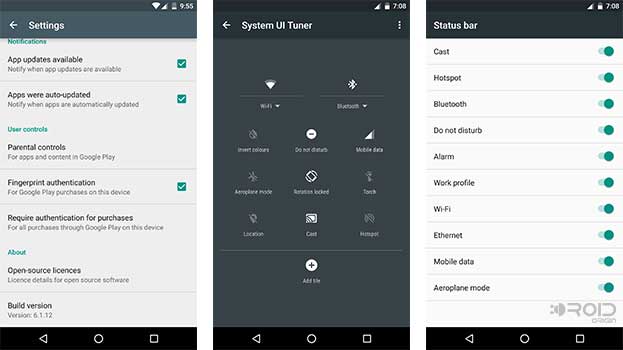 To do so, follow the short steps below.
Swipe down from the top of the phone's screen.
Long-press the settings icon just on right-side of the battery percentage and release it after a few seconds.
Once you release the keys, the Settings menu will instantly pop-up and a message shall appear – Congrats! System UI Tuner has been added to Settings.
You can now navigate through Settings > System UI Tuner.
4. Quick Charge Nexus & Use as Power Supply
While both the OEMs have not mentioned integration of Qualcomm's Quick Charge module. But the latest USB Type-C interface and native charger do the job pretty well, and the charge time is really good. You can get up to 4 Hours of battery on 5X, and 7 Hours on 6P, with a 10-minute charge. But this again is subjective to your usage.
Power banks are common nowadays, and everyone seems to have one, all the time. But what if your Android sets short of battery, or its an emergency. You can simply power up and charge any Android phone that supports USB Type-C, using the Nexus 6P or 5X. The feature has been fully integrated into the phones. Just connect both the phones and select Use USB for Power supply. Though it's not what an average user might do, is still an efficient way to charge, when in an emergency.
---
Hope, the above proved to be useful if you're one of the latest Nexus users. Have you seen any other hidden feature that we may have missed? Tell us by commenting below, we are definitely willing to expand the list.