The Nokia 6.1 Plus sells out in less than three minutes during the Flipkart flash sale yesterday, August 30. The flash sale closed at exactly 12:03 PM, local time, and Flipkart revealed that over 150 units of the Nokia 6.1 Plus were sold in every second. In our calculations, Nokia was able to sell 27,000 units of the device in Flipkart alone. That is excluding the numbers from its own online store which also opened a sale yesterday. Note that is not the official data coming from HMD itself, but at least we have an idea. At the time of writing this article, the Nokia 6.1 Plus is now also unavailable for purchase via Nokia's official website.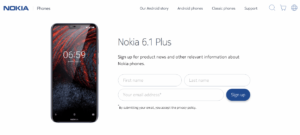 HMD anticipates this result though. Just like China, where the Nokia X6 (6.1 Plus) sells out in seconds, Nokia's brand recognition in India is still pretty strong. India is one of the strongest markets for Nokia phones during its glorious days. This is evident when Nokia top as India's most trusted mobile brand in 2017, based on data conducted by TRA Research.
The Nokia 6.1 Plus' good hardware, premium design, and fair pricing itself create the hype and gather the attention of Nokia's Indian fans. Things the recent Android Nokia smartphones fail to deliver in a competitive market like India. HMD Global's mending with old Nokia partners also helps it promote the brand for a wider audience. Recently, HMD partners with Lakme Fashion Week to promote the Nokia 6.1 Plus.
To recall, the Nokia 6.1 Plus features a 5.8-inch Full HD+ display in a tall and narrow 19:9 aspect ratio. Wrapping the display is an old, but capable, Corning Gorilla Glass 3 that slightly curve to the edges. The notch, love it or hate it, is one of the main highlights of the device. There lies the earpiece, ambient and light sensor, and the 16-megapixel f/2.0 selfie camera. Flipping the device, the Nokia 6.1 Plus graces with a dual rear-facing camera, 16/5-megapixel (f/2.0, f/2.4), and a fingerprint sensor.
On the inside, the Nokia 6.1 Plus runs on Qualcomm Snapdragon 636 SoC, under the stock Android 8.1 Oreo. Thanks to Android One. The Nokia 6.1 Plus will get up to two years of monthly security and software updates from Google. Keeping things smooth and snappy is the 4GB RAM, paired with 64GB of internal storage, expandable via MicroSD card for up to 400GB. Keeping the lights on is the 3,060mAh of battery and support for Qualcomm Quick Charge.
The next flash sale will be on the 12th of September, 12 noon, local Indian time. If you want to get one, mark your calendar, and set the alarm. It will be a pretty rough shop.