Nokia users have always experienced great software support for their devices. Continuing its efficient support, HMD Global is now rolling out a new software update for Nokia 7.1. It apparently brings an important upgrade. Now users can hide the controversial notch and turn the screen into the full bezel display. The Nokia 7.1 January 2019 security update is rolling in the Indian and US regions. If you want to know about the security issues this month's patch fixes up, then head over to the Android security bulletin for January 2019.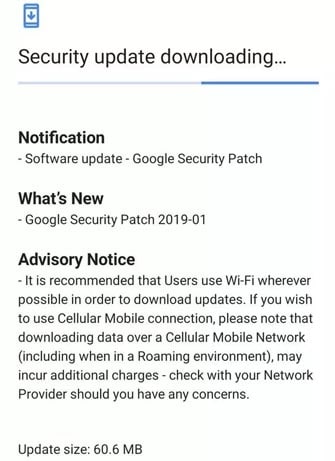 Here we must mention that with the Nokia 7.1 January 2019 Security Update there is a change in the option to hide the notch. You can now find it in the Display settings under the Advanced tab. Earlier it was present in the developer options menu.  Some users are complaining that the notification bar is black only when the device is in portrait mode but not in the landscape mode. When images are viewed in the gallery, the navigation bar apparently overlaps the icons.
The airborne updates pretty much follow a gradual process. So, everyone will not get it at the same time. The Nokia 7.1 January 2019 Security Update is a small software weighing at 61 MB.  Usually, OTA updates knock into the devices automatically. Depending upon your geographical location you will receive the update. However, if you think the update is delaying to show up, then you can manually check for it.  To self check and capture the Nokia 7.1 January 2019 Security Update, go to your phone's 'Settings' > 'System' > 'System Updates'. There check for latest updates.
If the new update is available it will show up as you see in the screenshot above. Then simply hit on download to initiate the process. It's better to connect to a Wi-Fi to avoid carrier charges for the data while downloading the update. Also, keep the juice of your device over 50% or more. Less battery will not allow you to install the new software update.
Nothing is better than having your device secured with the latest security patch. Take advantage of the seamless update and get the  Nokia 7.1 January 2019 Security Update.