Nokia X5, the budget segment smartphone by the Finnish brand was recently announced in July 2018. In this post, you will be able to download Nokia X5 2018 stock wallpapers.
Despite staying off the scene for a few years, Nokia made the biggest comeback in 2017 by building Android devices under HMD global. The biggest edge it has now over its previous business models is the incorporation with the pure-Android platform. Devices that come with the near-stock experience like the Mi A1 have slowly started to see a good growth in the market. Up until now, we have already seen several Nokia devices ranging from the budget to the high-end segment.
The company recently announced the Nokia X5 that's the Nokia 5.1 Plus being sold in China. If you do not live in China, you can easily download Nokia X5 2018 stock wallpapers and add a little bit of its flavor to your own device.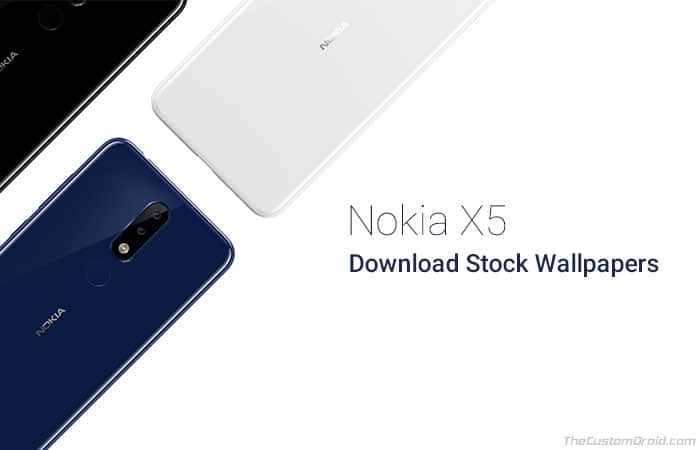 Table of Contents
About the Nokia X5 (2018)
The Nokia X5 2018 is a budget-friendly smartphone, that does provide decent hardware, design, and software. Despite being cost-effective, the phone manages to accommodate all the current smartphone trends such as short bezels and a notch. It comes with a glass back, giving the phone a premium finish.
Before we get to the links to download Nokia X5 2018 stock wallpapers, let us dive into a bit more details about the device.
On the inside, the Nokia X5 is powered by an Octa-core MediaTek Helio P60 processor, that offers the NeuroPilot AI technology. The IPS LCD display is 5.86-inches with 19:9 screen ratio. It also sports a dual 13MP+5MP rear camera setup with Nokia professional shooting. The front/selfie camera is equipped with an 8 MP lens, along with AI image technology. One of the major influencers is the support for Android 8.1 Oreo-based on the Android One platform, without any bloatware and guaranteed security updates.
It comes in three different color variants – Extreme night black, glacier white, and Baltic sea blue. When it comes to memory, the Nokia X5 comes in two different RAM + storage options – 3GB+32GB and 4GB+64GB.
Download Nokia X5 2018 Stock Wallpapers
The MIUI resources team was recently able to pull off two different Nokia X5 2018 stock wallpapers. These were shared on a thread and are now available for download.
Nokia X5 is already available in China. If you're not willing to buy it though, you can still add a little touch of it to your current Android device. Like any other Android phone, the latest budget-friendly phone from Nokia also comes with a set of wallpapers that are unique to the device. Thanks to the MIUI resources team, we have been able to get our hands on the official Nokia X5 2018 stock wallpapers. You can now download these and apply them on their phone or tablet.
There are 2 different landscape wallpapers, that will look absolutely tremendous on any display. The first one portrays mountains covered up in dazzling white snow and clouds. The second one offers a darker shade with northern aurora over the mountains. Both the wallpapers are sized at 1440×1520 pixels resolution. Which means, they can be easily cropped for any screen size.
Below is the preview of both the Nokia X5 2018 stock wallpapers. You can click on the image(s) below to preview them before downloading them.
Download Links
For your convenience, we have zipped up the 2 wallpapers in a ZIP archive. Should you want to download these wallpapers individually, simply click on the Google Drive link.
So you have just been able to download Nokia X5 stock wallpapers. We hope you'll enjoy them on your Android phone. Don't forget to drop a comment and let us know if you like the Nokia X5 over other budget segments phones like the Honor 9 Lite, Redmi Note 5 Pro, etc.