Samsung might be late, but it has lived up to its words when it comes to delivering updates. It is quite hard to believe, seeing an OEM still supporting a device that was released back in 2015. Not many manufacturers do that now, except a very few. The device originally came with Lollipop 5.1 pre-installed and has just received its second major firmware update today. So the users can now update and install Nougat on Samsung Galaxy Note 5.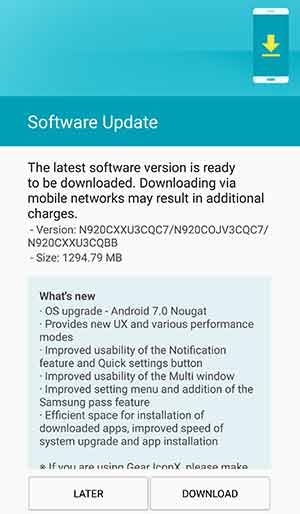 The update includes every feature that is a part of Nougat 7.0, plus Samsung's own user-interface and proprietary apps. It has already started rolling over-the-air for the SM-N920C (Build: N920CXXU3CQC7) model in Pakistan, Libya, UAE, Iraq, Israel, Saudi Arabia, and Turkey. The roll-out for other variants shall accompany soon.
Update: SM-N920G (N920GDDU3CQC7) has received Nougat update for India, Sri Lanka, Nepal, and Bangladesh.
Update (5-Apr-17): Note 5 DUOS SM-N9208 (N9208XXU3CQC6) has started to receive the Nougat update.
Update (18-Apr-17): SM-N920W8 (N920W8VLU4CQC9) now updated to Nougat.
The update is supposed to reach out to users in phases, so you would eventually have to wait for some time. But, if you're really not into that sorts, you can use this tutorial to manually update your Galaxy Note 5.
Now let's go ahead and install Nougat on Samsung Galaxy Note 5 right away!
[box type="info"] Manual updating is meant only for users who are aware of the consequences. TheCustomDroid.com shall not be held responsible for any damage to your device. However, we will still help to the best of our capabilities, if asked.[/box]
Before You Begin
The process will not harm your data if executed as mentioned. But it is a wise practice to back up your device completely, including storage, messages, contacts, and everything else that holds importance to you.
Properly install Samsung USB drivers on your PC: Link
Charge your phone to a sufficient battery level, in order to avoid any sudden power downs during the process.
Download the Odin flasher tool and extract the zip: Odin3-v3.11.1.zip
Steps to Install Nougat on Samsung Galaxy Note 5
Download the Nougat firmware package for Note 5. Make sure that you choose the correct file for your variant and region: SM-N920C | SM-N920G | SM-N9208 | SM-N920W8
Extract the downloaded firmware and you shall have the following file (The filename shall change between variants and regions): N920CXXU3CQC7_N920COJV3CQC7_N920CXXU3JQBB_HOME.tar.md5 
It's time to get your hands-on the device. So power it off completely and then press 'n' hold the Volume Down, Home and Power keys until you see the screen light up.



You shall see a warning message, so press the Volume Up button to finally enter Download Mode.

Now connect your device to the PC using USB cable.
Open the extracted Odin folder and double-click the Odin3_v3.11.1.exe file to run it. The Odin program will launch instantly and should detect your connected Note 5.
You should see an ID:COM port lighted up. If it is not, then Odin is not able to scan for your phone. So, make sure that you have installed the Samsung USB drivers.
Now click on the AP button. Browse your PC for the firmware file extracted earlier during step #2 (E.g. N920CXXU3CQC7_N920COJV3CQC7_N920CXXU3JQBB_HOME.tar.md5).

Do not touch any other options inside the Odin window. Finally, click on the Start button to begin the flashing process. It may take a minute or few more to complete, so hold back and do not disturb the process.
Once it is complete, you shall see a PASS! message and your Note 5 will automatically reboot into the fresh new Nougat OS.
Now that's how you get an update without waiting. The steps were pretty simple, even for a novice user. But if you still come around any problems or have any queries, you shall drop a comment down below.
Once you have installed it, don't forget to share your experience with us. Like how is the battery life, and are there any hinges in the update? Don't forget to share this tutorial on your social media and let your friends know that could update too, right away.